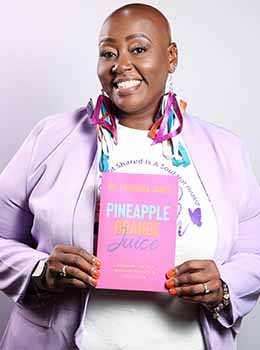 Shaniqua Jones
Born:
Harvey, Illinois
Connection to Illinois
: Jones was born and raised in Harvey. She attended Harvey School District 152, Holmes Elementary School, Gwendolyn Brooks Middle School and Thornwood High School. She currently resides in Monee.
Biography
: Dr. Shaniqua Jones is a Global Leader and Restorative Justice Practitioner, Expert. Affectionately known as Dr. J and for her brilliant ability to connect deeply with those who have been harmed and have caused harm through Restorative Justice and Restorative Practices. Dr. J has been called upon to remove barriers alienating and dehumanizing people from all walks of life. Dr. Jones completed her doctoral degree in Interdisciplinary Leadership specializing in Higher Education in May of 2016. She has a diverse background in academics. What separates Dr. Jones from her peers is her uncanny ability to infuse her personal and professional experiences, which allows her to connect genuinely and have a great deal of empathy for the people she serves. In 2018, Dr. Jones was honored and inducted as a member of the 40 under 40 rising leaders into the Young Women's Professional League Chicago for her industry expertise and leadership. The global speaker founded the Purple Path for-profit organization in the spring of the following year. The organization provides sustainable and tangible resources, building competencies, relationships, and social capital in deserving communities. Recently, Dr. Jones acted as Director of Community Engagement and Diversity Programs at Trinity Christian College. The educator provided opportunities to discuss matters of the heart related to diversity and social justice by utilizing Restorative Practices. Dr. Jones advised students to serve across the country and mentored scholars through academic preparation and spiritual formation. Serving the National Organization of Black Law Enforcement as Restorative Justice Trainer, Dr. J has solidified herself as an effective leader with significant momentum. In May of 2021, Governor Pritzker and the Illinois State Board of Education appointed Dr. Jones to the Whole Child Task Force. In December 2021, Dr. Jones accepted an assignment as a Project Manager for MacArthur Foundation - Just Imperative Working Group based on her expertise as a Restorative Justice Practitioner focused on healing and resilience. Dr. Jones also serves as Chief Educational Officer for Touch Gift Foundation. Dr. J used her experiences as Restorative Justice Coordinator - Dean of Students at Chicago Collegiate Charter School. She also used her foundation for Restorative Justice training for churches, schools, community organizations, The Cook County Southland Juvenile Justice Council, and the Illinois Department of Juvenile Justice. Dr. Jones has served as a consultant-to-District Coordinator of Restorative Justice and Restorative Practices with Thornton Township High Schools District 205 for four years, ending her residency in 2022. With a global platform, as the founder of Purple Path and Jones Academy of Excellence, Dr. Jones has educated and served thousands of students, parents, guardians, educators, organizations, and more through her work rooted in Restorative Justice and Restorative Practices. Come Fall 2022, Jones Academy Of Excellence will be seen as the first full online Restorative Justice high school in the world. Dr. Jones is a wife and mother of five biological children and an author of 10 awe-inspiring works. When she isn't impacting lives and transforming communities, you can find Dr. J sporting her favorite gym shoes.
---
Awards
:
Primary Literary Genre(s):
Non-Fiction
Primary Audience(s):
Adult readers
Facebook:
https://www.facebook.com/purplepathbyDrJ
Instagram:
https://www.instagram.com/purplepathbydrj/
LinkedIn:
https://www.linkedin.com/in/drshanjones2016/
Web:
https://www.instagram.com/jonesacademyofexcellence/
WorldCat:
http://www.worldcat.org/search?q=Shaniqua++Jones
YouTube:
https://www.youtube.com/c/PurplePathByDrShaniquaJones
---
Selected Titles
God Is: The 6 E's to a More Productive Life
ISBN: 1729845827 OCLC: CreateSpace 2019 Dr. Jones loves to plan for her week and wanted to share her way of managing her life with the world. To be more productive, we must be realistic with the way we spend our time and act accordingly.
Pineapple Orange Juice: Bridging the Gap Between Parents and Educators
ISBN: B08VYBPQ8J OCLC: Independently Published 2021 Purple Path is an organization founded on the principles of Restorative Justice and Restorative Practices that help youth, families, educators, and law enforcement agents understand and live a more meaningful existence and dismantle the punitive systems that alienate and dehumanize life. Purple Path provides outstanding motivational signature talks, seminars, training sessions, and workshops that focus on the power of storytelling to aid in the healing process. We provide full wraparound services for youth and families impacted by deep-rooted harms. We pride ourselves in proactively building community as well.Enjoy this read, I entitle - Pineapple Orange Juice: Bridging the Gap Between Parents and Educators.