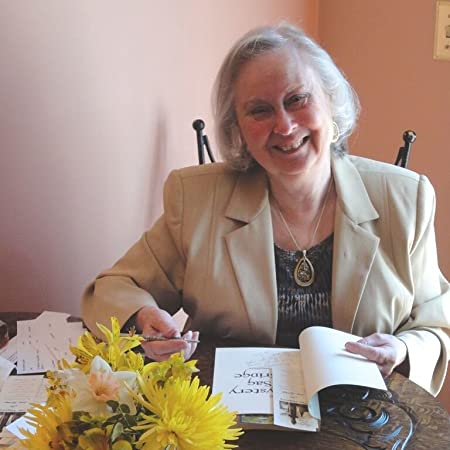 Pat Camalliere
Born:
Connection to Illinois
: Camalliere lives with her husband in Lemont, a suburb of Chicago, where her stories are based. She serves on the board of the Lemont Public Library District and volunteers at the Lemont Historical Society as director of the society's archives.
Biography
: Pat Camalliere is the author of the popular, five-star-rated Cora Tozzi Historical Mystery Series. She is a member of the Chicago Writers Association, Sisters in Crime, and the Society of Midland Authors. She speaks locally on a variety of historical topics and writes a blog that features unique history stories.
---
Awards
:
Primary Literary Genre(s):
Fiction; History; Mystery
Primary Audience(s):
Adult readers
E-Mail:
Pat@patcamallierebooks.com
Web:
https://www.patcamallierebooks.com
---
Selected Titles
The Miracle at Assisi Hill
ISBN: B0BLGJV6Y4 OCLC: Campat Publications 2022 Personal struggle…Mystery and mysterious places…Friendship…Miracles…And, above all, a love story.Emotionally scarred after battling cancer, amateur historian Cora Tozzi is troubled by religious doubts. She immerses herself in the life of a convent in her hometown, Lemont, Illinois, agreeing to coauthor a book about the history of the religious order. Soon she discovers her problems are only beginning. She befriends a harmonica-playing young nun who is guarding a secret, and when Cora's husband, Cisco, becomes seriously ill, she prays for help to a mysterious visitor from heaven. Soon Cora and her friends plunge into a desperate quest to solve a mystery from the life of a woman destined for sainthood, racing against time in the belief that solving the mystery will restore Cisco's health. The quest takes them to 1886 San Antonio, Texas.
The Mystery at Black Partridge Woods (Cora Tozzi Historical Mystery Series)
ISBN: 1937484440 OCLC: 958163110 Amika Press 2016 A legendary water beast, mysterious wolves, and an unsolved murder echo through two centuries.Wawetseka, a Potawatomi woman, is shocked when a body washes up near her village, but events soon turn worse: her only son is arrested for murder. To free him she must track down the real killer. Her investigation takes her through the wilderness of 1817 northern Illinois and to Fort Dearborn as she races desperately, fighting the harsh terrain and the realities of vigilante justice.Two centuries later, Wawetseka's descendent, Nick Pokagon, a charismatic young scientist, partners with Cora Tozzi, Cisco, and Frannie to publish Wawetseka's adventures. But then Cora and her friends are attacked. What does Wawetseka's story have to do with the present? How can the mysterious assailant be stopped?The Mystery at Black Partridge Woods tells two related stories with unexpected parallels. It is both a fast-paced adventure and a mystery that paints a picture of the little-known earliest days of what is now Lemont, Illinois. Readers who enjoy amateur sleuths and adventure will find it hard to put down.
The Mystery at Mount Forest Island (Cora Tozzi Historical Mystery)
ISBN: 1937484726 OCLC: 1183416196 Amika Press 2020 Jessica Fletcher meets the Sopranos in the third book of the Cora Tozzi Historical Mystery Series.Based on a real place with some historical persons and events.Crime, deceit, love and the value of friendship set in the forests of Lemont, Illinois, in suburban Chicago. A woman whose family's involvement in the Chicago Mob devastates lives throughout generations.When an automobile accident leaves Valerie Pawlik totally blind, she masters the daily activities of a dark world, but due to painful mysteries from her childhood, she lacks the confidence to lead the independent life she desperately longs for with her young daughter. With the help of Cora and Cisco Tozzi, Frannie Berkowitz, and Billy Nokoy, Valerie sets out to search for the mother who deserted her and for the killer of her beloved uncle. But Billy is experiencing electrifying occult moments of his own. Their quest takes them into a dangerous world of the Chicago Mob and paranormal phenomena, culminating when a stalker threatens their lives in the Palos Forest Preserves.
The Mystery at Sag Bridge (Cora Tozzi Historical Mystery Series)
ISBN: 1937484300 OCLC: 908155787 Amika Press 2015 A century-old murder mystery…A dangerous ghost…An amateur historian…What binds them together?Cora Tozzi is a retired businesswoman who, after nursing her mother through her final illness, wishes only for a peaceful orderly world in her suburban Chicago home. When an angry spirit begins to leave cryptic messages on her computer and threatens those around her, Cora is forced to dig into the town's notorious past to uncover secrets that will free the bonds that tie her and the spirit. With the help of her husband and their friend, Frannie, Cora uses her skills as an amateur historian in a search that takes them into unexpected terrain including subterranean passages, an eerie graveyard, and shadowy paths in isolated forests where a sinister predator is awakened. As they battle unpredictable supernatural powers, the story takes a poignant turn: the spirit's life is revealed, and both women, a century apart, examine threads into the past and the future, their loss and longing linked across the generations.