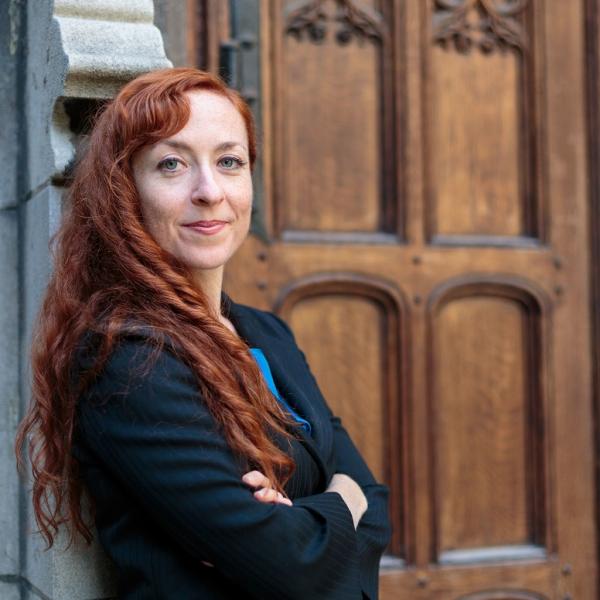 Rachel Galvin
Born:
Connection to Illinois
: Galvin is Assistant Professor of English at the University of Chicago.
Biography
: Rachel Galvin is a scholar, poet, and translator. Her poems and translations appear in The Boston Review, Colorado Review, Drunken Boat, Gulf Coast, MAKE, McSweeney's, The New Yorker, PN Review, and Poetry. Her criticism appears in Comparative Literature Studies, ELH, Jacket 2, MLN, and Modernism/modernity. She is a co-founder of Outranspo, an international creative translation collective. Her translation of Raymond Queneau's Hitting the Streets won the 2014 Scott Moncrieff Prize for French Translation and was named one of the year's best poetry books by the Boston Globe. Decals: Complete Early Poetry of Oliverio Girondo, which she translated with Harris Feinsod, was a Finalist for the 2018 National Translation Award.
---
Awards
:
Elevated Threat Level Finalist for the National Poetry Series and Alice James Books' Kinereth Genseler Award
Primary Literary Genre(s):
Poetry
Primary Audience(s):
Adult readers
E-Mail:
rachelgalvin@uchicago.edu
WorldCat:
http://www.worldcat.org/search?q=Rachel++Galvin
---
Selected Titles
Elevated Threat Level
ISBN: 0997416556 OCLC: 1050922219 Green Lantern Press 2018 Poetry. New lyric poetry by Rachel Galvin explores an ethical response to American comfort and its ties to war and exploitation. The poems in this collection reflect on news reporting, natural disasters, journalist safety, and the act of observing war from a distance as a civilian. Written in a variety of forms and registers--from elegies to faits divers to sonnets--ELEVATED THREAT LEVEL thinks about violence and the rhetoric used to convey it. The book is also a tribute to the print form of the newspaper.
News of War: Civilian Poetry 1936-1945
ISBN: 0190087633 OCLC: 984898528 Oxford University Press 2020 News of War: Civilian Poetry 1936-1945 is a powerful account of how civilian poets confront the urgent problem of writing about war. The six poets Rachel Galvin discusses-W. H. Auden, Marianne Moore, Raymond Queneau, Gertrude Stein, Wallace Stevens, and César Vallejo-all wrote memorably about war, but still they felt they did not have authority to write about what they had not experienced firsthand. Consequently, these writers developed a wartime poetics engaging with both classical rhetoric and the daily news in texts that encourage readers to take critical distance from war culture. News of War is the first book to address the complex relationship between poetry and journalism. In two chapters on civilian literatures of the Spanish Civil War, five chapters on World War II, and an epilogue on contemporary poetry about the wars in Iraq and Afghanistan, Galvin combines analysis of poetic form with attention to socio-historical context, drawing on rare archival sources and furnishing new translations. In comparing how poets wrestled with the limits of bodily experience, and with the ethical, political, and aesthetic problems they faced, Galvin theorizes the concept of meta-rhetoric, a type of ethical self-interference. She argues that civilian writers employed strategies drawn from journalism precisely to question the objectivity and facticity of war reporting. Civilian poetics of the 1930s and 1940s was born from writers' desire to acknowledge their own socio-historical position and to write poems that responded ethically to the gravest events of their day.
Pulleys & Locomotion
ISBN: 1934703729 OCLC: 515431450 Black Lawrence Press New York : 2009 Poetry. Rachel Galvin's debut collection PULLEYS & LOCOMOTION is a hub for movement, immigration, and flight. Alternating between lyrical extension and succinct prose poems, this book brings together science, philosophy, folktale, and half-remembered history. Raised in Rochester, NY, the home of Eastman Kodak, Galvin has an imagination shaped by the technologies and metaphors of photographic and filmic vision. Like a zoetrope, the spinning cylinder that led to early motion picture, the pages of PULLEYS & LOCOMOTION form a device that creates irresistible motion out of a succession of poems. "Rely on your eye for illusion of motion," Galvin writes in "How to Build Your Own Zoetrope." "Figures move naturally at fourteen frames / per second and if you have pictured me, / at this rate I will always run toward you, / years hence, luminous, blurred / with expectation." In conversation with figures as diverse as Emily Dickinson, Edmond Jabès, Roland Barthes, and André Kertesz, these poems teem with vitality. Their sense of the contemporaneous is inextricable from history and dream: "News footage simulates the last century: / a woman running shoeless in snow, / her inaudible voice." Audacious and musical, in a style that responds to French and Latin American poetic traditions, these poems will echo in the reader's ear. "Go, she says, Pour your palmful of water / from one hand to the other."
Uterotopia: Poems
ISBN: 0892555653 OCLC: 1304244246 Persea 2023 With lyric intensity, wordplay, and dark humor, Uterotopia explores sexism and aging, fertility and mortality, the bystander effect, and violence against women on an intimate and national level. In poems that converse with writers including César Vallejo, Kim Hyesoon, and W.H. Auden, urban legends and folk rituals interweave with facts, anecdotes, and news items.