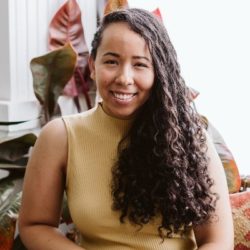 Reese Eschmann
Born:
Connection to Illinois
: Eschmann lives outside of Chicago.
Biography
: Reese Eschmann holds a Master's degree in Social Work from the University of Illinois-Chicago and worked in schools for six years. When she's not writing or taking naps, Reese enjoys rock climbing, baking, and making movies with her family.
---
Awards
:
Primary Literary Genre(s):
Fiction
Primary Audience(s):
Children; Young adult readers
Instagram:
https://www.instagram.com/reesespieces21_/
Twitter:
https://twitter.com/reesespieces21_
Web:
http://reeseeschmann.com
WorldCat:
http://www.worldcat.org/search?q=Reese++Eschmann
---
Selected Titles
Etta Invincible
ISBN: 1534468374 OCLC: 1162987459 Aladdin 2022 In this touching debut middle grade novel, a girl with hearing loss and a boy adjusting to life in a new country connect through their love of comics and get entangled in their own fantastical adventure. Twelve-year-old Etta Johnson has Loud Days where she can hear just fine and Quiet Days where sounds come from far away and she gets to retreat into her thoughts. Etta spends most of her time alone, working on her comic book about Invincible Girl, the superhero who takes down super villain Petra Fide. Invincible Girl is brave, daring, and bold—everything Etta wishes she could be. But when Louisa May Alcott, a friendly Goldendoodle from across the street, disappears, Etta and the dog's boy, Eleazar, must find their inner heroes to save her. The catch? Louisa May has run onto a magical train that mysteriously arrived at the station near Etta and Eleazar's houses. Onboard, they discover each train car is its own magical world with individual riddles and challenges that must be solved before they can reach the engine room and rescue Louisa May. Only, the stakes are even higher than they thought. The train's magic is malfunctioning and spreading a purple smoke called The Fear through the streets of Chicago. Etta and Eleazar are the only ones who can save the city, save Louisa May Alcott—and save each other.
Kitten Around (Home for Meow #3)
ISBN: 1338784005 OCLC: 1322232881 Scholastic Inc. 2022 All the "awwws" of animal adoption stories are combined with sugary sweetness in this new, fun-filled chapter book series about a cat café! Every home needs a cat! Kira Parker lives above The Purrfect Cup, the cat café that her family owns and runs. But this weekend, Mama and Dad are taking a "much needed vacation," which means that Granny is coming to visit! Mama puts Granny in charge, but Kira's got so many GREAT IDEAS to make her cat friends and customers happy. So when Granny gives her the okay to take control, it's Kira's moment to make The Purrfect Cup extra purrfect. But between a new, overly-energetic cat and a line of customers that never seems to end, running the café is harder than it looks! Will Kira be able to run everything smoothly . . . or will this weekend be a total cat-astrophe?
Show and Tail (Home for Meow 2)
ISBN: 1338783998 OCLC: 1336606645 Scholastic Inc. 2022 All the "awwws" of animal adoption stories are combined with sugary sweetness in this new, fun-filled chapter book series about a cat café! Kira Parker lives above The Purrfect Cup, the cat café that her family owns and runs. And soon, the café will get new kittens! Bubbles' belly has been growing bigger and bigger, and on Kira's first day of school, Bubbles' finally becomes a mama cat. But she has six kittens, which is…too many! But not to worry, because Kira has a GREAT IDEA. She's going to find each kitten a perfect family by matching them with her classmates! But matchmaking isn't quite as easy as it sounds, and her classmates aren't convinced. Will Kira be able to find each kitten the purrfect home?
The Purrfect Show (Home for Meow #1)
ISBN: 133878398X OCLC: 1336600330 Scholastic Inc. 2022 All the "awwws" of animal adoption stories are combined with sugary sweetness is this new, fun-filled chapter book series about a cat café! Every home needs a cat! Kira Parker lives above The Purrfect Cup, the cat café that her family owns and runs. Every day is a new adventure with her cat friends! Except lately, The King County Dog Show seems to be the only thing the regulars can talk about! Kira doesn't get why everyone is so excited. After all, her cat friends are much smarter and more talented than those dogs. Then Kira has a GREAT IDEA -- she's going to train the cats and enter them in the competition. It's sure to be her best plan yet!
Two Fur One (Home for Meow #4)
ISBN: 1338784013 OCLC: 1309065945 Scholastic Inc. 2023 All the "awwws" of animal adoption stories are combined with sugary sweetness in this new, fun-filled chapter book series about a cat café! Every home needs a cat! Kira Parker lives above The Purrfect Cup, the cat café that her family owns and runs. When her parents decide they want to renovate it, she is worried because it means knocking down a wall! Why would they do that when the café is already purrfect? When a stray cat and its puppy companion find their way into the café, Kira has the GREAT IDEA to convince her parents that they belong at The Purrfect Cup. They don't need to make any changes for it to be the perfect home! But as Kira tries her best to keep renovations from happening, she and her friends learn that maybe what makes a home isn't just colorful walls or wobbly shelves…