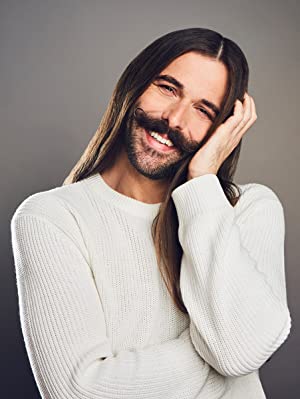 Jonathan Van Ness
Born:
Quincy Illinois 1987
Connection to Illinois
: Van Ness was born and raised in Quincy.
Biography
: Jonathan Van Ness is a Critics' Choice Award winning, Emmy nominated television personality, a bestselling author, podcaster, comedian, and hairstylist to the stars He is known for his work as the beauty expert on the Netflix series Queer Eye, for hosting the Getting Curious with Jonathan Van Ness podcast, and for the web series parody Gay of Thrones.
---
Awards
:
Over the Top NEW YORK TIMES BESTSELLER; NPR'S FAVORITE BOOKS OF THE YEAR; INDIE BESTSELLER; GOODREADS CHOICE AWARD WINNER: BEST MEMOIR & AUTOBIOGRAPHY
Primary Literary Genre(s):
Fiction; Non-Fiction
Primary Audience(s):
Adult readers; Children
Facebook:
https://www.facebook.com/jonathan.vanness
Instagram:
https://www.instagram.com/jvn/
Twitter:
https://twitter.com/jvn
Web:
https://jonathanvanness.com/
Wikipedia:
https://en.wikipedia.org/wiki/Jonathan_Van_Ness
WorldCat:
http://www.worldcat.org/search?q=Jonathan++VanNess
YouTube:
https://www.youtube.com/channel/UCf5LdDDOm1hYgDcSP3KimNA
---
Selected Titles
Love That Story: Observations from a Gorgeously Queer Life
ISBN: 0063082268 OCLC: 1297005382 HarperOne 2022 The Emmy-nominated host of Netflix's Queer Eye follows up his New York Times-bestselling memoir, Over The Top, with this collection of thought-provoking essays on grief and healing, cannabis reform, LGBTQIA+ rights, imposter syndrome, personal style, the HIV safety net, and of, course, how to make your hairdresser love you. In his New York Times-bestselling memoir Over the Top, Jonathan van Ness showed readers how the incredibly difficult moments from his life (surviving sexual abuse and addiction, being diagnosed with HIV) have existed alongside great joy and positivity (landing a breakout role on Netflix's Queer Eye, becoming an amateur figure skater and professional standup comedian, doting on his five cats). If Jonathan learned anything from the painful life experiences, it's that in order to thrive, he needed to push past the shame and fear of being his true self, which meant getting comfortable with being uncomfortable. In this candid and curious essay collection, he takes a thoughtful, in-depth look at today's hot-button issues, viewed through the lens of his personal experience. From the evolution of his signature style to an investigative report on the queer history of his hometown, Jonathan reflects on his life and how he has learned to embrace change—doing the work to challenge internalized beliefs, finding compassion and confidence, and learning more about what makes us all so messy and gorgeous. Balancing the dark and the light, the serious and the madcap, these essays allow us to examine our individual assumptions, expand our horizons, and give ourselves permission to be the flawed and fabulous humans we are.
Over the Top: A Raw Journey to Self-Love
ISBN: 0062906372 OCLC: 1118691908 HarperOne 2019 A laugh-and-cry-out-loud memoir from the beloved star of Netflix's Queer Eye, Jonathan Van Ness Who gave Jonathan Van Ness permission to be the radiant human he is today? No one, honey. The truth is, it hasn't always been gorgeous for this beacon of positivity and joy. Before he stole our hearts as the grooming and self-care expert on Netflix's hit show Queer Eye, Jonathan was growing up in a small Midwestern town that didn't understand why he was so…over the top. From choreographed carpet figure skating routines to the unavoidable fact that he was Just. So. Gay., Jonathan was an easy target and endured years of judgement, ridicule and trauma—yet none of it crushed his uniquely effervescent spirit. Over the Top uncovers the pain and passion it took to end up becoming the model of self-love and acceptance that Jonathan is today. In this revelatory, raw, and rambunctious memoir, Jonathan shares never-before-told secrets and reveals sides of himself that the public has never seen. JVN fans may think they know the man behind the stiletto heels, the crop tops, and the iconic sayings, but there's much more to him than meets the Queer Eye. You'll laugh, you'll cry, and you'll come away knowing that no matter how broken or lost you may be, you're a Kelly Clarkson song, you're strong, and you've got this.
Peanut Goes for the Gold
ISBN: 0062941003 OCLC: 1108507543 HarperCollins 2020 Jonathan Van Ness, the star of Netflix's hit show Queer Eye, brings his signature humor and positivity to his empowering first picture book, inspiring readers of all ages to love being exactly who they are. Peanut Goes for the Gold is a charming, funny, and heartfelt picture book that follows the adventures of Peanut, a gender nonbinary guinea pig who does everything with their own personal flare. Peanut just has their own unique way of doing things. Whether it's cartwheeling during basketball practice or cutting their own hair, this little guinea pig puts their own special twist on life. So when Peanut decides to be a rhythmic gymnast, they come up with a routine that they know is absolutely perfect, because it is absolutely, one hundred percent Peanut. This upbeat and hilarious picture book, inspired by Jonathan's own childhood guinea pig, encourages children to not just be themselves—but to boldly and unapologetically love being themselves. Jonathan Van Ness brings his signature message of warmth, positivity, and self-love to this boldly original picture book that celebrates the joys of being true to yourself and the magic that comes from following your dreams.