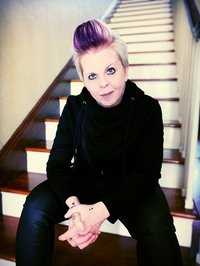 Zac Brewer
Born:
Pen Name:
Z Brewer, Heather Brewer
Connection to Illinois
: Brewer lives in Southern Illinois.
Biography
: Zac Brewer is the NYT bestselling author of The Chronicles of Vladimir Tod series, as well as The Slayer Chronicles series, Soulbound, The Cemetery Boys, The Blood Between Us, Madness, and more short stories than they can recall. Their pronouns are they/them. When not making readers cry because they killed off a character they loved, Z is an anti-bullying and mental health advocate. Plus, they have awesome hair.
---
Awards
:
Primary Literary Genre(s):
Fiction
Primary Audience(s):
Young adult readers
E-Mail:
butucancallmez@gmail.com
Instagram:
https://www.instagram.com/butucancallmez/
Twitter:
https://twitter.com/butucancallmez
Web:
http://zbrewerbooks.com
YouTube:
https://www.youtube.com/c/ZBrewerVlog
---
Selected Titles
Eighth Grade Bites (Chronicles of Vladimir Tod, Book 1)
ISBN: 0142411876 OCLC: 74940719 Speak New York, N.Y. : 2008 Vlad has to keep his vampire urges under control while dealing with the pressures of middle school.Thirteen-year-old Vladimir Tod really hates junior high. Bullies harass him, the principal is dogging him, and the girl he likes prefers his best friend. Oh, and Vlad has a secret: His mother was human, but his father was a vampire. With no idea of the extent of his powers, Vlad struggles daily with his blood cravings and his enlarged fangs. When a substitute teacher begins to question him a little too closely, Vlad worries that his cover is about to be blown. But then he faces a much bigger problem: He's being hunted by a vampire killer.
Eleventh Grade Burns #4: The Chronicles of Vladimir Tod
ISBN: 0142416479 OCLC: 428027744 Speak New York : 2010 Eleventh grade at Bathory High is draining Vladimir Tod. Joss, a professional vampire slayer and Vlad's former friend, has moved back to town. The powerful vampire Dorian has an overwhelming desire to drink Vlad's blood. And his arch enemy, D'Ablo, has brought Vlad's Uncle Otis to trial for crimes against vampires. So much for dating. When the tables turn on Vlad, he has just enough time to return to Bathory for his final good-byes . . .
Into the Real
ISBN: 0062691384 OCLC: 1136962426 Quill Tree Books 2020 In this gripping, genre-defying YA novel from New York Times bestselling author Z Brewer, three teens—one who presents as genderqueer, one who presents as female, and one who presents as male—are caught up in three very different stories of survival. But those stories intersect as the teens start to realize that they might in fact be a single, singular "they," alternating among worlds—and that accepting themself might be the key to defeating the monsters that plague them in all three.Three Quinns. Three Brumes. Three realities.The first Brume is a waking nightmare, overrun by literal monsters and cutthroat survivors. For Quinn, who is openly genderqueer, the silver lining is their friendship with Lia—and that there might still be hope for salvation.The second Brume is a prison with no bars. Forced to "sort out" their sexuality with other teens at Camp Redemption, Quinn must also figure out why presenting as female has never felt quite right.The third Brume is a war zone. For Quinn, who presents as male, leading the Resistance against an authoritarian government is difficult, since even the Resistance might not accept them if they knew Quinn's truth.As Quinn starts to realize that they might be one person alternating among these three worlds and identities, they wonder: Which world is the real one? Or do they all contain some deeper truth?
Ninth Grade Slays #2: The Chronicles of Vladimir Tod
ISBN: 0803738129 OCLC: 852829966 Dial Books 2014 The second graphic novel in the series of adaptations of Heather Brewer's New York Times best-selling series. Freshman year stinks for Vlad Tod. Bullies still harass him. The photographer from the school newspaper is tailing him. And failing his studies could be deadly. A trip to Siberia gives study abroad a whole new meaning as Vlad connects with other vampires and advances his mind-control abilities, but will he return home with the skills to recognize a vampire slayer when he sees one? In this thrilling sequel to Eighth Grade Bites, Vlad must confront the secrets of the past and battle forces that once again threaten his life.
Tenth Grade Bleeds #3: The Chronicles of Vladimir Tod
ISBN: 014241560X OCLC: 248536133 Speak New York : 2010 It's another awful year at Bathory High for Vladimir Tod. The evil vampire D'Ablo is hunting for the ritual that could steal Vlad's powers. His best friend doesn't want to be his drudge anymore. And it's getting harder for Vlad to resist feeding on the people around him. When months go by with no word from Uncle Otis, and D'Ablo shows up demanding Vlad's father's journal, Vlad realizes that having a normal high school year is the least of his concerns. Vlad needs to act fast, and even his status as the Pravus won't save him this time.
Twelfth Grade Kills #5: The Chronicles of Vladimir Tod
ISBN: 0142417521 OCLC: 511550259 Speak New York : 2011 As a teenage vampire, Vlad has spent the last four years trying to handle the pressures of school while sidestepping a slayer out for his blood. Now he's a senior, and in this final, action-packed book in the series, Vlad must confront the secrets of the past, unravel the mystery of who he really is, make decisions about his future, and face his greatest enemy. It's a senior year that totally bites.