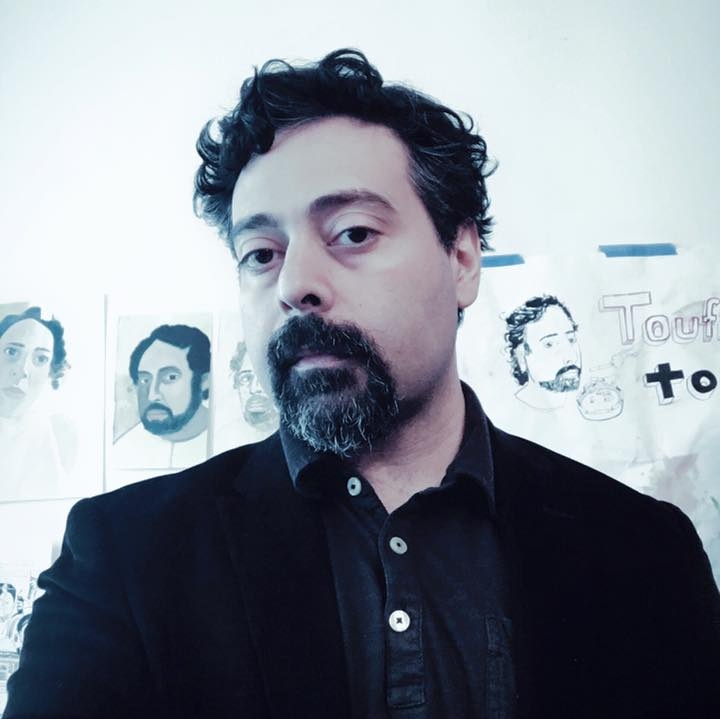 Toufic El Rassi
Born:
1978 in Beirut, Lebanon
Connection to Illinois
: El Rassi lives in Chicago.
Biography
: Toufic El Rassi was born in Beirut during the civil war in 1978 to an Egyptian mother and Lebanese father. He immigrated to Chicago a year later as his family escaped the civil war in Lebanon. He is a writer, graphic novelist, and painter. He is also a commentator on the Middle East and U.S. foreign policy. He has taught Middle East history and now teaches Humanities at Oakton Community College and Painting and Drawing at the School of the Art Institute of Chicago.
---
Awards
:
Primary Literary Genre(s):
Non-Fiction
Primary Audience(s):
Adult readers
Facebook:
https://www.facebook.com/touficelrassi/?show_switched_toast=0&show_invite_to_follow=0&show_switched_tooltip=0&show_podcast_settings=0&show_community_review_changes=0&show_community_rollback=0&show_fol
Instagram:
https://www.instagram.com/toufic_el_rassi/
Twitter:
https://twitter.com/TouficElRassi
Web:
http://touficelrassi.blogspot.com/
---
Selected Titles
Arab in America
ISBN: 0867196734 OCLC: 144596480 Last Gasp 2008 The eye-opening story of the life of an average Arab-American struggling with his identity in an increasingly hostile nation. Using the graphic novel as his medium, Lebanon-born Toufic El Rassi chronicles his experience growing up Arab in America. Keen observations, clever insights and painful honesty make El Rassi's work shine as a critical 21st century memoir.From childhood through adolescence, and as an adult, El Rassi illustrates the prejudice and discrimination Arabs and Muslims experience in American society. He contends with ignorant teachers, racist neighbors, bullying classmates, and a growing sense of alienation. El Rassi recounts his personal experiences after the 9/11 attacks and during the implementation of new security and immigration laws that followed.El Rassi gives context to current world events, providing readers with an overview of the modern history of the Middle East, including the Gulf wars. He also examines the roles American films and news media play in creating negative stereotypes of Arab-Americans, showing how difficult it is to have an Arab identity in a society saturated with anti-Arab images and messages.
Babylon Burning: A Graphic History of the Making of the Modern Middle East
ISBN: 0867198664 OCLC: 1064928854 Last Gasp 2019 The United States has a long and troubling history of military and political intervention in the Middle East. This involvement has led to terrible consequences for the people of the region. Much of the area's conflict and instability has origins in this past - a past little-discussed in the West. Baghdad Burning documents some of the key events of US and western intervention in the Middle East and other parts of the world. Through the medium of the graphic novel, this often esoteric history is made more accessible to a wider number of people. Using words and pictures, the author exposes the misuse and abuse of power. This book is a challenge to American foreign policy and those who promote its expansionist history and agenda.