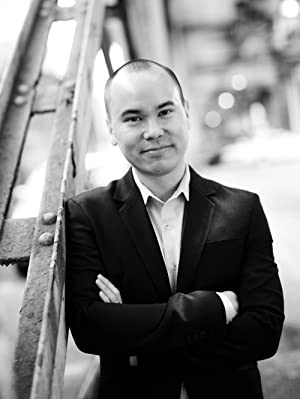 Alec Nevala-Lee
Born:
Castro Valley, California 1980
Connection to Illinois
: Nevala-Lee lives in Oak Park.
Biography
: Alec Nevala-Lee was born in Castro Valley, California, and graduated from Harvard University with a bachelor's degree in classics. His nonfiction has appeared in the New York Times, the Los Angeles Times, Salon, The Daily Beast, Longreads, The Rumpus, Public Books, and the San Francisco Bay Guardian, and his short stories have been published in Analog Science Fiction and Fact, Lightspeed, and The Year's Best Science Fiction.
---
Awards
:
Inventor of the Future The Week Magazine Book of the Week, A New York Times Book Review Editor's Choice, Chicago Tribune, Books for Summer 2022, Lit Hub Most Anticipated Books of 2022,
Astounding One of Esquire's 50 Best Biographies of All Time A New York Times Book Review Editors' Choice An Economist Best Book of 2022 The Week Magazine Book of the Week A Next Big Idea Club nominee A Book Marks Best-Reviewed Book of the Week One of Lithub's Most Anticipated Books of 2022 A Chicago Tribune Book for Summer 2022
The Icon Thief Starred Review - Publishers Weekly
Primary Literary Genre(s):
Fiction; Non-Fiction; Science Fiction
Primary Audience(s):
Adult readers
Facebook:
http://www.facebook.com/nevalaleebooks
Twitter:
https://twitter.com/nevalalee
Web:
http://www.nevalalee.com
Wikipedia:
https://en.wikipedia.org/wiki/Alec_Nevala-Lee
WorldCat:
http://www.worldcat.org/search?q=Alec++Nevala-Lee
---
Selected Titles
Astounding: John W. Campbell, Isaac Asimov, Robert A. Heinlein, L. Ron Hubbard, and the Golden Age of Science Fiction
ISBN: 006257194X OCLC: 1030279844 Dey Street Books 2018 Astounding is the landmark account of the extraordinary partnership between four controversial writers - John W. Campbell, Isaac Asimov, Robert A. Heinlein, and L. Ron Hubbard - who set off a revolution in science fiction and forever changed our world. This remarkable cultural narrative centers on the figure of John W. Campbell, Jr., whom Asimov called the most powerful force in science fiction ever. Campbell, who has never been the subject of a biography until now, was both a visionary author - he wrote the story that was later filmed as The Thing - and the editor of the groundbreaking magazine best known as Astounding Science Fiction, in which he discovered countless lengedary writers and published classic works ranging from Asimov's Robot series to Frank Herbert's Dune. Over a period of more than thirty years, from the rise of the pulps to the debut of Star Trek, Campbell dominated the genre, and his three closest collaborators reached unimaginable heights. Asimov became the most prolific author in American history; Heinlein emerged as the leading science fiction writer of his generation with the novels Starship Troopers and Stranger in a Strange Land; and Hubbard achieved lasting fame - and infamy - as the founder of the Church of Scientology. Drawing on unexplored archives, thousands of unpublished letters, and dozens of interviews, Alec Nevala-Lee offers a riveting portrait of this circle of authors, their work, and their tumultuous private lives. With unprecedented scope, drama, and detail, Astounding describes how fan culture was born in the depths of the Great Depression; follows these four friends and rivals through World War II and the dawn of the atomic era; and honors such exceptional women as Doña Campbell and Leslyn Heinlein, whose pivotal roles in the history of the genre have so far gone largely unacknowledged. For the first time, Nevala-Lee reveals the startling extent of Campbell's influence on the ideas that evolved into Scientology, which prompted Asimov to observe: I knew Campbell and I knew Hubbard, and no movement can have two Messiahs. Astounding looks unsparingly at the tragic final act that estranged the others from Campbell, bringing the golden age of science fiction to a close, and illuminates how their complicated legacy continues to shape the imaginations of millions and our vision of the future itself. --
City of exiles
ISBN: 0451238788 OCLC: 775418712 Signet New York : 2012 In the lightning-paced sequel to The Icon Thief, Europe's turbulent past and terrifying future are set to collide in the streets and prisons of London--and beyond. Rachel Wolfe, a gifted FBI agent assigned to a major investigation overseas, discovers that a notorious gun runner has been murdered at his home in London, his body set on fire. When a second victim is found under identical circumstances, the ensuing chase plunges Wolfe and her colleagues into a breathless race across Europe, a secret war between two ruthless intelligence factions, and a hunt for a remorseless killer with a deadly appointment in Helsinki. At the heart of the mystery lies one of the strangest unsolved incidents in the history of Russia--the unexplained death of nine mountaineers in the Dyatlov Pass five decades before. And at the center of it all stands a figure from Wolfe's past: the Russian thief and former assassin known in another life as the Scythian ...
Eternal empire
ISBN: 0451415663 OCLC: 855197592 Berkley 2013 Maddy Blume is a survivor. Years ago, while working as an art analyst in New York, she was changed forever by an encounter with Ilya Severin, the thief and former assassin once known as the Scythian. Now, in London, she is presented with an unusual proposition: to go undercover as an art consultant to a Russian oil billionaire suspected of channeling profits to military intelligence --Page 4 of cover.
Inventor of the Future: The Visionary Life of Buckminster Fuller
ISBN: 0062947222 OCLC: 1314330783 Dey Street Books 2022 From Alec Nevala-Lee, the author of the Hugo and Locus Award finalist Astounding, comes a revelatory biography of the visionary designer who defined the rules of startup culture and shaped America's idea of the future. During his lifetime, Buckminster Fuller was hailed as one of the greatest geniuses of the twentieth century. As the architectural designer and futurist best known for the geodesic dome, he enthralled a vast popular audience, inspired devotion from both the counterculture and the establishment, and was praised as a modern Leonardo da Vinci. To his admirers, he exemplified what one man could accomplish by approaching urgent design problems using a radically unconventional set of strategies, which he based on a mystical conception of the universe's geometry. His views on sustainability, as embodied in the image of Spaceship Earth, convinced him that it was possible to provide for all humanity through the efficient use of planetary resources. From Epcot Center to the molecule named in his honor as the buckyball, Fuller's legacy endures to this day, and his belief in the transformative potential of technology profoundly influenced the founders of Silicon Valley. Inventor of the Future is the first authoritative biography to cover all aspects of Fuller's career. Drawing on meticulous research, dozens of interviews, and thousands of unpublished documents, Nevala-Lee has produced a riveting portrait that transcends the myth of Fuller as an otherworldly generalist. It reconstructs the true origins of his most famous inventions, including the Dymaxion Car, the Wichita House, and the dome itself; his fraught relationships with his students and collaborators; his interactions with Frank Lloyd Wright, Isamu Noguchi, Clare Boothe Luce, John Cage, Steve Jobs, and many others; and his tumultuous private life, in which his determination to succeed on his own terms came at an immense personal cost. In an era of accelerating change, Fuller's example remains enormously relevant, and his lessons for designers, activists, and innovators are as powerful and essential as ever --
The Icon Thief
ISBN: 0451236203 OCLC: 727703354 Signet New York : 2012 Maddy Blume, an ambitious young art buyer for a Manhattan hedge fund, is desperate to track down a priceless painting by Marcel Duchamp, the most influential artist of the twentieth century. The discovery of a woman's decapitated body thrusts criminal investigator Alan Powell into a search for the same painting, with its enigmatic image of a headless nude. And a Russian thief and assassin known as the Scythian must steal the painting to save his reputation--and his life. The murderous race is on. And in the lead is an insidious secret society intent on reclaiming the painting for reasons of its own--and by any means necessary ... --Page 4 of cover.