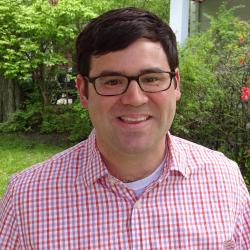 Eric Calderwood
Born:
Connection to Illinois
: Calderwood lives in the Urbana-Champaign area.
Biography
: Eric Calderwood is Associate Professor of Comparative and World Literature at the University of Illinois Urbana-Champaign and the author of the award-winning Colonial al-Andalus. He is a contributor to NPR, the BBC, and Foreign Policy. He received his PhD at Harvard University, where his research focused on Spain and Morocco. His essays have appeared in American Scholar, Virginia Quarterly Review, McSweeney's, and elsewhere.
---
Awards
:
Colonial al-Andalus: Spain and the Making of Modern Moroccan Culture 2019 NIKKI KEDDIE BOOK AWARD HONORABLE MENTION
Primary Literary Genre(s):
Non-Fiction
Primary Audience(s):
Adult readers
E-Mail:
https://experts.illinois.edu/en/persons/eric-stickley-calderwood#
LinkedIn:
https://www.linkedin.com/in/eric-calderwood-66269440
Web:
https://experts.illinois.edu/en/persons/eric-stickley-calderwood
WorldCat:
http://www.worldcat.org/search?q=Eric++Calderwood
---
Selected Titles
Colonial al-Andalus: Spain and the Making of Modern Moroccan Culture
ISBN: 0674980328 OCLC: 1030578481 Belknap Press: An Imprint of Harvard University Press 2018 Through state-backed Catholicism, monolingualism, militarism, and dictatorship, Spain's fascists earned their reputation for intolerance. It may therefore come as a surprise that 80,000 Moroccans fought at General Franco's side in the 1930s. What brought these strange bedfellows together, Eric Calderwood argues, was a highly effective propaganda weapon: the legacy of medieval Muslim Iberia, known as al-Andalus. This legacy served to justify Spain's colonization of Morocco and also to define the Moroccan national culture that supplanted colonial rule. Writers of many political stripes have celebrated convivencia, the fabled "coexistence" of Christians, Muslims, and Jews in medieval Iberia. According to this widely-held view, modern Spain and Morocco are joined through their shared Andalusi past. Colonial al-Andalus traces this supposedly timeless narrative to the mid-1800s, when Spanish politicians and intellectuals first used it to press for Morocco's colonization. Franco later harnessed convivencia to the benefit of Spain's colonial program in Morocco. This shift precipitated an eloquent historical irony. As Moroccans embraced the Spanish insistence on Morocco's Andalusi heritage, a Spanish idea about Morocco gradually became a Moroccan idea about Morocco. Drawing on a rich archive of Spanish, Arabic, French, and Catalan sources―including literature, historiography, journalism, political speeches, schoolbooks, tourist brochures, and visual arts―Calderwood reconstructs the varied political career of convivencia and al-Andalus, showing how shared pasts become raw material for divergent contemporary ideologies, including Spanish fascism and Moroccan nationalism. Colonial al-Andalus exposes the limits of simplistic oppositions between European and Arab, Christian and Muslim, that shape current debates about European colonialism.
On Earth or in Poems: The Many Lives of al-Andalus
ISBN: 0674980360 OCLC: 1377727814 Harvard University Press 2023 How the memory of Muslim Iberia shapes art and politics from New York and Cordoba to Cairo and the West Bank. During the Middle Ages, the Iberian Peninsula was home not to Spain and Portugal but rather to al-Andalus. Ruled by a succession of Islamic dynasties, al-Andalus came to be a shorthand for a legendary place where people from the Middle East, North Africa, and Europe; Jews, Christians, and Muslims lived together in peace. That reputation is not entirely deserved, yet, as On Earth or in Poems shows, it has had an enduring hold on the imagination, especially for Arab and Muslim artists and thinkers in Europe, the Middle East, and North Africa. From the vast and complex story behind the name al-Andalus, Syrians and North Africans draw their own connections to history's ruling dynasties. Palestinians can imagine themselves as "Moriscos," descended from Spanish Muslims forced to hide their identities. A Palestinian flamenco musician in Chicago, no less than a Saudi women's rights activist, can take inspiration from al-Andalus. These diverse relationships to the same past may be imagined, but the present-day communities and future visions those relationships foster are real. Where do these notions of al-Andalus come from? How do they translate into aspiration and action? Eric Calderwood traces the role of al-Andalus in music and in debates about Arab and Berber identities, Arab and Muslim feminisms, the politics of Palestine and Israel, and immigration and multiculturalism in Europe. The Palestinian poet Mahmud Darwish once asked, "Was al-Andalus / Here or there? On earth … or in poems?" The artists and activists showcased in this book answer: it was there, it is here, and it will be.