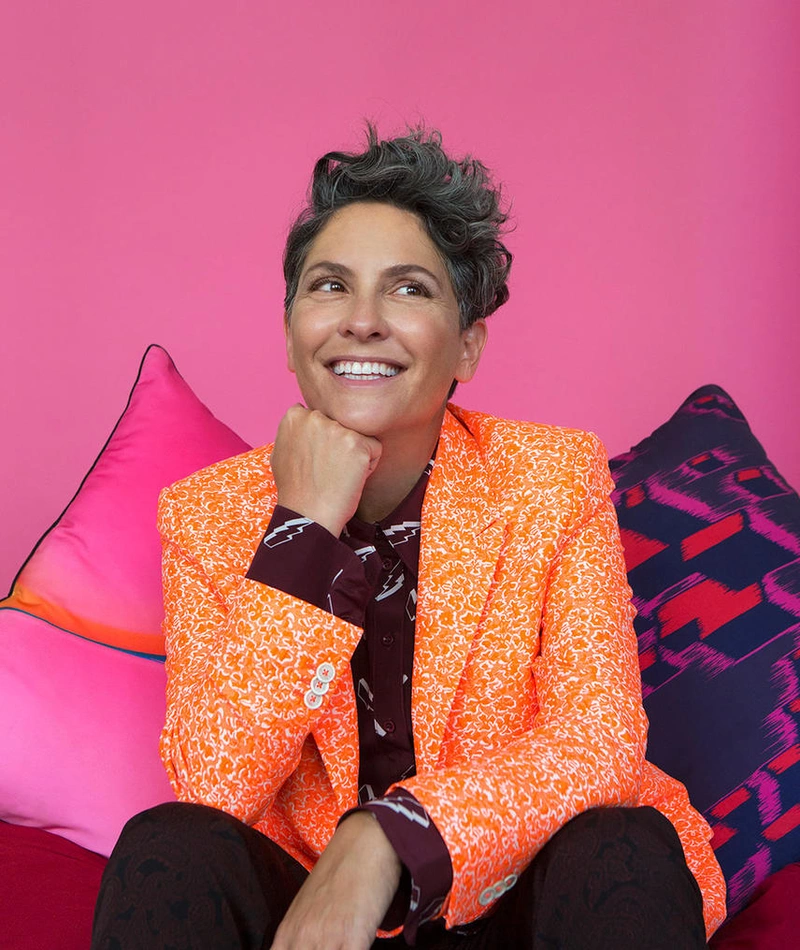 Joey Soloway
Born:
1965 in Chicago, Illinois
Pen Name:
Jill Soloway
Connection to Illinois
: Soloway is a Chicago native. They were born in Chicago and grew up in South Commons, a modernist experimental community in Chicago's Bronzeville. Soloway moved to Chicago's near north side and attended Ogden Elementary School and Lane Technical College Prep High School.
Biography
: Chicago native Joey Soloway is an award-winning writer, director, producer, and LGBT activist with numerous significant accomplishments in the fields of television, film, and publishing. Soloway, who is nonbinary and uses they/them pronouns, is the creator of the groundbreaking Amazon original series "Transparent," a poignant comedy that artfully explored identity, love, sex, God, and boundaries through the lives of a complicated American family. The series, which debuted in 2014 and ran for five seasons, revolved around a Los Angeles family and their lives following the discovery that one of their parents is transitioning. Over the course of its five-season run, "Transparent" received 24 Emmy nominations and eight Emmy awards — including two for Soloway's directing – as well as two Golden Globes. When "Transparent" won the 2015 Golden Globe Award for Best Television Series–Musical or Comedy, it became the first show produced by a streaming media service to win a Golden Globe for Best Series, as well as the first show produced by Amazon Studios to win a major award. Soloway dedicated their award to the memory of Leelah Alcorn, a transgender girl whose 2014 suicide attracted international attention. Soloway, who launched their arts career in Chicago's Off-Loop theatre movement in the 1990s before relocating to Los Angeles, won two Emmy Awards (in 2015 and 2016) for Outstanding Directing for a Comedy Series for "Transparent." The series' ensemble cast included Chicagoans Amy Landecker and Alexandra Grey, as well as Chicago LGBT Hall of Fame inductee and Chicago and Broadway actress Alexandra Billings. During the show's production, Soloway and their team established what they called a Transfirmative Action program at their company, Topple Productions. They made sure that trans people were hired anywhere possible. The "Transparent" series climaxed with a feature-length film called "The Musicale Finale," co-written by Joey Soloway and their sister Faith Soloway, that aired on September 27, 2019. Soloway and their sibling Faith Soloway created the Annoyance's 1990 underground hit "The Real Live Brady Bunch," in which episodes of the 1970s sitcom "The Brady Bunch" were re-enacted onstage in a tongue-in-cheek deadpan style. After premiering at the Annoyance Theatre on Broadway in Chicago, the show, under Joey Soloway's direction, headed to successful runs Off-Broadway, in Los Angeles, and in Australia. "The Brady Bunch" also served as inspiration for a sequence in "The Transparent Musicale Finale." The Soloway siblings also created Annoyance Theater's popular satire of beauty contests, "The Miss Vagina Pageant." During this time in Chicago, Soloway was a producer at Eisaman, Johns, and Laws, where they helped create real people campaigns for WGN and Chicagoland Chevrolet. Soon after they joined the staff of Kartemquin Films, where they worked on the award-winning movie "Hoop Dreams." Soloway moved to Los Angeles in 1996. They became a writer and executive producer on the HBO series "Six Feet Under" from 2002-2005. They also co-created the 2016-2017 Amazon series "I Love Dick," an exploration of art, desire, and power. Other TV producing, writing, and/or directing credits include the series "Grey's Anatomy," "United States of Tara," "How to Make It in America," "Looking," and the 2015 documentary miniseries "This Is Me," which features trans people telling their own personal stories. Soloway also wrote and directed the feature film "Afternoon Delight," which premiered at the 2013 Sundance Film Festival, where it earned Soloway the Directing Award (United States, Drama). In addition to their work as a writer-director-producer, Soloway serves on the Global Leadership Board of Times Up and cofounded 5050by2020, a strategic initiative of the organization. Soloway recently launched The Disruptors Fellowship, a program supporting emerging television writers of color who identify as transgender, non-binary, disabled, and/or undocumented/formerly undocumented. Soloway is the author of two memoirs, the founder and editor-in-chief of Topple Books, an imprint of Amazon Publishing that focuses on works by women of color as well as writers who identify as queer and/or gender-nonconforming. They recently published Chicagoan Precious Brady-Davis' memoir "I Have Always Been Me." Soloway says the imprint specializes in stories designed to drive discussion and social change about sexuality and gender, stating: "We live in a complicated, messy world where every day we have to proactively re-center our own experiences by challenging privilege. With Topple Books we're looking for those undeniably compelling essential voices so often not heard." This mission defines Joey Soloway's distinguished career as an artist, entrepreneur, and activist. Soloway was inducted into The Chicago LGBT Hall of Fame in 2022. They now live in California.
---
Awards
:
She Wants It Starred Reviews - Publishers Weekly, Kirkus
Primary Literary Genre(s):
Non-Fiction
Primary Audience(s):
Adult readers
Facebook:
https://www.facebook.com/joeysoloway1
IMDB:
https://www.imdb.com/name/nm0813561/
Wikipedia:
https://en.wikipedia.org/wiki/Joey_Soloway
---
Selected Titles
She Wants It: Desire, Power, and Toppling the Patriarchy
ISBN: 1101904747 OCLC: 1017586080 Crown Archetype 2018 New York Times Editors' Choice In this poignant memoir of personal transformation, Jill Soloway takes us on a patriarchy-toppling emotional and professional journey. When Jill's parent came out as transgender, Jill pushed through the male-dominated landscape of Hollywood to create the groundbreaking and award-winning Amazon TV series Transparent. Exploring identity, love, sexuality, and the blurring of boundaries through the dynamics of a complicated and profoundly resonant American family, Transparent gave birth to a new cultural consciousness. While working on the show and exploding mainstream ideas about gender, Jill began to erase the lines on their own map, finding their voice as a director, show creator, and activist. She Wants It: Desire, Power, and Toppling the Patriarchy moves with urgent rhythms, wild candor, and razor-edged humor to chart Jill's evolution from straight, married mother of two to identifying as queer and nonbinary. This intense and revelatory metamorphosis challenges the status quo and reflects the shifting power dynamics that continue to shape our collective worldview. With unbridled insight that offers a rare front seat to the inner workings of the #metoo movement and its aftermath, Jill captures the zeitgeist of a generation with thoughtful and revolutionary ideas about gender, inclusion, desire, and consent.
Tiny Ladies in Shiny Pants: Based on a True Story
ISBN: 0743272188 OCLC: 921404296 Free Press 2006 From the creator and director of Transparent and Emmy-nominated writer for Six Feet Under comes a hilarious and unforgettable memoir.When Jill Soloway was just thirteen, she and her best friend donned the tightest satin pants they could find, poufed up their hair and squeezed into Candies heels, then headed to downtown Chicago in search of their one-and-only true loves forever: the members of whichever rock band was touring through town. Never mind that both girls still had braces, coke-bottle-thick glasses and had only just bought their first bras—they were fabulous, they felt beautiful, they were tiny ladies in shiny pants.Now that Jill is all grown up and a successful writer and producer, she can look back on her tiny self and share her shiny tales with fondness, absurdity, and obsessive-compulsive attention to even the most embarrassing details. From the highly personal (conflating her own loss of virginity and the Kobe Bryant accusations), to the political (what she has in common with Monica and Chandra), to the outrageously Los Angelean (why women wear huge diamonds and what they must do to get them), Tiny Ladies in Shiny Pants is a genre-defying combination of personal essay and memoir, or a hilarious, unruly and unapologetic evaluation of society, religion, sex, love, and—best of all—Jill.