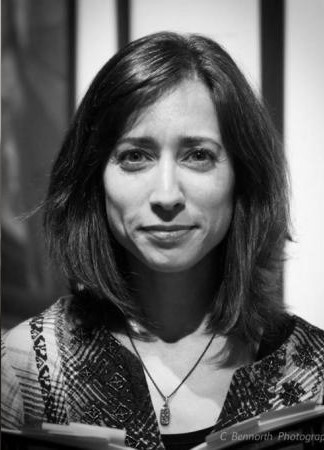 Elizabeth Strauss Friedman
Born:
Pen Name:
Amy Strauss Friedman
Connection to Illinois
: Strauss Friedman lives in Chicago. She earned her MA in Comparative Literature from Northwestern University, and taught English at the college level for ten years.
Biography
: Elizabeth Strauss Friedman is the author of the poetry book The Lost Positive, as well as the poetry collection The Eggshell Skull Rule and the prose/poetry chapbook Gathered Bones are Known to Wander. Her poetry has been nominated for the Pushcart Prize and Best of the Net, and her work has appeared in Pleiades, Rust & Moth, The Rumpus, and elsewhere.
---
Awards
:
Primary Literary Genre(s):
Poetry
Primary Audience(s):
Adult readers
E-Mail:
elizabethstraussfriedman@gmail.com
Twitter:
https://twitter.com/aelizabethpoet
Web:
https://www.elizabethstraussfriedman.com
WorldCat:
http://www.worldcat.org/search?q=Elizabeth++StraussFriedman
---
Selected Titles
The Eggshell Skull Rule
ISBN: 1947465759 OCLC: 1266167535 Kelsay Books 2018 In The Eggshell Skull Rule, Amy Strauss Friedman masterfully constructs a home from "a foundation of velvet" and "holy bricks." This is a home that becomes flesh, that becomes mystical in its emotional resonance, where "all wounds fasten memory at bone level." Strauss Friedman's home is a gorgeously human place of "growling beauty," of "celestial livers, kidneys, /guts, hearts." The poems in this debut collection take my breath away with their unceasing pressure on words and on the relationships of the mother, the daughter, the family. The Eggshell Skull Rule bears witness to the resilience of language, love, and a heart that throbs: "Alive alive alive." Jennifer Martelli, author of The Uncanny Valley and After Bird Amy Strauss Friedman's poetry evokes Janus, a god who gazed simultaneously at past and future. "We confront, we glass, we fragment /what once we forged," she writes, capturing the realization that what seemed to be iron might be the most fragile of all, poised to shatter. Her lines dart after mother and motherhood, old heartbreaks and uncertain futurescapes, all while struggling to inhabit the aching, brittle now. Jessica Walsh, author of How to Break My Neck
The Lost Positive Paperback
ISBN: 1609644255 OCLC: BlazeVOX 2023 Read this book and you will never see the constellations in the same way again. Each poem opens into the woman behind the myth, who has been hidden in darkness, or misconstrued as object or conquest. Strauss Friedman ventriloquizes the voices of these women with agility and originality, moving through wit, stunning intelligence, tenderness, and lyricism, as she both revises our take on history and speaks clearly to our present conundrums. This is a book we've been needing, and it took my breath away with its world-weary knowing. These voices are "As women ought to be," alive "outside male invalidation / advertently galloping into stardust." —Rachel Jamison Webster, author of September and Mary is a River