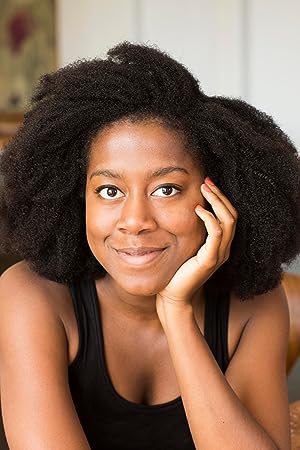 Tomi Adeyemi
Born:
Connection to Illinois
: Adeyemi grew up in Homewood Flossmoor and Hinsdale. She graduated from Hinsdale Central High School in 2011.
Biography
: Tomi Adeyemi is the #1 New York Times-bestselling Nigerian-American author of Children of Blood and Bone. After graduating Harvard University with an honors degree in English literature, she received a fellowship to study West African mythology, religion, and culture in Salvador, Brazil. When she's not working on her novels, she can be found blogging and teaching creative writing on her website. She now resides in San Diego, California.
---
Awards
:
Children of Blood and Bone Instant New York Times Bestseller TIME Top 100 Fantasy Books of All Time TIME Best YA Books of All Time TIME 100: Most Influential People of 2020 New York Times Notable Children's Books of 2018 TIME Top 10 Best YA and Children's Books of 2018 NPR's Book Concierge 2018 Great Reads List Buzzfeed's 24 Best YA Books of 2018 Bustle's Top 25 Best Young Adults Books of 2018 2018 Kirkus Prize Finalist YALSA William C. Morris YA Debut Award Finalist Paste Magazine's 30 Best YA Novels of 2018 Newsweek's 61 Best Books from 2018 Boston Globe's Best Children's Books of 2018 Publishers Weekly Best YA Books of 2018 School Library Journal Best Books of 2018 2019 YALSA Teen's Top Ten List
CHILDREN OF VIRTUE AND VENGEANCE A GOOD MORNING AMERICA BOOK CLUB PICK
Primary Literary Genre(s):
Fiction
Primary Audience(s):
Young adult readers
Blog:
http://www.tomiadeyemi.com/the-blog/
Facebook:
https://www.facebook.com/tadeyemibooks/
Pinterest:
https://www.pinterest.com/tomiadeyemiYA/
Twitter:
https://twitter.com/tomi_adeyemi
Web:
http://www.tomiadeyemi.com/
Wikipedia:
https://en.wikipedia.org/wiki/Tomi_Adeyemi
WorldCat:
http://www.worldcat.org/search?q=Tomi++Adeyemi
---
Selected Titles
Children of blood and bone
ISBN: 1250170974 OCLC: 1029088715 Henry Holt and Co. (BYR) 2018 With five starred reviews, Tomi Adeyemi's West African-inspired fantasy debut, and instant #1 New York Times Bestseller, conjures a world of magic and danger, perfect for fans of Leigh Bardugo and Sabaa Tahir. They killed my mother. They took our magic. They tried to bury us. Now we rise. Zélie Adebola remembers when the soil of Orïsha hummed with magic. Burners ignited flames, Tiders beckoned waves, and Zélie's Reaper mother summoned forth souls. But everything changed the night magic disappeared. Under the orders of a ruthless king, maji were killed, leaving Zélie without a mother and her people without hope. Now Zélie has one chance to bring back magic and strike against the monarchy. With the help of a rogue princess, Zélie must outwit and outrun the crown prince, who is hell-bent on eradicating magic for good. Danger lurks in Orïsha, where snow leoponaires prowl and vengeful spirits wait in the waters. Yet the greatest danger may be Zélie herself as she struggles to control her powers and her growing feelings for an enemy.
CHILDREN OF VIRTUE AND VENGEANCE
ISBN: 1250170990 OCLC: 1030485153 Henry Holt and Co. (BYR) 2019 "Meet Tomi Adeyemi―the new J.K. Rowling. (Yep, she's that good)." ―Entertainment Weekly After battling the impossible, Zélie and Amari have finally succeeded in bringing magic back to the land of Orïsha. But the ritual was more powerful than they could've imagined, reigniting the powers of not only the maji, but of nobles with magic ancestry, too. Now, Zélie struggles to unite the maji in an Orïsha where the enemy is just as powerful as they are. But when the monarchy and military unite to keep control of Orïsha, Zélie must fight to secure Amari's right to the throne and protect the new maji from the monarchy's wrath. With civil war looming on the horizon, Zélie finds herself at a breaking point: she must discover a way to bring the kingdom together or watch as Orïsha tears itself apart. Children of Virtue and Vengeance is the stunning sequel to Tomi Adeyemi's New York Times-bestselling debut Children of Blood and Bone, the first book in the Legacy of Orïsha trilogy.