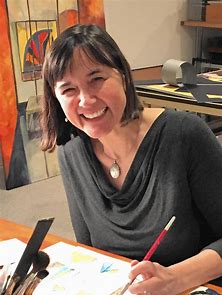 Darcy Day Zoells
Born:
Connection to Illinois
: Zoells graduated from Northwestern University where she studied art history and studio art.
Biography
: For ten years, Darcy Day Zoells ran a visual literacy program in a K-5 school. She still feels passionate about helping children look critically and verbalize their questions about what they see. Her art history foundation and these experiences have had a profound effect on her work.
---
Awards
:
The New Bicycle Gold Medal Winner of the 2022 Key Colors Competition
Primary Literary Genre(s):
Fiction; Illustrator
Primary Audience(s):
Children
E-Mail:
notmrdarcy@gmail.com
Facebook:
https://www.facebook.com/darcy.zoells
Instagram:
https://www.instagram.com/darcydayzoells/
Twitter:
https://twitter.com/darcynotmrdarcy
Web:
https://www.darcydayzoells.com/
WorldCat:
http://www.worldcat.org/search?q=Darcy++Day++Zoells
---
Selected Titles
The New Bicycle
ISBN: 1605379646 OCLC: 1374107532 Clavis [S.l.] : 2023 Gold Medal Winner of the 2022 Key Colors Competition, the biennial national contest for illustrators of children's books. Mari lives in a very normal house in a very normal neighborhood. One day, she gets a new bicycle. It's bight, bold and brimming with possibilities! Mari sets off to see where her new bicycle will take her and her trip down the block becomes a fantastic adventure. During her journey, paving her own way, she meets new friends, transports precious cargo, and finds endless places to explore before returning home. An imaginative little road movie layered with meaning to ride along.
When God Gave Us Words
ISBN: 1947888013 OCLC: 1029771107 Flyaway Books 2018 Words. There are long words and short words, nice words and mean words. There are silly words, scary words, and hard-to-spell words. There are so many words in our world! But where did they all come from? Award-winning children's book author Sandy Eisenberg Sasso tells a creative tale about the origin of words, and the power of language, in When God Gave Us Words. Inside this innovative children's book, God gives the power of words to humankind. At first, God and the angels are pleased with how people use words, but over time they start to use words to make curses, lies, and threats. The angels beg God to take back the gift of language, and just as God is about to take it back, new, beautiful words begin to fill the air. When God Gave Us Words features imaginative illustrations by Darcy Day Zoells. When God Gave Us Words is a 2018 Spirituality & Practice Award Winner!