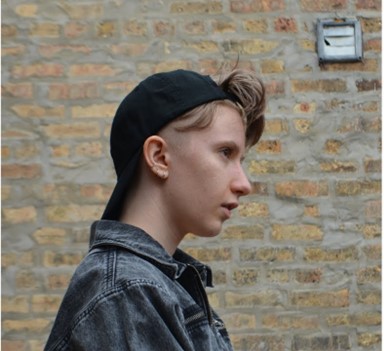 August Clarke
Born:
Pen Name:
HA Clarke
Connection to Illinois
: Clarke researched queerness, labor, and monstrosity at the University of Chicago.
Biography
: August Clarke uses he/they pronouns and writes under the pen name of H.A. Clarke. They have been published in PRISM international, Portland Review, and Eidolon. hey were a 2019 Lambda Literary Fellow in Young Adult Fiction and a Locus Award, Dragon Award, and Pushcart nominee.
---
Awards
:
The Scapegracers Starred Reviews - Publishers Weekly and Kirkus
Primary Literary Genre(s):
Fiction
Primary Audience(s):
Young adult readers
Instagram:
https://www.instagram.com/sapphomancer/
Twitter:
https://twitter.com/sapphomancer
Web:
https://augustvclarke.com/
WorldCat:
http://www.worldcat.org/search?q=August++Clarke
---
Selected Titles
The Feast Makers (The Scapegracers)
ISBN: 1645660818 OCLC: 1389608397 Erewhon Books [S.l.] : 2024 The Craft for Gen Z: The Feast Makers, indie bestselling author H. A. Clarke crafts an action-packed conclusion to the Scapegracers trilogy, as our beloved teen coven tackle college acceptances, queer romance, and a witch trial to remember for the ages. After restoring their powers, Sideways just wants to get on with senior year. But the covens have convened for the trial of Madeline Kline. When this stubborn, independent witch begs the Scapegracers to save her from a cruel and unusual punishment, Sideways knows they have to get involved. It's the right thing to do, even if Madeline did steal their soul and wear it for a time. Right? Making an example out of Madeline seems, strangely, just as important to the most powerful covens as divvying up the Scapegracers amongst themselves. Sideways, Jing, Daisy, and Yates are reluctant to abandon what they've built together, but as the college acceptances (and rejections) roll in, the offer of a magical family beyond Sycamore Gorge becomes increasingly tempting. Unfortunately, choosing a new coven will have to wait: witchfinders are gathering in town, and some of these visitors make the Chantrys seem tame in comparison. Every witch—Scapegracer or not—is about to be in grave danger. And on top of all that, Sideways thinks they just might be in love. In H. A. Clarke's signature raw and explosive style, The Feast Makers brings the indie-bestselling Scapegracers trilogy to a dynamic end as Sideways, Jing, Daisy, Yates, and Shiloh tackle college acceptances, queer romance, and the meaning of justice in an ever-challenging world.
The Scapegracers
ISBN: 1645660001 OCLC: 1142728252 Erewhon Books 2020 The Craft for Gen Z: The Scapegracers is an award-nominated, indie bestseller about witchcraft and friendship among a hell-raising coven of teen girls, told in an unapologetically fierce, inclusive, and vibrant voice. Skulking near the bottom of West High's social pyramid, Sideways Pike lurks under the bleachers doing magic tricks for bottles of Coke. As a witch, lesbian, and lifelong outsider, she's had a hard time making friends. But when the three most popular girls pay her forty dollars to cast a spell at their Halloween party, Sideways gets swept into a new clique. The unholy trinity are dangerous angels, sugar-coated rattlesnakes, and now—unbelievably—Sideways' best friends. Together, the four bond to form a ferocious and powerful coven. They plan parties, cast curses on jerks, and try to find Sideways a girlfriend, all while eluding the fundamentalist witchfinders hell-bent on stealing their magic. But for Sideways, the hardest part is the whole "having friends" thing. Who knew that balancing human interaction with supernatural peril could be so complicated? Rich with the urgency of feral youth, The Scapegracers is an atmospheric, voice-driven novel of the occult that explores magic, growing up, and the complexities of friendship with all the rage of a teenage girl.
The Scratch Daughters (The Scapegracers Book 2)
ISBN: 1645660176 OCLC: 1349357885 Erewhon 2022 The Craft for Gen Z: The Scratch Daughters, indie bestselling author H. A. Clarke crafts a brilliant, award-nominated sequel to The Scapegracers: a raw and roiling tribute to queer lineage, to finding oneself, and to the deep love of chosen family. Sideways Pike is desperate. It turns out that Madeline Kline didn't want to make out with her; infinitely worse, she was only flirting to get access to Sideways' specter. Madeline has ripped the magical soul out of Sideways' throat, and with it, everything that makes a witch feel whole. Madeline would know: the Chantry boys took hers, and she's going to use Sideways' specter to hunt them down and get it back. Sideways Pike, lesbian witch extraordinaire, isn't going to let little things like a treacherous crush or a brutal family of creepy witch hunters stop her, even if it means tracking down Madeline without the Scapegracers—her best friends, her coven, the girls she's come to love ferociously above all else. But Sideways and her trusty bike are in for a bumpy ride . . .