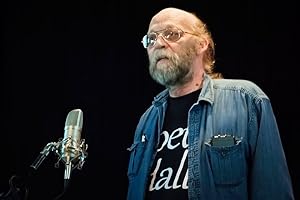 Lennart Lundh
Born:
1948, in Chicago, Illinois
Connection to Illinois
: Lundh was born in Chicago, raised in Burbank, and now resides in Orland Hills.
Biography
: Lennart Lundh is a poet, short-fictionist, historian, and photographer. His work has appeared internationally since 1965. Mr. Lundh served in Vietnam with the US Navy and holds an MA in Social Science from Northeastern Illinois University. Len reads at Chicago-area open mics on a regular basis, as well as appearing in Indiana, Pennsylvania, and Ohio several times a year.
---
Awards
:
Primary Literary Genre(s):
Fiction; History; Non-Fiction; Poetry
Primary Audience(s):
Adult readers
E-Mail:
lenlundh@aol.com
Twitter:
https://twitter.com/lenlundh
Web:
https://thepoetrycafe.online/2019/09/24/lennart-lundh/
Web:
https://www.etsy.com/shop/VisionsWords
Web:
https://www.pw.org/directory/writers/lennart_lundh
Web:
https://thewildword.com/poetry-summer-lennart-lundh/
WorldCat:
http://www.worldcat.org/search?q=Lennart++Lundh
---
Selected Titles
After the Wolves
ISBN: 1522727256 OCLC: CreateSpace Atglen, PA : 2015 "My daughter, this makes three times in two months that you've confessed months that you've confessed adultery. If you were sorry, if the previous penances had done some good, you wouldn't be confessing it again.""True. I tell myself not to sin, but my heart aches for him so I do. I regret the sin, but not the acts that contain it." Father Hiver sighed. "It wouldn't quite so bad if this man weren't married, didn't have children. You really are blessed to love and be loved. There's too little of that in the world. It's your choice of lover that offends God."
Arbor and Winepress:: Selected Poems 1967-2016
ISBN: 1541366166 OCLC: 1096435356 CreateSpace 2017 Arbor and Winepress marks Lennart Lundh's 50th year as a published poet. It's fifty-six poems, which have appeared in print and on-line journals, magazines, and anthologies between 1967 and 2016, are gathered in a single volume for the first time.
Cutting a Sunbeam: A collection of ekphrastic prose-poems
ISBN: 1639802371 OCLC: Kelsay Books Atglen, PA : 2022
H-34 Choctaw in Action - Aircraft No. 146
ISBN: 0897473191 OCLC: 32431842 Squadron/Signal Publications Carrollton, Tex. : 1994
Jazz Me: Prose Poems
ISBN: 1537360213 OCLC: 1096435805 CreateSpace 2016 Jazz Me is Lennart Lundh's tenth book of poetry. Continuing his overarching themes of love and loss, war and peace, the selected prose poems found here are by turn personal and universal in their examination of what it means to be human.
Love Songs and Other War Poems
ISBN: 1543183891 OCLC: CreateSpace Atglen, PA : 2017 I want to be the tongue to shape sweet sounds you waste away for never making trace teeth and tease yours against the strength of its own need swirl living circles on your breasts to raise you for my lips dance torch-like on your thighs and leave you molten I want to be the tongue to teach you languages you thought had been abandoned — Language
Pictures of an Other Day
ISBN: 1508769141 OCLC: CreateSpace Atglen, PA : 2015 - Excerpt - "They speak of my drinking, but never my thirst. -- Scottish proverb. "Then I will speak of it, though they fear the sound of my voice, of my tread, the thread of their being breaking with a rale at my lips." --Railing at the Light
Pictures, Postcards, Letters
ISBN: 1950462935 OCLC: Kelsay Books Atglen, PA : 2020
Sikorsky H-34: An Illustrated History: (Schiffer Military/Aviation History)
ISBN: 0764305220 OCLC: 40473634 Schiffer Publishing, Ltd. Atglen, PA : 1998 Originally designed in 1952 as an anti-submarine warfare platform for the U.S. Navy, almost two-thousand Sikorsky H-34s have served on every continent with the armed forces of twenty-five countries from combat in Algeria, the Dominican Republic, Nicaragua
Sikorsky Hh-52a: An Illustrated History (Schiffer Military History Book)
ISBN: 0764317822 OCLC: 56809918 Schiffer Publishing Atglen, PA : 2003 In The Sikorsky HH-52A, noted historian Lennart Lundh presents this diminutive helicopter's story for the first time. Covered are design details, international service, licensed production by Mitsubishi, and the story of the "Seaguard's" use by the U.S. Coast Guard. A record of each airframe's history is included, as are photographs of three-quarters of the S-62As, S-62Js, and HH-52As produced. Of special interest are the recollections of nearly a score of Coast Guard pilots and aircrew, and the text of the Army's evaluation of the first production airframe.
So Careless of Themselves
ISBN: 1499789815 OCLC: CreateSpace Atglen, PA : 2014 Eyes against deepening sky and back to rolling deck, feeling the vibrations from the guns pass through the fiberglass and aluminum, the flesh and bones. (Bleed, then, if you must, for those who stop to watch as I no longer will.) — Somewhere Off the Coast
U.S. Army Aviation Color Schemes and Markings, 1942 to the Present
ISBN: 0764311808 OCLC: 45320855 Schiffer Military History Atglen, PA : 2000 Relying on scores of primary source documents, U.S. Army Aviation Color Schemes and Markings, 1942-to the Present focuses exclusively on how Army Aviation's aircraft have been painted and marked during nearly sixty years of service. Official changes in exterior schemes, interior colors, and all forms of markings are covered. Exceptions to "the rules" are also discussed. Of additional interest to the historian and enthusiast will be the wealth of material covering unofficial camouflage patterns, personal markings, and demonstration team aircraft. Complementing the text is a superb visual survey of Army Aviation color schemes and markings. This is comprised of over six hundred photos and drawings taken directly from Army manuals, manufacturers' files, private collections, and the archives of the Army and Air Force.