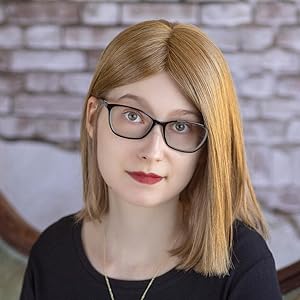 Rachel Terry
Born:
Connection to Illinois
: Terry lives in Bond County.
Biography
: Rachel Terry grew up in a small town where nothing much ever happened, dreaming of grand adventures and far-away places, which she found between the pages of books. When not writing, she can be found reading, making YouTube videos, gaming with friends, or indulging in her love of history.
---
Awards
:
Primary Literary Genre(s):
Fiction; Mystery
Primary Audience(s):
Adult readers; Young adult readers
Facebook:
https://www.facebook.com/rachelterryauthor
Instagram:
https://www.instagram.com/rterrywriter/
Web:
https://www.rachel-terry.com
WorldCat:
http://www.worldcat.org/search?q=Rachel++Terry
YouTube:
https://www.youtube.com/c/RachelTerryAuthor
---
Selected Titles
Flameseeker (The Guardians Duology 2)
ISBN: 1960519050 OCLC: Pharus Press 2023 THE TIME OF THE GUARDIANS IS COMING TO AN END. It's been one year since Sara Montgomery's life changed forever. One year since the sorceress Galatea returned, igniting a magical war. One year since Sara's magic revealed itself, proclaiming her a Guardian. Since then, there's been no sign of Galatea, but Sara knows it's only a matter of time and she and her allies need to be prepared. But following the loss of her amplifier, Sara's magic remains weak, with no sign of growing stronger. Struggling to balance her life on Earth with her place in Wysteria, Sara also has to contend with her growing feelings for Felix, who is still dealing with challenges of his own. Then, to make matters worse, Galatea returns with a powerful new ally in tow. With all hope of resurrecting her dead lover gone, she sets her sights on the Gates themselves—and the Guardians who protect them. In this thrilling conclusion to the Guardians Duology, no one will escape unscathed and neither Sara nor Wysteria will ever be the same.
Lightbringer (The Guardians Duology)
ISBN: 1960519026 OCLC: Pharus Press 2023 WHEN AN OLD WRONG LEADS TO WAR, ONE GIRL FINDS HERSELF IN THE MIDDLE OF IT ALL. For centuries, sealed Gates, protected by powerful magical beings known as Guardians have kept the realms of Earth and Wysteria separate. But, if a Gate is opened, it allows the inhabitants of both worlds to interact freely, sometimes with dire consequences. It's been six months since Sara Montgomery's mother died. She wants nothing more than to leave her small town, where nothing ever happens and there are too many memories. But when an old enemy returns, strange things begin happening—things that just don't happen in this little town. When her life is disrupted by the Gate's opening, Sara finds herself caught up in a magical war, forcing her to rethink what she thought she knew—about her town, her own family, and even herself. She and her new allies must work together or both worlds will be lost to a wicked sorceress out for revenge. Lightbringer is the first installment in The Guardians Duology, a young adult portal fantasy series.