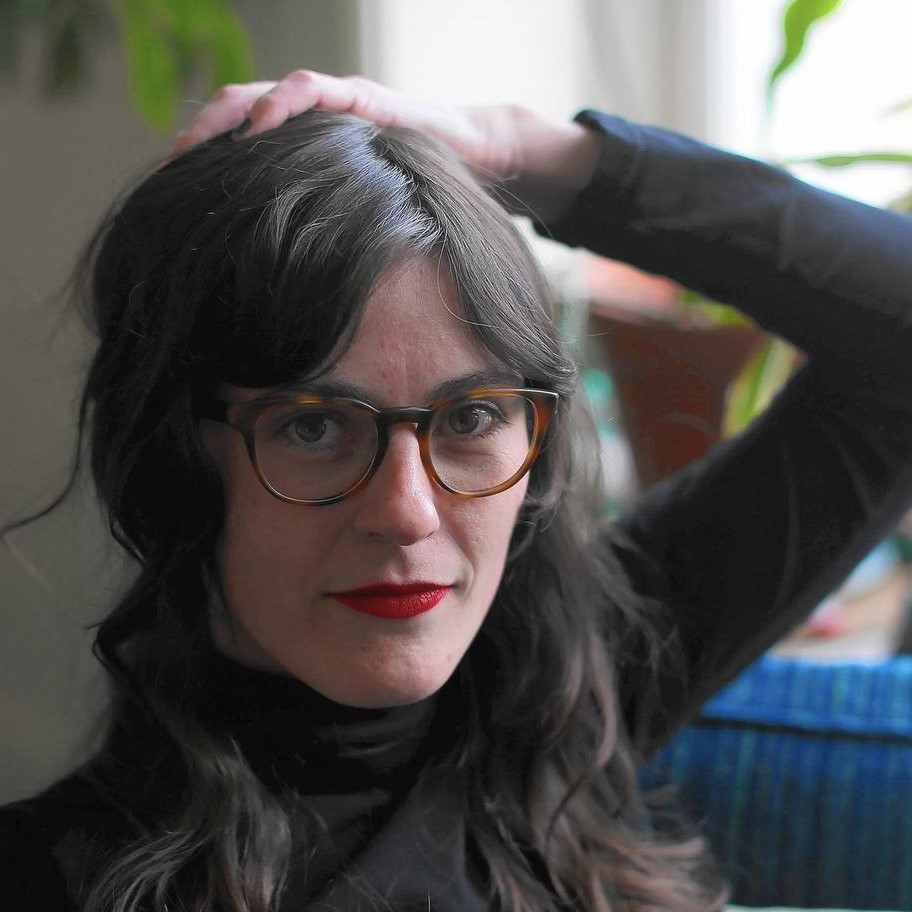 Halle Butler
Born:
Connection to Illinois
: Butler grew up in Bloomington and currently lives in Chicago. She graduated with a BFA from the School of the Art Institute of Chicago in 2008.
Biography
: Halle Butler is a writer whose work has been published in Hobart, Proximity Magazine, and red lightbulbs. She also co-writes movies, the most recent of which, Crimes Against Humanity, has screened at the Gene Siskel Film Center and Doc Films. She has been named a National Book Award Foundation '5 Under 35' honoree and a Granta Best Young American Novelist.
---
Awards
:
The New Me Named a Best Book of the Decade by Vox, and a Best Book of 2019 by Vanity Fair, Vulture, Chicago Tribune, Mashable, Bustle, and NPR
Primary Literary Genre(s):
Fiction
Primary Audience(s):
Adult readers
Blog:
https://aitchbutle.blogspot.com/
E-Mail:
hbutle@gmail.com
Web:
https://www.nationalbook.org/people/halle-butler/
Wikipedia:
https://en.wikipedia.org/wiki/Halle_Butler
WorldCat:
http://www.worldcat.org/search?q=Halle++Butler
---
Selected Titles
Banal Nightmare: A Novel
ISBN: 0593730356 OCLC: 1402763721 Random House 2024 A ferocious novel by one of the boldest voices in American fiction and the author of The New Me, the "definitive work of millennial literature" (The New Yorker) Margaret Anne ("Moddie") Yance had just returned to her native land in the Midwestern town of X, to mingle with the friends of her youth, to get back in touch with her roots, and to recover from a stressful decade of living in the city in a small apartment with a man she now believed to be a megalomaniac or perhaps a covert narcissist. So begins Halle Butler's sadistically precise and hilarious Banal Nightmare, which follows Moddie as she abruptly ends her long-term relationship and moves back to her Midwestern hometown, throwing herself at the mercy of her old friends as they, all suddenly tipping toward middle age, go to parties, size each other up, obsess over past slights, and dream of wild triumphs and elaborate revenge fantasies. When her friend Pam invites a mysterious East Coast artist to take up a winter residency at the local university, Moddie has no choice but to confront the demons of her past and grapple with the reality of what her life has become. As the day of reckoning approaches, friends will become enemies, enemies will become mortal enemies, and old loyalties will be tested to their extreme. Banal Nightmare is filled with complicated characters who will dazzle you in their rendering just as often as they will infuriate you with their decisions. Halle Butlersingularly captures the volatile, angry, aggrieved, surreal and entirely disorienting atmosphere of the modern era.
Jillian
ISBN: 014313552X OCLC: 1119741019 Penguin Books 2020 Megan, a bitter young medical secretary, takes a break from her overwhelming feelings of social rejection by keeping track of the disgusting habits of her co-worker, Jillian. Meanwhile, Jillian's misguided "go for it!" attitude leads her towards a series of unadvisable decisions.
The New Me
ISBN: 0143133608 OCLC: 1041193540 Penguin 2019 I'm still trying to make the dream possible: still might finish my cleaning project, still might sign up for that yoga class, still might, still might. I step into the shower and almost faint, an image of taking the day by the throat and bashing its head against the wall floating in my mind. Thirty-year-old Millie just can't pull it together. She spends her days working a thankless temp job and her nights alone in her apartment, fixating on all the ways she might change her situation--her job, her attitude, her appearance, her life. Then she watches TV until she falls asleep, and the cycle begins again. When the possibility of a full-time job offer arises, it seems to bring the better life she's envisioning within reach. But with it also comes the paralyzing realization, lurking just beneath the surface, of how hollow that vision has become. "Wretchedly riveting" (The New Yorker) and "masterfully cringe-inducing" (Chicago Tribune), The New Me is the must-read new novel by National Book Foundation "5 Under 35" honoree and Granta Best Young American novelist Halle Butler.