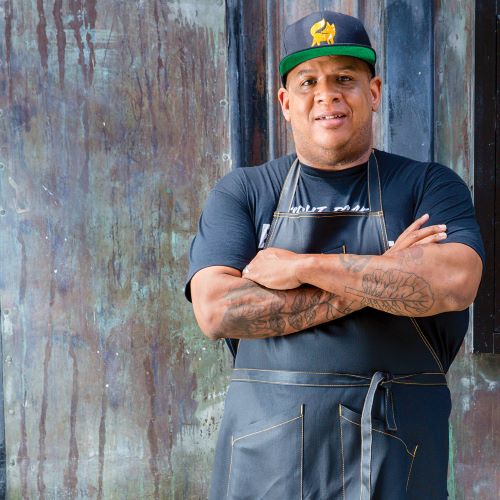 Todd Richards
Born:
Connection to Illinois
: Richards grew up on the Southeast Side of Chicago at East 101st Street and South Crandon Avenue.
Biography
: Chef Todd Richards grew up in Chicago before heading to Atlanta and considerable success as a chef and restaurateur. He has two James Beard nominations for Best Chef in the Southeast, was an Iron Chef competitor, and was named one of Four New Chefs to Watch by Esquire magazine. He is the owner/chef of Richards' Southern Fried at Krog Street Market in Atlanta.
---
Awards
:
Soul Amazon's Best Cookbooks of 2018 Publishers Weekly Best Books of 2018 Food52 Favorite Cookbooks of 2018 The Atlantic Best Cookbooks of 2018 Grub Street (New York Magazine) Best Cookbooks of 2018
Primary Literary Genre(s):
Non-Fiction
Primary Audience(s):
Adult readers
Facebook:
https://www.facebook.com/cheftoddrichards/
Instagram:
https://www.instagram.com/cheftoddrichards/
Web:
https://richards-studio-art-sound.square.site/
WorldCat:
http://www.worldcat.org/search?q=Todd++Richards
---
Selected Titles
Roots, Heart, Soul: The Story, Celebration, and Recipes of Afro Cuisine in America
ISBN: 0358612675 OCLC: 1355784153 Harvest [S.l.] : 2024 Chef Todd Richards, the James Beard Award–winning author of Soul, is your guide to exploring West African diaspora cooking in the Americas, spanning history from the slave trade through the Great Migration, with over 100 mouthwatering recipes and illuminating narratives. Across centuries and continents, the influence of West African food and culture draws a delicious family tree whose branches stretch into the Caribbean, Mexico, and the United States from coast to coast—from the deep South to the Wild West and all the roads in between. In this sprawling and evocative cookbook, acclaimed chef Todd Richards traces these shared roots and the journeys that connect them. Researched and informative, this book takes you beyond the recipes, exploring the history behind these traditional dishes—and the people who created them—and how peoples of the West African diaspora shaped and changed American history as we know it today. Including vibrant documentary photography, features throughout highlight interviews with chefs and luminaries, additional notes on ingredients and historical context, and expert chef's tips. At the heart of the book are Chef Todd's inspired recipes, including: Peanut and Mustard Greens Soup with Ginger and Tomato Haitian Oxtail with Beef Broth and Pikliz Grilled Shrimp Mojo with Black Bean Puree and Toasted Rice Grilled Quail Tacos with Mole Poblano Scallion and Smoked Cheddar Cornbread Fritters with Red Pepper Honey Peach Cobbler with Butter Pecan Ice Cream Buffalo Style Frog Legs or Chicken Wings with French Onion Ranch Dressing 7-Up Cake Chicago-Style Beach Spaghetti BBQ Shrimp with Garlicy French Bread and Parsley Butter Beignets with Espresso Powdered Sugar From page to glorious page, Todd's deep knowledge and vivid storytelling remind us that cooking and sharing food is a joyous way to connect with history, culture, and each other.
SOUL: A Chef's Culinary Evolution in 150 Recipes
ISBN: 0848754417 OCLC: 1034027360 TI Inc. Books 2018 James Beard Award-nominated Chef Todd Richards shares his personal culinary exploration of soul food. Black American chefs and cooks are often typecast as the experts of only one cuisine—soul food, but Todd Richards' food is anything but stereotypical. Taste his Hot-Chicken-Style Country-Fried Lamb Steak or Blueberry-Sweet Tea-Brined Chicken Thighs as evidence. While his dishes are rooted in family and the American cuisine known as soul food, he doesn't let his heritage restrain him. The message of Soul is that cooks can honor tradition yet be liberated to explore. Todd Richards celebrates the restorative wonders of a classic pot of Collard Greens with Ham Hocks, yet doesn't shy away from building upon that foundational recipe with his Collard Green Ramen, a reinterpretation that incorporates far-flung flavors of cultural influences and exemplifies culinary evolution. Page after page, in more than 150 recipes and stunning photos, Todd shares his creativity and passion to highlight what soul food can be for a new generation of cooks. Whether you're new to Southern and soul food or call the South your home, Soul will encourage you to not only step outside of the box, but to boldly walk away from it. The chapters in Soul are organized by featured ingredients: Collards, Onions, Berries, Lamb, Seafood, Corn, Tomatoes, Melons, Stone Fruit, Eggs and Poultry, Pork and Beef, Beans and Rice, and Roots. Each one begins with a traditional recipe and progresses alongside Richards' exploration of flavor combinations and techniques.