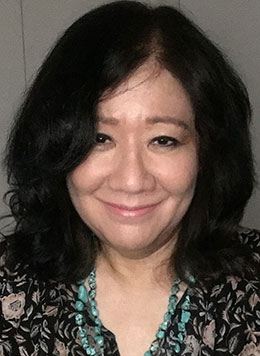 Cynthia Kadohata
Born:
1956 in Chicago, Illinois
Pen Name:
None
Connection to Illinois
: Kadohata was born in Chicago.
Biography
: Cynthia Kadohata is the author of the Newbery Medal winning book ''Kira-Kira'', the National Book Award winner ''The Thing About Luck'', the Jane Addams Peace Award and Pen USA Award winner ''Weedflower'', ''Cracker!,'' ''Outside Beauty'', ''A Million Shades of Gray'', ''Half a World Away,'' and several critically acclaimed adult novels, including ''The Floating World''. She has lived in Chicago, Georgia, Arkansas, Michigan, Los Angeles, Boston, Pittsburgh, and New York City. Currently, she resides in West Covina, California.
---
Awards
:
Kira-Kira
-- Newbery Medal, 2005; Asian/Pacific American Award for Literature - Youth Literature; Notable Children's Books, ALA; Booklinks Lasting Connections;
The Thing About Luck National Book Award for Young People's Literature; Asian/Pacific American Award for Literature - Youth Literatur
Weedflower Jane Addams National Peace Award; PEN USA Award
A Place to Belong Longlisted, National Book Award
Cracker! The Best Dog in Vietnam California Young Reader Medal, 2011[13] North Carolina Children's Book Award, Ohio Buckeye Children's Book Award, Nebraska Golden Sower, Kansas William Allen White Children's Book Award, South Carolina Junior Book Award
Primary Literary Genre(s):
Fiction; Non-Fiction
Primary Audience(s):
Adult readers; Children; Young adult readers
Web:
https://www.cynthiakadohata.com/index.html
Wikipedia:
https://en.wikipedia.org/wiki/Cynthia_Kadohata
---
Selected Titles
A Million Shades of Gray
ISBN: 9781442429192 OCLC: 758673766 Atheneum Books for Young Readers, New York : 2011. In 1975 after American troops pull out of Vietnam, a thirteen-year-old boy and his beloved elephant escape into the jungle when the Viet Cong attack his village.
A Place to Belong
ISBN: 1481446649 OCLC: 1056736228 Twelve-year-old Hanako and her family, reeling from their confinement in an internment camp, renounce their American citizenship to move to Hiroshima, a city devastated by the atomic bomb dropped by Americans.
Checked
ISBN: 1481446614 OCLC: 1001251121 Hockey is Conor's life. His whole life. He'll say it himself, he's a hockey beast. It's his dad's whole life too--and Conor is sure that's why his stepmom, Jenny, left. There are very few things Conor and his dad love more than the game, and one of those things is their Doberman, Sinbad. When Sinbad is diagnosed with cancer, Conor chooses to put his hockey lessons and practices on hold so they can pay for Sinbad's chemotherapy. But without hockey to distract him, Conor begins to notice more. Like his dad's crying bouts, and his friend's difficult family life. And then Conor notices one more thing: Without hockey, the one thing that makes him feel special, is he really special at all?
Cracker! The Best Dog in Vietnam
ISBN: 141690638X OCLC: 70258988 A young soldier in Vietnam bonds with his bomb-sniffing dog.
Half a World Away
ISBN: 9781442382558 OCLC: 1014252279 Simon & Schuster Audio : [United States] : 2014. A kid who considers himself an epic fail discovers the transformative power of love when he deals with adoption in this novel from Cynthia Kadohata. Eleven-year-old Jaden is adopted, and he knows he's an epic fail.' That's why his family is traveling to Kazakhstan to adopt a new baby-to replace him, he's sure. And he gets it. He is incapable of stopping his stealing, hoarding, lighting fires, aggressive running, and obsession with electricity. He knows his parents love him, but he feels ... nothing. But when they get to Kazakhstan, it turns out the infant they've travelled for has already been adopted, and literally within minutes are faced with having to choose from six other babies. While his parents agonize, Jaden is more interested in the toddlers. One, a little guy named Dimash, spies Jaden and barrels over to him every time he sees him. Jaden finds himself increasingly intrigued by and worried about Dimash. Already three years old and barely able to speak, Dimash will soon age out of the orphanage, and then his life will be as hopeless as Jaden feels now. For the first time in his life, Jaden actually feels something that isn't pure blinding fury, and there's no way to control it, or its power. From camels rooting through garbage like raccoons, to eagles being trained like hunting dogs, to streets that are more pothole than pavement, Half a World Away is Cynthia Kadohata's latest spark of a novel.
In the Heart of the Valley of Love
ISBN: 0520207289 OCLC: 35192345 University of California Press, Berkeley : [1997], ©1992. This novel explores human relationships in a Los Angeles of the future, where rich and poor are deeply polarized and where water, food, gas and education cannot be taken for granted.
Kira-Kira
ISBN: 9781439106600 OCLC: 869439925 Atheneum Books for Young Readers, [Place of publication not identified] : 2008. Chronicles the close friendship between two Japanese-American sisters growing up in rural Georgia during the late 1950s and early 1960s, and the despair when one sister becomes terminally ill. kira-kira (kee' ra kee' ra): glittering; shining Glittering. That's how Katie Takeshima's sister, Lynn, makes everything seem. The sky is kira-kira because its color is deep but see-through at the same time. The sea is kira-kira for the same reason. And so are people's eyes. When Katie and her family move from a Japanese community in Iowa to the Deep South of Georgia, it's Lynn who explains to her why people stop them on the street to stare. And it's Lynn who, with her special way of viewing the world, teaches Katie to look beyond tomorrow. But when Lynn becomes desperately ill, and the whole family begins to fall apart, it is up to Katie to find a way to remind them all that there is always something glittering -- kira-kira -- in the future. Luminous in its persistence of love and hope, Kira-Kira is Cynthia Kadohata's stunning debut in middle-grade fiction.
Outside Beauty
ISBN: 0689865759 OCLC: 181079145 Atheneum Books for Young Readers, New York : ©2008. Thirteen-year-old Shelby and her three sisters must go to live with their respective fathers while their mother, who has trained them to rely on their looks, recovers from a car accident that scarred her face.
Saucy
ISBN: 144241278X OCLC: Atheneum/Caitlyn Dlouhy Books 2020 Being a quadruplet can make it hard to stand out from the crowd. Becca's three brothers all have something that makes them...them. Bailey has his music and dancing, Jammer plays hockey, and K.C. thinks they're all living in a simulation and doesn't see the point of doing much of anything. Becca is the only one with nothing to make her special.But when she finds a tiny, sick piglet on the side of the road, Becca knows this is it. This is her thing. She names the piglet Saucy and between her own pleading and Saucy's sweet, pink face, Becca convinces her family to take her in. Soon, Saucy is as big a part of the family as anyone else--and getting bigger. With each pound Saucy gains, the more capable she becomes of destroying the house and landing Becca in trouble.Some tough decisions need to be made about Becca's pet, and her search for solutions brings to light exactly where Saucy came from. Turns out, there are a lot more scared piglets out there, and saving them may take Becca and her brothers finally doing something together.
The Floating World
ISBN: 0345381629 OCLC: 27985090 Ballantine Books, New York : 1993, ©1989. A New York Times Notable Book of the Year, Magical The Floating World, is about families; coming of age, guilt, memory. It is also about being Japanese-American in the United States in the 1950's. -- New York Times Book Review. In the 1950s, Olivia and her extended family travel along California's coast while her stepfather works at transient jobs, and although her grandmother annoys her with her stories, after her grandmother's death, the stories continue to guide Olivia in her life.
The Glass Mountains
ISBN: 1497644593 OCLC: Open Road Media Young Readers 2014 Mariska could not be happier. Living an almost fairy‑tale life, she is popular, adored by her parents, and is engaged to be married to the most attractive man in her village. But her world is torn when war approaches the peaceful village of Bakshami. Mariska risks everything she has in order to search for her parents who left to negotiate and find peace. With a young warrior as her companion, she travels beyond the safety of her village. Together they search for Mariska's parents and peace for their village in a time of terrible uncertainty.
The Thing About Luck
ISBN: 9781442382541 OCLC: 894504699 Summer knows that kouun means 'good luck' in Japanese, and this year her family has none of it. Just when she thinks nothing else can possibly go wrong, an emergency whisks her parents away to Japan right before harvest season. Summer and her little brother, Jaz, are left in the care of their grandparents, who come out of retirement in order to harvest wheat and help pay the bills. The thing about Obaachan and Jiichan is that they are old-fashioned and demanding.
Vape
ISBN: 1534482393 OCLC: [S.l.] : Atheneum/Caitlyn Dlouhy Books [S.l.] : 2024 Sixteen-year-old Elijah is pretty damn sick of his parents always being on his case about vaping. It's not like he's shooting up or knocking back pills. Until something changes, so slowly Jacob isn't even aware it's happening. Instead of vaping every now and then when he wants to, he's vaping all the time because he has to.And soon, Elijah and his friends need even more than vaping and are stumbling their way into the sprawling drug culture of Southern California, where girls sell pictures of themselves for vape and pill money, and the dealers are cutthroat. The more desperate the teens become, the more money they need. And to get that money they're being blackmailed into an impossible choice—and an end you won't see coming.
Weedflower
ISBN: 9781416975663 OCLC: 226360149 Aladdin Paperbacks, New York : 2009, ©2006. After twelve-year-old Sumiko and her Japanese-American family are relocated from their flower farm in southern California to an internment camp on a Mojave Indian reservation in Arizona, she helps her family and neighbors, becomes friends with a local Indian boy, and tries to hold on to her dream of owning a flower shop.