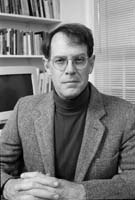 Paul Buhle
Born:
September 27, 1944 in Champaign, Illinois
Pen Name:
None
Connection to Illinois
: Paul Buhle was born in Champaign, Illinois and graduated from the University of Illinois in Urbana-Champaign in 1966.
Biography
: Paul Buhle is a Senior Lecturer at Brown University. He is the co-author of four books on the history of the Hollywood Blacklist and the editor of a series of graphic non-fiction works by American comics artists and writers, among them Harvey Pekar, Sabrina Jones and Sharon Rudahl.Buhle is also the authorized biographer of C. L. R. James.Paul Buhle currently resides in Providence, Rhode Island.
---
Awards
:
American Library Association awards for edited works
Primary Audience(s):
Adult readers
Email:
Paul_Buhle@Brown.edu
Wikipedia:
http://en.wikipedia.org/wiki/Paul_Buhle
Paul Buhle on WorldCat :
http://www.worldcat.org/search?q=paul+buhle
---
Selected Titles
A people's history of American empire :
ISBN: 0805087443 OCLC: 163625223 Metropolitan Books, New York : 2008. Adapted from the critically acclaimed chronicle of U.S. history, a study of American expansionism around the world is told from a grassroots perspective and provides an analysis of important events from Wounded Knee to Iraq.
A people's history of American empire :
ISBN: 9781472107817 OCLC: 945764036
A very dangerous citizen :
ISBN: 0520236726 OCLC: 711911124 University of California Press, Berkeley : ©2001. Going beyond a biography, this text uses the life of blacklisted Hollywood writer and director Abraham Lincoln Polonsky to help us understand the relationship between art and politics in American culture and to uncover the effects of US anticommunism and anti-Semitism.
Blacklisted :
ISBN: 140396145x OCLC: 51868059 Palgrave Macmillan, New York : 2003. "In Blacklisted, Paul Buhle and Dave Wagner have put together the definitive guide to the films, directors, stars, writers, designers, producers and anyone else who was blacklisted by the House Un-American Activities Committee during the notorious Hollywood blacklist era. With over 2000 entries, including such films as Roman Holiday and Bridge on the River Kwai, Blacklisted is the ultimate film lover's guide to Hollywood's darkest days."--Jacket.
C.L.R. James :
ISBN: 0850316847 OCLC: 13093274 Allison & Busby, London : 1986.
Hide in plain sight :
ISBN: 1403966842 OCLC: 51586908 Palgrave Macmillan, New York : 2003. Hidden in plain sight completes Buhle and Wagner's trilogy on the Hollywood blacklist. When the blacklistees were hounded out of Hollywood, some left for television where many worked on children's shows like "Rocky and Bullwinkle." A number wrote adult sitcoms such as The Donna Reed Show, and M*A*S*H while some of them ultimately returned to Hollywood and made great films such as Norma Rae, and Midnight Cowboy. This is a thoughtful look at the aftermath of the horror that was the McCarthy period from two expert historians of the blacklist period.
Hide in Plain Sight :
ISBN: 9781250083135 OCLC: 437187075 Palgrave Macmillan, New York : 2006. This study explores the Hollywood blacklist and its aftermath. Buhle and Wagner take up the question of where the blacklistees went after they were hounded out of Hollywood. Some left Hollywood for careers in television with many of them working in children's and family programming.
Insurgent images :
ISBN: 1583670343 OCLC: 46473796 Monthly Review Press, New York : ©2002. "The most prolific U.S. labor muralist since the 1940s, Alewitz follows the traditions of Diego Rivera, Jose Clemente Orozco, and David Siqueiros as well as the early painters of the Russian Revolution. With a demonstrated blend of artistic integrity and political commitment, Insurgent Images combines grand historical themes with enlivening detail, to illustrate the interplay between personality and event. Alewitz brings to this tradition his own rich sense of irony, humor, and fantasy to illuminate the hidden spaces where connections between the workforce of the U.S. and its extended relatives across the planet are to be found."--BOOK JACKET.
Marxism in the United States :
ISBN: 0860911411 OCLC: 18051572 Verso, London : 1987.
Marxism in the United States :
ISBN: 9781781680155 OCLC: 830296549 A crown jewel of New Left historiography, this overview of U.S. Marxism was hailed on its first publication for its nuanced storytelling, balance and incredible sweep. Brimming over with archival finds and buoyed by the recollections of witnesses and participants in the radical movements of decades past, Marxism in the United States includes fascinating accounts of the immigrant socialism of the nineteenth century, the formation of the CPUSA in the wake of the Bolshevik Revolution, the rise of American communism and of the hugely influential Popular Front in the 1920s and ʹ30s, the crisis and split of the ʹ50s, and the revival of Marxism in the ʹ60s and ʹ70s. -- Publisher description.
Radical Hollywood :
ISBN: 1565848195 OCLC: 49527148 New Press, New York : ©2002. An account of the personal and political lives of the left-wing screenwriters, directors, and actors behind Hollywood's Golden Age.
Taking care of business :
ISBN: 1583670033 OCLC: 40174781 Monthly Review Press, New York : ©1999.
Tim Hector :
ISBN: 9766372802 OCLC: 123991750 Ian Randle, Kingston, Jamaica : 2006.
Tim Hector :
ISBN: 1578068517 OCLC: 63164908 University Press of Mississippi, Jackson : 2006. Tim Hector (1942-2002) played many roles - political philosopher, educator, literary and music critic, cricket administrator, political leader, and newspaper editor. Best known for his editorship of the newspaper Outlet and his co-founding of the Afro-Caribbean Liberation Movement, Hector struggled for the independence of his native island, Antigua. As a disciple of C.L.R. James, he was one of the Pan-African movement's most vital figures, and his regular column Fan the Flame in Outlet was followed avidly throughout the Caribbean. His insights into regional history, politics, cricket, literature were eagerly awaited.
William Appleman Williams :
ISBN: 9781136657634 OCLC: 858861131 Williams' controversial volumes, The Tragedy of American Diplomacy, Contours of American History, and other works have established him as the foremost interpreter of US foreign policy. Both Williams and others deeply influenced by him have recast not only diplomatic history but also the story of pioneer America's westward movement, and studies in the culture of imperialism. At the end of the Cold War, when the US no longer faces any great enemy, the lessons of William Appleman Williams' life and scholarship have become more urgent than ever before. This study of his life and major works offer.