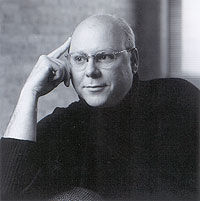 Richard Jones
Born:
August 8, 1953 in London, England
Pen Name:
None
Connection to Illinois
: Richard Jones has been on the faculty at DePaul University in Chicago since 1987. He currently lives in Evanston.
Biography
: Richard Jones was born in London, England and came to the United States when he was a year old. He is a notable contemporary poet and is the author of several books of poems. He is also the editor of the anthology, Poetry and Politics. In 2000, he published a compact disc, Body and Soul, in which he discusses the art of poetry. He is editor of the literary journal, Poetry East, and its many anthologies, including, The Last Believer in Words and Bliss. He is currently professor of English at DePaul University in Chicago, where he has taught since 1987.
---
Awards
:
"""The Blessing"""
-- Society of Midland Authors Award for Poetry, 2000
"""Country of Air"""
-- Posner Award, 1986
Primary Literary Genre(s):
Non-Fiction; Poetry
Primary Audience(s):
Adult readers
E-Mail:
rjones1@depaul.edu
Website:
https://richardjonespoetry.com/
Website:
https://www.poetryeast.org/
Website:
richard-jones
Website:
https://www.coppercanyonpress.org/authors/richard-jones/
Wikipedia:
https://en.wikipedia.org/wiki/Richard_Jones_(poet)
---
Selected Titles

ISBN: B002SMP5YY OCLC:

ISBN: B002CXVZHK OCLC:
48 questions /
ISBN: 0941017303 OCLC: 40804046 Bombshelter Press, Los Angeles : 1998.
A perfect time
ISBN: 1556590687 OCLC: 30736214 Copper Canyon Press, Port Townsend, Wash. : ©1994. The subjects range from coming home to find the house burglarized, to weeping over a 19th Century novel, to cooking tomato soup, to the mood of an early morning: Four in the morning in a quiet house is like a clearing in a forest, tranquil, serene, a perfect time to ask forgiveness or consider the future's empty face.
Apropos of nothing /
ISBN: 155659237X OCLC: 62084246
At last we enter paradise
ISBN: 1556590423 OCLC: 24143397 Copper Canyon Press, Port Townsend, Wash. : ©1991.
Blessing the boats :
ISBN: 9781439503560 OCLC: 232125663 BOA Editions, Rochester, NY : [2008], 2000.
Country of air :
ISBN: 0914742922 OCLC: 14702413
Innocent things /
ISBN: 093856630X OCLC: 13136347
Sonnets /
ISBN: 0938566482 OCLC: 23464303
Stranger on Earth /
ISBN: 1556595352 OCLC: 1007759534
The blessing :
ISBN: 1556591438 OCLC: 43615239 Copper Canyon Press, Port Townsend, Wash. : ©2000.
The correct spelling & exact meaning /
ISBN: 1556593171 OCLC: 456178282 Richard Jones examines the details of daily life as though through a childs' eyes, taking in every wondrous moment as if time were nonexistent, yet with the intensely painful understanding that the elemental world of the family is fleeting. Jones, who is strongly influenced by Rilke and Keats, is a master of metaphor who can transform mundane things into sacred objects.
The stone it lives on /
ISBN: 0938566830 OCLC: 44598303 Adastra Press, Easthampton, Mass. : 2000.
Windows and walls /
ISBN: 0938566113 OCLC: 9642449