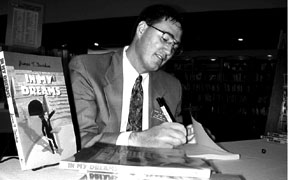 James T. Durkin
Born:
1966 in Oak Lawn, Illinois
Connection to Illinois
: Jim was born in Oak Lawn and currently resides in Woodridge.
Biography
: Jim is a Civil Investigator at an agency of the U.S. Department of Justice. He also teaches as a part-time college instructor of American Politics. Jim earned both his Bachelor and Masters of Science Degrees in Political Science from Illinois State University. Jim is the co-founder of the ''Authors Marketing Group''. The group consists of published authors from the Chicago area who wish to share positive marketing experiences with other published or potential authors. For more information about the ''Authors Marketing Group'', feel free to visit the website at: [http://www.authorsmarketinggroup.org www.authorsmarketinggroup.org].
---
Awards
:
Jim was honored at the 2004 Illinois Authors Book Fair sponsored by the Illinois Center for the Book and the Illinois State Library in Springfield, Illinois.
Primary Audience(s):
Adult readers
Email:
jamestdurkin@hotmail.com
Website:
http://www.authorsmarketinggroup.org/Authors/james_durkin.php
James T. Durkin on WorldCat :
http://www.worldcat.org/search?q=james+t.+durkin
---
Selected Titles
In my dreams /
ISBN: 140335636X OCLC: 769016394 AuthorHouse, Bloomington, Ind. : ©2005. A fictional novel about a young man from the suburbs of Chicago who is elected President of the U.S.
The call of angels
ISBN: 9781434396297 OCLC: 300450719 AuthorHouse, Bloomington, IN : 2008.