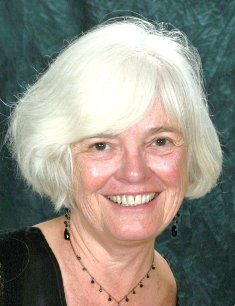 Anne Whitford Paul
Born:
Evanston, Illinois
Pen Name:
None
Connection to Illinois
: N/A
Biography
: Ann Whitford Paul is a writer of children's picture books and early readers who published her first book, Owl at Night, in 1985.
---
Awards
:
Carl Sandburg Award for Literature
Primary Audience(s):
Children; Children
Email:
ANN@ANNWHITFORDPAUL.net
Website:
http://www.ANNWHITFORDPAUL.net
Anne Whitford Paul on WorldCat :
http://www.worldcat.org/search?q=anne+whitford+paul
---
Selected Titles
All by herself :
ISBN: 0152014772 OCLC: 36461630 Browndeer Press/Harcourt Brace, San Diego : ©1999. Poems recount the stories of fourteen girls, some of whom later became famous, who performed acts of daring, determination, and heroic courage at a young age.
Eight hands round :
ISBN: 0064434648 OCLC: 17552007 HarperCollins, New York : ©1991. Introduces the letters of the alphabet with names of early American patchwork quilt patterns and explains the origins of the designs by describing the activity or occupation they derive from.
Everything to spend the night :
ISBN: 075137198X OCLC: 43674160 Dorling Kindersley, London : 1999.
Everything to spend the night--from A to Z /
ISBN: 0789481863 OCLC: 49528375 DK Pub., New York : 2001, ©1999. While showing her grandfather all the things, from A to Z, that she has brought with her to spend the night, a little girl suddenly realizes that she forgot one important item.
Harcourt trophies :
ISBN: 0153452471 OCLC: 61271014 Harcourt, Orlando : 2007.
Hello toes! Hello feet! /
ISBN: 0439045339 OCLC: 46793559 Scholastic Inc., New York : 1999, ©1998. A girl takes delight in all the things she and her feet do throughout the day.
Little monkey says good night /
ISBN: 0374346097 OCLC: 47297628 Melanie Kroupa Books, New York : 2003. When Little Monkey says good night to the performers in the big top tent, he creates a circus act of his own.
Mañana Iguana /
ISBN: 0823419800 OCLC: 52386307 Holiday House, New York : ©2004. Iguana, Conejo, Tortuga, and Culebra are excited about having a spring party, but only Iguana is willing to do any of the work. Includes a glossary of Spanish words used.
Owl at night /
ISBN: 0356135128 OCLC: 16079622 Macdonald, London : 1987, ©1985.
Shadows are about /
ISBN: 0590448439 OCLC: 23941786 Scholastic, New York : ©1992. Shadows are alive, climbing, spinning, swooping, and stretching with everything around them during the bright sunny day but when night falls ... the shadows disappear.
Silly Sadie, silly Samuel /
ISBN: 0689816901 OCLC: 46340062 Ready-to-Read Aladdin Paperbacks, New York : 2001. Although their actions sometimes seem silly to their sensible neighbor, Sadie and Samuel enjoy their nonsensical lives.
Writing picture books :
ISBN: 1582975566 OCLC: 233931255 Writer's Digest Books, Cincinnati, Ohio : ©2009. Writing picture books is not easy. Picture books are a unique form of writing with a large audience of 2- to 8-year-olds, and they must appeal to both the adult purchaser and the child listener/reader. They are generally 32 pages long and must be tightly focused and told partly through illustrations. And novice picture book writers make a lot of mistakes--and get a lot of rejections from publishers flooded with inappropriate manuscripts. From this book these writers will learn the writing and revision process that will lead them to creating more salable picture book manuscripts.