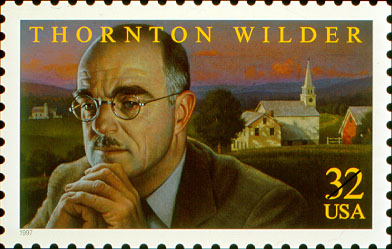 Thorton Wilder
Born:
April 17, 1897 in Madison, Wisconsin
Died:
December 7, 1975, at his home in Hamden, Connecticut
Pen Name:
None
Connection to Illinois
: Thornton lived in Chicago from 1930 - 1936 while he lectured on literature for the University of Chicago.
Biography
: Thornton Wilder is a Pulitzer Prize-winning playwright and novelist. His plays are performed all over the United States. His best known work is his play ''Our Town''.
---
Awards
:
"Bridge of San Luis Rey"
-- Pulitzer Prize, 1928
"The Eighth Day"
-- National Book Award, 1968
"""Other Awards and Honors"""
-- Peace Prize of the German Book Trade, 1957
-- Presidential Medal of Freedom, 1963
-- National Book Committee Medal for Literature, 1965
-- Chicago Literary Hall of Fame, 2013
Primary Literary Genre(s):
Fiction
Primary Audience(s):
Adult readers
Facebook:
https://www.facebook.com/ThorntonWilder/
IMDB:
https://www.imdb.com/name/nm0928642/bio
Website:
https://www.thorntonwilder.com/
Wikipedia:
http://en.wikipedia.org/wiki/Thornton_Wilder
---
Selected Titles
Heaven's my destination /
ISBN: 0380003317 OCLC: 38744804 Bard Books : New York : 1975.
La Cábala
ISBN: 8435008207 OCLC: 971868256 Edhasa, Barcelona : 1991
Los idus de Marzo
ISBN: 8435005577 OCLC: 26235960 Edhasa, Barcelona : ©1990.
Our town :
ISBN: 0573613494 OCLC: 773139 A play about the residents of Grover's Corners, New Hampshire, during the early years of the twentieth century, performed by actors working without props on a virtually empty stage.
The eighth day ;
ISBN: 9781598531466 OCLC: 731911840 Library of America, New York : ©2011. The Eighth Day (1967), an enthralling novel in which Wilder revisits the small-town America of Our Town to stage a philosophical who-dunit; a wrongful conviction for murder and a daring rescue frame a meditation on the mysteriousness of justice, fate, and the impassioned will, for which nothing is impossible. Wilder's final novel, the semi-autobiographical Theophilus North (1973), is an affectionate portrait of Newport, Rhode Island, in the 1920s and a playful, valedictory glance at Wilder's young manhood. As a special feature, this third and final volume of The Library of America edition of Wilder's collected works includes three never-before-published chapters from Wilder's unfinished autobiography in which he engagingly recalls his boarding school experience in China, his college days at Yale, and an uneasy visit to Salzburg just before the Nazi Anschluss.
Theophilus North
ISBN: 0060146362 OCLC: 673290 A young man drifts into Newport and in his short stay of four months gently influences the lives of various people during the 1920's.