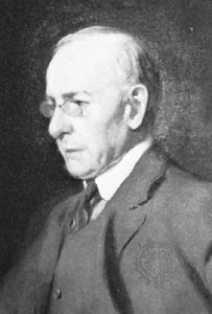 Louis Henry Sullivan
Born:
September 13, 1856 in Boston, Massachusetts
Died:
April 11, 1924 in Chicago, Illinois
Pen Name:
None
Connection to Illinois
: Architect and author worked in Chicago 1895-1924, where he died.
Biography
: Louis Sullivan was an inspiration to the Chicago architects who have come to be known as the Prairie School. He has been called the 'father of moderinsm and is thought of by many to be the creator of the modern skyscraper. It is important to note that he was a mentor to Frank Lloyd Wright.
---
Awards
:
Primary Audience(s):
Adult readers
Louis Henry Sullivan on WorldCat :
http://www.worldcat.org/search?q=louis+henry+sullivan
---
Selected Titles
Democracy: a man-search.
ISBN: 0837166179 OCLC: 548081 Greenwood Press Westport, Conn., [1973, ©1961]
Encyclopedia of sociology
ISBN: 002865899X OCLC: 43634918 Macmillan Reference USA, New York : ©2000. Presents nearly four hundred entries in which various scholars explore concepts and themes in sociology, arranged alphabetically over five volumes from adolescence to world religions; and includes a comprehensive index.
Kindergarten chats (revised 1918) and other writings /
ISBN: 1406727377 OCLC: 880048400 George Wittenborn, Inc., [New York] : 2010.
Louis Sullivan :
ISBN: 0226779963 OCLC: 16832761 University of Chicago Press, Chicago : 1988. "This volume brings together for the first time all the papers Louis Sullivan intended for a public audience, from his first interview in 1882 to his last essay in 1924. Organized chronologically, these speeches, interviews, essays, letters to editors, and committee reports enable readers to trace Sullivan's development from a brash young assistant to Dankmar Adler to an architectural elder statesman. Robert Twombly, an authority on Sullivan's work and life, has introduced each document with a headnote explaining its significance, locating it in time and place, and examining its immediate context. He has also provided a general introduction that analyzes Sullivan's writing style and objectives, his major philosophical themes, and the sources of his ideas. With the help of headnotes and introduction, readers will get a thorough sense of Sullivan's concerns, discover how his ideas evolved and changed, and appreciate the circumstances under which new interests emerged."--Jacket.
Louis Sullivan in the Art Institute of Chicago :
ISBN: 0824070321 OCLC: 20017222 Garland Pub., New York : 1989.
The drawings of Louis Henry Sullivan :
ISBN: 0691039240 OCLC: 3844335 Princeton University Press, Princeton, N.J. : ©1979.