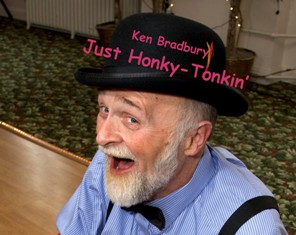 Ken Bradbury
Born:
1955 in Quincy, Illinois
Died:
2018 in Springfield, Illinois
Pen Name:
Freida Marie Crump
Connection to Illinois
: Bradbury was born in Quincy. He was raised in Perry and adopted Arenzville as his "other" hometown. Ken was a 1967 graduate of Perry High School and graduated in 1971 from Illinois College in Jacksonville.
Biography
: Ken Bradbury attended Illinois College, where he was a member of Pi Pi Rho Literary Society. He taught at Triopia Jr. Sr. High School in Concord Illinois for 35 years and was the founding director of the Green Pastures Camp for the Performing Arts, which hosted over 400 students each summer for over 30 years. After retiring from Triopia schools, Ken played the piano on the Spirit of Peoria Riverboat on the Illinois River and served as an adjunct professor of theatre for Lincoln Land Community College. Throughout his life, Ken was a prolific playwright with over 300 published plays and musicals. He wrote and directed dozens of plays to sold out crowds in Concord and throughout the region. His works included biographical plays about people like Abraham Lincoln, Robert Earl Hughes, and Vachel Lindsey as well as area histories, which he brought to life by working with local casts intimately acquainted with the area. Ken also thrilled audiences by occasionally gracing the stage himself. Along with co-author Robert Crowe, Bradbury won the Lincoln Library Award for the play "The Shadow of Giants." In addition to being a popular playwright, Ken wrote two newspaper columns that ran in 14 papers - one being the Associated Press award-winning ''The Coonridge Digest''. The column was a weekly observation of Freida Marie Crump, news correspondent from fictional Coonridge, Illinois. He also authored seven books. He was the most published author of speech and forensic material for school speech competitions in the United States. Besides his writing accomplishments, Ken earned several awards throughout his lifetime. He was awarded an Honorary Doctor of Letters Degree from MacMurray College and a Doctor of Arts from Illinois College. He received the Friend of the Arts Award from WIU, the best humor column by the Associated Press, the McGaw Citation for Excellence from Illinois College, the Studs Turkel Humanities Award by the Illinois Arts Council, and the WICS Golden Apple Award. He was named the Outstanding Teacher of the Year by Eastern Illinois University and was inducted into the Jacksonville Hall of Fame.
---
Awards
:
Primary Literary Genre(s):
Fiction; History
Primary Audience(s):
Adult readers; Children; Young adult readers
Email:
ken@bradbury.cc
Website:
http://www.creativeideas.com
Ken Bradbury on WorldCat :
http://www.worldcat.org/search?q=ken+bradbury
---
Selected Titles
Around the world with Freida Marie Crump :
ISBN: 0964468123 OCLC: 428441816 [publisher not identified], [United States?] : [1997] Freida Marie Crump and her husband, Herb describe their around the world adventure. They travel to Tahiti, Hawaii, New Zealand, Australia, Germany, London, Wales, Scotland, Russia, Alaska, Ireland, Paris, the Caribbean, Switzerland, and Coonridge, Illinois.
Coonridge devotions /
ISBN: 0970717334 OCLC: 162611603 Consortium, Jacksonville, Ill. : ©2001.
Homerville /
ISBN: 0974883018 OCLC: 300456270 Consortium Publishing, Jacksonville, IL : ©2005.
The Coonridge digest /
ISBN: 0964468107 OCLC: 32277116 Consortium, Jacksonville, IL : ©1994.