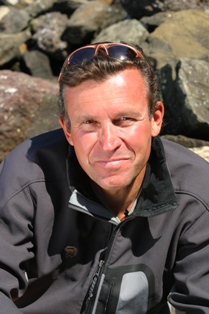 Ed Viesturs
Born:
1959 in Rockford, Illinois
Pen Name:
None
Connection to Illinois
: He was born in Rockford, Illinois.
Biography
: Viesturs is a professional mountaineer, design consultant, and motivational speaker. He is the design consultant for Mountain Hardwear, Timberland, and Outdoor Research.In May 2005, Viesturs became the first American to ascend all fourteen of the world's 8,000-meter peaks. He currently lives in Bainbridge Island, Washington.
---
Awards
:
Primary Literary Genre(s):
Non-Fiction
Email:
eviesturs@earthlink.net
Facebook:
http://www.facebook.com/search/?q=Martha+Modena+Vertreace-Doody+&init=quick&sid=0.13009731823688247#!/profile.php?id=100000888974741&ref=search=ed+viesturs
Ed Viesturs on WorldCat :
http://www.worldcat.org/search?q=ed+viesturs
---
Selected Titles
Himalayan quest
ISBN: 9781426204852 OCLC: 428737577 National Geographic Society, Washington, D.C. : 2009.
Himalayan quest /
ISBN: 0792241657 OCLC: 50906048 America's leading high-altitude mountaineer describes his quest to climb fourteen of the highest mountains in the world, in a richly illustrated volume that includes his accounts of his twelve successful expeditions.
K2 :
ISBN: 0767932501 OCLC: 290464895 Broadway Books, New York : ©2009. At 28,251 feet, the world's second-tallest mountain, K2 thrusts skyward out of the Karakoram Range of northern Pakistan. Climbers regard it as the ultimate achievement in mountaineering, with good reason. Four times as deadly as Everest, K2 has claimed the lives of seventy-seven climbers since 1954. In August 2008 eleven climbers died in a single thirty-six-hour period on K2-the worst single-event tragedy in the mountain's history and the second-worst in the long chronicle of mountaineering in the Himalaya and Karakoram ranges. Yet summiting K2 remains a cherished goal for climbers from all over the globe.
No shortcuts to the top :
ISBN: 0767924711 OCLC: 184917238 Broadway Books, New York : [2007], ©2006. For eighteen years Viesturs pursued climbing's holy grail: to stand atop the world's fourteen 8,000-meter peaks, without the aid of bottled oxygen. As he recounts his most harrowing climbs, he reveals a man torn between the safe world he and his loved ones share and the majestic and deadly places where only he can go. A cautious climber who once turned back 300 feet from the top of Everest, but who would not shrink from a peak (Annapurna) known to claim the life of one climber for every two who reached its summit, Viesturs has an unyielding motto, "Getting to the top is optional. Getting down is mandatory." It is with this philosophy in mind that he vividly describes fatal errors in judgment made by his fellow climbers as well as a few of his own close calls and gallant rescues.--From publisher description.
No shortcuts to the top :
ISBN: 9781415932971 OCLC: 71369783 Books on Tape, Santa Ana, CA : â"—2006. Unabridged.