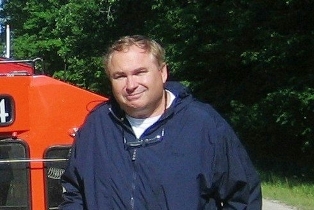 William Trombello
Born:
Chicago, Illinois
Pen Name:
None
Connection to Illinois
: N/A
Biography
: N/A
---
Awards
:
Primary Audience(s):
Adult readers; Children; Young adult readers
Email:
wtromb@aol.com
William Trombello on WorldCat :
http://www.worldcat.org/search?q=william+trombello
---
Selected Titles
How a real locomotive works
ISBN: 9780984299850 OCLC: 1059258806 Technical Training Consultants Inc., Lisle, IL : ©2010. In this nonfiction picture book, children learn how much a modern day locomotive weighs, the type of engine a locomotive uses and who developed it, how fast they go, how much power they use, and so much more. As children read, there is a train at the bottom of each page that moves further and further down the track to learning. Children that love trains will want this book. The words are simple enough that beginning readers can read it by themselves and read along with their parents too.
How a real locomotive works /
ISBN: 1933449217 OCLC: 77534395 Nightengale Press, Gurnee, IL : ©2006.
Trains and real locomotives.
ISBN: 1933449373 OCLC: 230830613 Nightengale Press, Mequon, WI : ©2006.