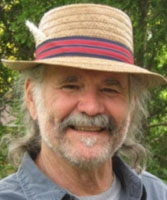 Charles Rossiter
Born:
Pen Name:
None
Connection to Illinois
: I've lived in Oak Park, IL, since 1997 and have given readings in many Chicago-area libraries and festivals such as Printers Row, Around the Coyote, Chicago Blues Festival. I founded and have hosted the 3rd Saturday Coffeehouse at Unity Temple in Oak Park since 2004. Among my poems are a substantial number of Chicago Poems.
Biography
: Charlie Rossiter, NEA Fellowship recipient and three-time Pushcart Prize nominee, hosts the audio website poetrypoetry.com. His work has been featured on NPR and numerous statewide public radio networks. During the '90s he hosted the Poetry Motel TV program, still seen on cable stations in some parts of the Northeast. His recent co-authored book Back Beat, has been praised by Lawrence Ferlinghetti. His chapbook, What Men Talk About, won the first Red Wheel Barrow Prize from Pudding House Press. He has performed at the Geraldine R. Dodge Poetry Festival in NJ; and was among a handful of poets chosen to perform at the Chicago Blues Festival in 2005. His latest book All Over America: Road Poems (2009) is available at www.FoothillsPublishing.com and continues his explorations of memoir and poetry begun in The Night We Danced With the Raelettes, (2007) also from FootHills Publishing.
---
Awards
:
-- NEA Fellowship for Poetry
-- ''What Men Talk About'', Red Wheel Barrow Prize
Primary Literary Genre(s):
Poetry
Primary Audience(s):
Adult readers
Email:
Charlie.Rossiter@poetrypoetry.org
Website:
http://www.myspace.com/charlierossiter
Charles Rossiter on WorldCat :
http://www.worldcat.org/search?q=charles+rossiter
---
Selected Titles
Around the house :
ISBN: 1589983459 OCLC: 61287251 Pudding House Publications, Columbus, Ohio : ©2005.
Daedalus' daughter
ISBN: 9780941053419 OCLC: 56326617 FootHills Pub., Kanona, N.Y. : ©2004.
Evening stones /
ISBN: 1889289426 OCLC: 1024314957
Greatest hits, 1975-2001 /
ISBN: 1589980166 OCLC: 49788899 Pudding House Publications, Johnstown, Ohio : ©2002.
The night we danced with the Raelettes :
ISBN: 0941053288 OCLC: 430496066 Foothills Pub., Kanona, NY : ©2007.
What men talk about :
ISBN: 0944754856 OCLC: 48093907 Pudding House Publications, Johnstown, Ohio : ©2000.