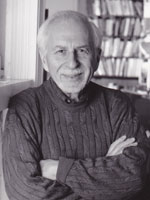 Alfred Fabian Young
Born:
Pen Name:
Alfred F. Young
Connection to Illinois
: Alfred Young is a Professor Emeritus of History at Northern Illinois University.
Biography
: In retirement, he was Senior Research Fellow at the Newberry Library in Chicago, until 2005. Afterward, he published two biographies: one of Hewes, the other of Deborah Sampson, a woman soldier in the Revolution, as well as a collection of essays; two more books will be published in 2011. Dr. Young has received many prestigious awards, including a Distinguished Service Award from the Organization of American historians.
---
Awards
:
Alfred Fabian Young on WorldCat :
http://www.worldcat.org/search?q=alfred+fabian+young
---
Selected Titles
Liberty tree :
ISBN: 0814796850 OCLC: 64770926 New York University Press, New York : ©2006. "With the publication of Liberty Tree, acclaimed historian Alfred F. Young presents a selection of his seminal writing as well as two provocative, never-before-published essays. Together, they take the reader on a journey through the American Revolution, exploring the role played by ordinary women and men (called, at the time, people out of doors) in shaping events during and after the Revolution, their impact on the Founding generation of the new American nation, and finally how this populist side of the Revolution has fared in public memory. Drawing on a wide range of sources, which include not only written documents but also material items like powder horns, and public rituals like parades and tarring and featherings, Young places ordinary Americans at the center of the Revolution. For example, in one essay he views the Constitution of 1787 as the result of an intentional accommodation by elites with non-elites, while another piece explores the process of ongoing negotiations would-be rulers conducted with the middling sort; women, enslaved African Americans, and Native Americans. Moreover, questions of history and modern memory are engaged by a compelling examination of icons of the Revolution, such as the pamphleteer Thomas Paine and Boston's Freedom Trail. For over forty years, history lovers, students, and scholars alike have been able to hear the voices and see the actions of ordinary people during the Revolutionary Era, thanks to Young's path-breaking work, which seamlessly blends sophisticated analysis with compelling and accessible prose. From his award-winning work on mechanics, or artisans, in the seaboard cities of the Northeast to the all but forgotten liberty tree, a major popular icon of the Revolution explored in depth for the first time, Young continues to astound readers as he forges new directions in the history of the American Revolution."--Publisher's website.
Masquerade :
ISBN: 0679761853 OCLC: 153577379 Vintage, New York : 2005. The story of the woman who fought in the American Revolution passing as a man. Serving for seventeen months, she accomplished her deception by becoming an outstanding soldier. Young shows us why and how she carried it off. He reconstructs her early life as an indentured servant; her young adulthood as a weaver, teacher, and religious rebel; and her military career in the light infantry--consisting of dangerous duty that commanded constant vigilance--followed by service as an orderly to a general at West Point. Young also examines her postwar life as a wife and mother on a hardscrabble farm in Massachusetts, her collaboration on the book that made her a celebrity and sent her on a yearlong lecture tour through New England and New York in 1802-03, and her relentless and partially successful quest for veterans' benefits.--From publisher's description.
The shoemaker and the tea party :
ISBN: 0807054054 OCLC: 40200615 Beacon Press, Boston, Mass. : ©1999. Award-winning historian Alfred F. Young unearths a rich story of the American Revolution with this account of George Robert Twelves Hewes, a Boston shoemaker who took part in such key events as the Boston Massacre and the Tea Party, and then served in the militia and as a seaman.
We the people :
ISBN: 0877229376 OCLC: 26095832 Temple University Press, Philadelphia : 1993. Using such original sources as articles of clothing and tools, the authors present the ordinary men and women who helped to shape the new nation. They expand the time period by including a full generation beyond the Revolution, and they extend their examination geographically into the Old Northwest.