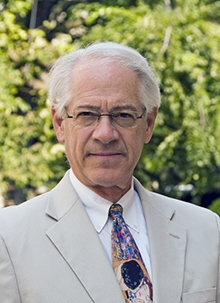 Lawrence Okrent
Born:
1943 in Detroit, Michigan
Pen Name:
None
Connection to Illinois
: An Illinois resident since enrolling as a graduate student at Northwestern University in 1966, in his professional career Mr. Okrent has created a portfolio of more than 25,000 aerial photographs of the Chicago and the surrounding region.
Biography
: Lawrence Okrent is a Chicago-based urban planning and zoning consultant. After a ten-year affiliation with the Architectural firm of Skidmore, Owings & Merrill, he established his own practice, Okrent Associares, Inc., in 1979. In addition to its planning and zoning work, Okrent Associates provides services in aerial photography, mapping and graphic design.Most of Okrent's consulting assignments have been in the City of Chicago, where he assisted in securing approval for numerous prominent planned developments, including the Museum of Contemporary Art and Michigan Avenue's Park Tower; and he expansions of the Adler Planetarium, the Museum of Science and Industry, the Shedd Aquarium, and the Field Musuem of Natural History.Mr. Okrent has served as the professional affiliate member of the American Institute of Architects Chicago Chapter Board of Directors; and is currently a member of the Planning and Advocacy Committee of the Chicago Loop Alliance, the honorary land economics society Lambda Alpha, the Realty Club of Chicago and the Cliff Dwellers Club.A 1966 graduate of the University of Michigan and recipient of a Master's degree from Northwestern University (1968), Mr. Okrent is a long time resident of Evanston, where he has served on the City's Plan Commission, and as a member of the board of the Evanston Art Center.Mr. Okrent is the brother of Daniel Okrent, author of 'Great Fortune: The Saga of Rockefeller Center' and 'Last Call: The Rise and Fall of Prohibition.' He is also the father of Arika Okrent, author of 'In the Land of Invented Languages: Esperanto Rock Stars, Klingon Poets, Loglan Lovers and the Mad Dreamers who tried to Build a Perfect Language.'
---
Awards
:
Primary Literary Genre(s):
Non-Fiction
Email:
info@okrentassociates.com
Website:
http://www.okrentassociates.com
Lawrence Okrent on WorldCat :
http://www.worldcat.org/search?q=lawrence+okrent
---
Selected Titles
Chicago from the sky :
ISBN: 097886638X OCLC: 713839102 Chicago's Books Press, Chicago : ©2011. A pictorial history, from an aerial perspective, for the far-reaching change that has occurred in Chicago and its region in the span of a single generation, between 1985 and 2010. It serves as a reminder that Chicago welcomes change, celebrates change and regards change as one of its distinguishing features.