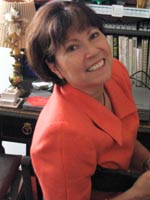 Luisa Buehler
Born:
in Chicago, Illinois
Pen Name:
None
Connection to Illinois
: Buehler grew up in the town of Berkeley, Illinois, a suburb of Chicago. She attended Proviso West High School in Hillside, Illinois and graduated from Rosary College in River Forest. She currently resides in Lisle, Illinois.
Biography
: Luisa Buehler writes the Grace Marsden mystery series.
---
Awards
:
Primary Literary Genre(s):
Mystery
Primary Audience(s):
Adult readers; Young adult readers
E-Mail:
luisabuehler@gmail.com
Facebook:
https://www.facebook.com/luisa.buehler.9
LinkedIn:
https://www.linkedin.com/in/thehiresolution
Twitter:
https://twitter.com/luisabuehler
Web:
http://www.luisabuehler.com
---
Selected Titles
The Inn Keeper: An Unregistered Death (Grace Marsden Mysteries)
ISBN: 1590806271 OCLC: 434879870 Echelon Press, Laurel, MD : ©2009. A runaway slave and a society girl lay entombed in an Oak Park cellar. Renovations turn gruesome when skeletal remains are uncovered in the basement of an old boardinghouse. Forensics adds a twist; the remains were entombed eighty years apart! Separated by age, gender, social status, and basic human rights the mystery of their identities and their deaths is overshadowed by the unlikelihood of their final resting place. Grace is drawn into the bizarre discovery when early police reports cast suspicion on her friends.
The Lighthouse Keeper: A Beckoning Death (Grace Marsden)
ISBN: 159080564x OCLC: 180168612 Echelon Press, Laurel, MD : ©2007. With a troubled marriage, and the haunting memories of ghosts, bones, and dead bodies, Grace Marsden needs solace. The invitation from her childhood friend presents Grace with an opportunity for respite on Christian Island. Georgian Bay in the off-season provides a perfect venue for relaxation, until a fluke snowstorm shatters the serenity. Grace and nine other people find themselves trapped on the island and the prime suspects in the mysterious death of an island Elder. An ancient Indian tragedy, island ghost sightings, and modern day treachery twist lives until more deaths and more danger make Grace unsure of whom she can trust. When the spirit of the lighthouse keeper beckons to her. Is it to warn her or harm her?
The Lion Tamer: A Caged Death (A Grace Marsden Mystery Book Two)
ISBN: 1590801725 OCLC: 56548665 Echelon Press, Hurst, Tex. : 2004 Wagons rolling, flags furling, horns blaring, the circus comes to town! Children chase the wagons, daring for a glimpse of exotic wild creatures. The big cats roar, sending shivers through the crowd, but they edge closer, demanding to be scared, knowing they are safe. And then a skeleton is found in a bygone relic. Is anyone safe? Grace Marsden fights the lure of a decades old mystery surrounding a circus wagon, a phantom lion, and human bones uncovered at a local zoo. But when a dead woman sends her a letter and a dead man ends up in her neighbor's yard, she can't ignore the lion tamer and his tale. Legend, fact, or fantasy? Grace needs to find out fast before she becomes his current prey.
The Reenactor: A Staged Death
ISBN: 1590805933 OCLC: 741379138 Echelon Press Pub., Laurel, MD : ©2011. Grace expectation that life will return to normal now that husband Harry has rescued his sister is thwarted by an encounter with the spirit of a Union lieutenant at a Civil War reenactment, a murderer who wants to make sure Grace can't identify him, and a South American drug lord's thirst for revenge.
The Rosary Bride: A Cloistered Death (A Grace Marsden Mystery Book One) (Grace Marsden Mysteries)
ISBN: 1590802276 OCLC: 52393963 Echelon Press, Crowley, Tex. : ©2003. During the 1940's the women attending Regina College insisted a beautiful young woman wearing a 'fancy dress' haunted the halls near the chapel. Many claimed to see the apparition often entering, sitting, and softly crooning a mournful melody. Stories of the 'Rosary Bride' continue from generation to generation. Fifty years later, during the renovation of the college library, workers expose a skeleton. Grace Marsden, present at the discovery is drawn into the search for the victim's identity, fearing the remains will lead to skeletons in her own family closet. Against her husband, her best friend, and her own common sense Grace determines to find the truth. Her involvement grows beyond her control when the dead woman reaches out to her. Complications arise when the investigating police inspector dredges up more old secrets and betrayal. Ignoring her husband's theory that the Inspector's motives are less than honorable, Grace continues her quest to solve the decades old homicide. Desperate to know the truth, Grace enlists the help of Sister Andrew, a nun who lived at Rosary during the 40's and has chronicled the college's history. But all too soon the treachery of the past meets the future and once again lives are lost. Can Grace name the 'Rosary Bride' before her killer strikes again?
The Scout Master: A Prepared Death (A Grace Marsden Mystery Book Four)
ISBN: 1590804759 OCLC: 71244290 Echelon Press, Laurel, MD : ©2006. "On my honor, I will do my best to do my duty to God and my country and to obey the Scout Law… Hidden for decades in local woods lies a World War II munitions crate filled with bones. The gruesome discovery by a Boy Scout troop uncovers Satanic rituals and prompts questions about cults, Wiccan covens, and a murdered FBI agent. To help other people at all times; To keep myself physically strong… Could young men led by a twisted scoutmaster be the hooded marauders terrorizing the woods? Can Grace count on the Scout Law to keep her safe as the cult chooses her for their next victim? mentally awake, and morally straight."
The Station Master: A Scheduled Death (A Grace Marsden Mystery)
ISBN: 1590804589 OCLC: 62381499 Echelon Press, Memphis, TN : ©2005. The eighth annual Depot Days celebration is drawing large crowds to the quaint old station. The buzz of an auction and the thrill of the win. Eager spectators crane their necks as the last antique trunk gives up its secret...Trouble! Death has knocked at Grace Marsden's door before, but the stakes skyrocket when circumstances cast her husband as the number one suspect in a hit and run. Once again fate sets Grace on a collision course with a determined murderer. Suspicion raises ugly memories and peoples defenses when they realize their close-knit town harbors a killer. Who knows the secret? And who punched a one-way ticket to the end of the line for Grace?