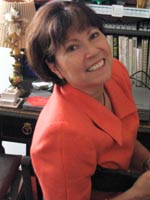 Luisa Buehler
Born:
in Chicago, Illinois
Pen Name:
None
Connection to Illinois
: Luisa grew up in the town of Berkeley, Illinois, a suburb of Chicago. She attended Proviso West High School in Hillside, Illinois and graduated from Rosary College in River Forest. She currently resides in Lisle, Illinois.
Biography
: Buehler writes the Grace Marsden mystery sieries.
---
Awards
:
Primary Literary Genre(s):
Mystery
Primary Audience(s):
Adult readers; Young adult readers
Email:
luisabuehler@gmail.com
Facebook:
http://www.facebook.com/#!/profile.php?id=826934419=luisa+buehler
Website:
http://www.luisabuehler.com
Luisa Buehler on WorldCat :
http://www.worldcat.org/search?q=luisa+buehler
---
Selected Titles
The innkeeper :
ISBN: 1590806271 OCLC: 434879870 Echelon Press, Laurel, MD : ©2009.
The lighthouse keeper :
ISBN: 159080564x OCLC: 180168612 Echelon Press, Laurel, MD : ©2007.
The lion tamer :
ISBN: 1590801725 OCLC: 56548665 Echelon Press, Hurst, Tex. : 2004 "Wagons rolling, flags furling, horns blaring, the circus comes to town! Children chase the wagons, daring for a glimpse of exotic wild creatures. The big cats roar, sending shivers through the crowd, but they edge closer, demanding to be scared, knowing they are safe. And then a skeleton is found in a bygone relic. Is anyone safe? Grace Marsden fights the lure of a decades old mystery surrounding a circus wagon, a phantom lion, and human bones uncovered at a local zoo. But when a dead woman sends her a letter and a dead man ends up in her neighbors yard, she can't ignore the lion tamer and his tale. Legend, fact, or fantasy? Grace needs to find out fast before she becomes his current prey"--Publisher description.
The reenactor :
ISBN: 1590805933 OCLC: 741379138 Echelon Press Pub., Laurel, MD : ©2011. Grace expectation that life will return to normal now that husband Harry has rescued his sister is thwarted by an encounter with the spirit of a Union lieutenant at a Civil War reenactment, a murderer who wants to make sure Grace can't identify him, and a South American drug lord's thirst for revenge.
The rosary bride :
ISBN: 1590802276 OCLC: 52393963 Echelon Press, Crowley, Tex. : ©2003.
The rosary bride :
ISBN: 9781605485577 OCLC: 476912794 Books in Motion, Spokane Valley, WA : ©2009. During the 1940's the women attending Rosary College insisted a beautiful young woman wearing a 'fancy dress' haunted the halls near the chapel. Many claimed to see the apparition often entering, sitting, and softly crooning a mournful melody.
The scout master :
ISBN: 1590804759 OCLC: 71244290 Echelon Press, Laurel, MD : ©2006.
The station master :
ISBN: 1590804589 OCLC: 62381499 Echelon Press, Memphis, TN : ©2005.