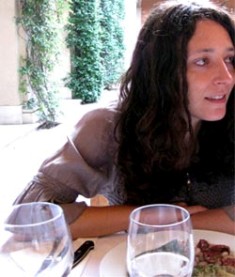 Jennifer Scappettone
Born:
1972 in Bay Shore, New York
Pen Name:
None
Connection to Illinois
: Jennifer Scappettone lives and teaches in Chicago. She is an Assistant Professor for the Department of English at the University of Chicago.
Biography
: Jennifer Scappettone is a poet, translator, and scholar, the author of From Dame Quickly (Litmus Press, 2009) and of several chapbooks: Beauty [Is the New Absurdity] (dusi/e, 2007), Err-Residence (Bronze Skull, 2007), and Thing Ode / Ode oggettuale (La Camera Verde, 2008), translated into Italian in conversation with Marco Giovenale. She edited Belladonna Elders Series #5: Poetry, Landscape, Apocalypse (Belladonna, 2009), featuring her poems and prose and new writing by Lyn Hejinian and Etel Adnan. Exit 43, an archaeology of toxic landscapes and opera of pop-up pastorals, is in progress for Atelos Press.Pop-ups from Exit 43 are among the materials being adapted as scores for a performance work called PARK in collaboration with choreographer Kathy Westwater and architect Seung Jae Lee, featured at Dance Theater Workshop, Freshkills Park, and Reed College in 2010-11. Scappettone has collaborated with with the Difforme Ensemble on performances of Exit 43, and with AGENCY Architecture and composer Paul Rudy on the installations X Locus and X Locus (Abluvion) in Rome. Other visual works have been shown at the Infusoria and Zaoem exhibits of visual poetry in Brussels and Ghent. Scappettone edited the special feature on contemporary Italian poetry in Aufgabe 7 (2008), and has translated extensively from the "Babeling deeply felt" of the postwar polyglot author Amelia Rosselli; Locomotrix: Selected Poetry and Prose of Amelia Rosselli is forthcoming from the University of Chicago Press in Spring 2012.Her critical study, Killing the Moonlight: Modernism in Venice, explores the obsolescent city as a locus of seduction and repulsion for post-Romantic artists, and as a crucible for twentieth-century experiments across literature, art, and urbanism. She has taught at the University of California at Berkeley, Wesleyan University, the University of Virginia Young Writers' Workshop, and the Naropa University Summer Writing Program, and is an assistant professor of English and Creative Writing and associated faculty of Romance Languages and Literatures at the University of Chicago. She was in residence at the American Academy in Rome as a Rome Prize Fellow in 2010-11.
---
Awards
:
-- The Eisner Prize , ''From Dame Quickly''
-- Yang Memorial Poetry Prize , ''From Dame Quickly''
Primary Literary Genre(s):
Poetry
Primary Audience(s):
Adult readers
Email:
jscape@uchicago.edu
Website:
http://oikost.com
Jennifer Scappettone on WorldCat :
http://www.worldcat.org/search?q=jennifer+scappettone
---
Selected Titles
From dame quickly /
ISBN: 1933959061 OCLC: 319794660 Litmus Press ; Brooklyn, NY : ©2009.