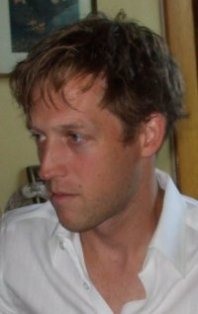 James Kennedy
Born:
1973 in Royal Oak, Michigan
Pen Name:
None
Connection to Illinois
: Kennedy lives in Chicago.
Biography
: James Kennedy graduated from the University of Notre Dame in 1995 with a degree in physics and philosophy. Before becoming a writer, he was a computer programmer. He is the founder of the 90-Second Newbery Film Festival, an annual video contest in which kid filmmakers create short movies that tell the entire stories of Newbery-winning books in about 90 seconds, with yearly screenings in New York, Chicago, Boston, and 10+ other cities. In addition, he co-hosts the Secrets of Story podcast with Matt Bird.
---
Awards
:
The Order of Odd-Fish 2008 Smithsonian Notable Book for Children; ALA 2009 Best Books for Young Adults Nominee; YALSA 2014 Popular Paperback for Young Adults
Dare to Know Named One of The Times' Best Books of 2021; September 2021 Indie Next Pick; SFX Magazine (5 stars);A Times UK Best Book of 2021 Indie Next List Pick (Sept. 2021) Audiofile Magazine Earphones Award winner
Bride of the Tornado Powell's Bookstore Pick of the Month (August 2023) New Scientist Best New Science Fiction Books of August 2023 Pick SciFiNow Best Science Fiction Books of August 2023 Pick Bookriot's 10 Don't-Miss Horror Novels August 2023
Primary Literary Genre(s):
Fiction
Primary Audience(s):
Adult readers; Young adult readers
E-Mail:
kennedyjames@gmail.com
Twitter:
https://twitter.com/iamjameskennedy
Web:
http://jameskennedy.com
---
Selected Titles
BRIDE OF THE TORNADO
ISBN: 1683693272 OCLC: Quirk Books 2023 A young woman's secretive midwestern town is engulfed by a mysterious plague of tornadoes every generation–and she must escape it before it claims her. Stephen King's The Mist meets David Lynch's Twin Peaks in this surreal, mind-bending horror-thriller. In a small town tucked away in the midwestern corn fields, the adults whisper about Tornado Day. Our narrator, a high school sophomore, has never heard this phrase but she soon discovers its terrible meaning: a plague of sentient tornadoes is coming to destroy them. The only thing that stands between the town and total annihilation is a teen boy known as the tornado killer. Drawn to this enigmatic boy, our narrator senses an unnatural connection between them. But the adults are hiding a secret about the origins of the tornadoes and the true nature of the tornado killer—and our narrator must escape before the primeval power that binds them all comes to claim her. Audaciously conceived and steeped in existential dread, this genre-defying fever dream of a novel reveals the mythbound madness at the heart of American life.
Dare to Know: A Novel
ISBN: OCLC: This mind-bending and emotional speculative thriller is set in a world where the exact moment of your death can be predicted—for a price. Our narrator is the most talented salesperson at Dare to Know, an enigmatic company that has developed the technology to predict anyone's death down to the second. Divorced, estranged from his sons, and broke, he's driven to violate the cardinal rule of the business by forecasting his own death day. The problem: his prediction says he died twenty-three minutes ago. The only person who can confirm its accuracy is Julia, the woman he loved and lost during his rise up the ranks of Dare to Know. As he travels across the country to see her, he's forced to confront his past, the choices he's made, and the terrifying truth about the company he works for. Wildly ambitious and highly immersive, this thought-provoking thriller explores the destructive power of knowledge and collapses the boundaries between reality, myth, and conspiracy as it races toward its shocking conclusion.
The Order of Odd-Fish /
ISBN: 038573543X OCLC: 182528100 Delacorte Press, New York, NY : ©2008. Thirteen-year-old Jo suddenly finds her humdrum life turned upside down when Colonel Anatoly Kordakov shows up at her aunt's party and announces he has come to protect her.