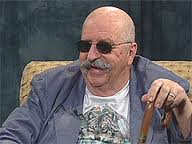 Gene Wolfe
Born:
1931 in Brooklyn, New York
Pen Name:
None
Connection to Illinois
: Gene Wolfe lived in Barrington and now lives in Peoria.
Biography
: Gene fought in the Korean War and later graduated from the University of Houston with a degree in Medical Engineering. He was editor for the periodical Plant Engineering, retiring to write full-time in 1984. He is a prolific short story writer and a novelist. Wolfe's works have won a variety of awards, and he is considered one of the premier writers in the genre over the past fifty years. In 2007, he was inducted into the Science Fiction Hall of Fame.
---
Awards
:
''The Death of Doctor Island''
-- Nebula Award,
''Soldier of Sidon''
-- World Fantasy Award,
"""Other Awards and Honors"""
-- First recipient of Fuller Award for Lifetime Achievement, Chicago Literary Hall of Fame
Primary Literary Genre(s):
Fiction; Science Fiction
Primary Audience(s):
Adult readers
:
---
Selected Titles
An evil guest /
ISBN: 0765321343 OCLC: 213301012 Tor, New York : 2008. A tale set a century into the future finds an actress confronting ancient and supernatural forces while struggling to choose between her two lovers, a sorcerer private detective who launches her career and a mysterious man of wealth who appears with her in a play.
Home fires /
ISBN: 0765328186 OCLC: 648922915 Tor, New York : 2011. Chelle and Skip have been separated by Chelle's tour of duty in a war against aliens from distant solar systems. They find their relationship complicated by time differentials that cause an injured and war-weary Chelle to age only a few months while Skip reaches his forties.
Innocents aboard :
ISBN: 076530791X OCLC: 58053806 Tor ; New York : 2005.
On Blue's waters /
ISBN: 0312872577 OCLC: 45435635 Tor, New York : 2000. Space hero Horn battles shapeshifting vampires who want to use humans as cattle. It happens on planet Blue where Horn is searching for the planet's missing leader. First volume in a trilogy.
Operation Ares
ISBN: 0006151434 OCLC: 16432586 Fontana, [London] : 1978.
Pirate freedom /
ISBN: 0765318784 OCLC: 122527050 Tor, New York : 2007. A young priest fresh out of seminary, Father Christopher finds himself inexplicably swept back in time to the Golden Age of Piracy, where he finds himself caught up in the life of a buccaneer and trolling the waters of the Caribbean in search of Spanish gold.
Return to the whorl /
ISBN: 0312873646 OCLC: 45080142 Tor, New York : 2001. Horn is on a quest in search of the heroic leader Patera Silk.
Soldier of Sidon /
ISBN: 0765316706 OCLC: 263292452 Tor, New York : 2007.
Starwater strains /
ISBN: 0765312034 OCLC: 65468809 Tor ; New York : 2006. Presents a collection of twenty-five science fiction short stories by acclaimed writer Gene Wolfe.
The sorcerer's house /
ISBN: 076532458X OCLC: 428026865 Tor, New York : 2010. In a novel told entirely through a series of letters, a man inherits a sorcerer's house and is immediately confronted by supernatural and fantastical creatures and events that utterly transform his life.