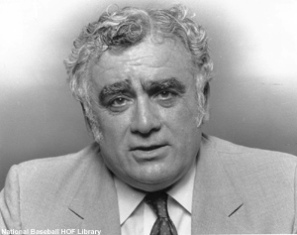 Jerome Holtzman
Born:
Chicago, Illinois
Died:
2008 in Evanston, Illinois
Pen Name:
None
Connection to Illinois
: Jerome Holtzman was a baseball writer and columnist, beginning in 1957 for the Chicago Sun-Times, Chicago, Illinois.
Biography
: In addition to writing for the Chicago Sun Times Jerome Holtzman was also president and founder of Holtzman Press, Inc. Jerome Holtzman chronicled the baseball seasons of the Chicago White Sox and Cubs for more than 40 years at Chicago newspapers, beginning in 1957 as a beat writer at the Chicago Sun-Times and continuing in1981 as a columnist at The Chicago Tribune.
---
Awards
:
Primary Audience(s):
Adult readers
Jerome Holtzman on WorldCat :
http://www.worldcat.org/search?q=jerome+holtzman
---
Selected Titles
Al Lopez :
ISBN: 0786406569 OCLC: 40230786 McFarland & Co., Jefferson, N.C. : ©1999.
Babe Ruth's own book of baseball /
ISBN: 0803289391 OCLC: 24695902 University of Nebraska Press, Lincoln : ©1992.
Baseball, Chicago style :
ISBN: 1566252334 OCLC: 62153065 Bonus Books, Los Angeles : ©2005.
Fielder's choice /
ISBN: 0156306522 OCLC: 5706753 Harcourt Brace Jovanovich, New York : 1980, ©1979.
From Black Sox to three-peats :
ISBN: 9780226036601 OCLC: 831150512 Bears. Bulls. Cubs. White Sox. Blackhawks. There's no city like Chicago when it comes to sports. And Chicago sports fans have enjoyed a wealth of talent not just on the field, but in the press box as well. Rapoport assembles one hundred of the best columns and articles to tell the unforgettable story of a century of Chicago sports.
Jack Brickhouse :
ISBN: 0809232073 OCLC: 33335067 Contemporary Books, Chicago : ©1996. "This authorized biography of Jack Brickhouse spans the Hall of Fame broadcaster's 60-year career, from his beginnings in Peoria, Illinois, to his broadcasts for the Chicago Bulls, Bears, and White Sox and his 40-year reign as the voice of the Chicago Cubs. Packed with one-of-a-kind stories from such Chicago icons as Ernie Banks, Irv Kupcinet, and Harry Caray as well as Brickhouse himself, this book also includes rare photos from Brickhouse's personal collection. The rich history of Chicago as well as the evolution of sports and broadcasting in the 20th century is interwoven with the entertaining chronicle of one man's extraordinary life."--Back cover.
Jerome Holtzman on baseball :
ISBN: 158261976X OCLC: 60639705 Sports Publishing, Champaign, IL : ©2005.
My greatest day in baseball :
ISBN: 0803263686 OCLC: 33244295 University of Nebraska Press, Lincoln : [1996], ©1945. Presents forty-seven famous stars from the golden age of baseball relating their most unforgettable moments in the sport.
No cheering in the press box /
ISBN: 080503823X OCLC: 32237397 H. Holt, New York : 1995. "Paul Gallico, Shirley Povich, Ford Frick, Red Smith, Jimmy Cannon: these are among the twenty-four sportswriters Jerome Holtzman interviewed, reporters who were most active in what's known as the Golden Age of Sports, the time between the two world wars when newspapers, not TV, re-created the drama of the boxing ring, the racetrack, and, above all, the baseball field. This revised and updated edition includes six previously unpublished chapters, offering more of the era's most famous sportswriters - Wendell Smith, Al Abrams, Fred Russell, Gene Kessler, Ray Gillespie, and Jim Schlemmer - and a new introduction by the great journalist himself. In their own casual, spicy words, these men give us their reminiscences and opinions - a collection that stands as a landmark of American oral history."--Jacket.
The Chicago Cubs /
ISBN: 0809323680 OCLC: 44702182 Southern Illinois University Press, Carbondale : ©2001.
The Chicago Cubs encyclopedia /
ISBN: 156639547X OCLC: 36225482 Temple University Press, Philadelphia : 1997. "For the last half century, since 1945 when they won their last pennant, the Chicago Cubs have often been characterized as "lovable losers." The Cubs set a record for consecutive second division finishes, 20. The Cubs have won 16 pennants, set the one-season major league record for victories, 116 in 1906, and are the only charter member of the National League to play in the same city, 121 years without interruption." "The Chicago Cubs Encyclopedia offers readers: over 500 photographs, including 16 pages in full color; complete statistics through the 1996 season on hitting streaks, ERA's, box scores, and trades; an all-time roster of managers, players, and position leaders; season-by-season descriptions; game highlights and great moments; 100 player profiles from Adrian Constantine Anson to Ryne Sandberg; the managerial strategies, the personalities, the honors, and the milestones; and an immense treasure trove of little known facts and surprising anecdotes."--Jacket.
The commissioners :
ISBN: 0965694941 OCLC: 39308864 Total Sports ; New York : ©1998. Looks at the nine men who have held the position of commissioner of baseball, from Judge Landis to Bud Selig.
The Jerome Holtzman baseball reader /
ISBN: 1572434937 OCLC: 51060216 Triumph Books, Chicago : ©2003.
Three and two! /
ISBN: 0684161699 OCLC: 4920321 Scribner, New York : ©1979.