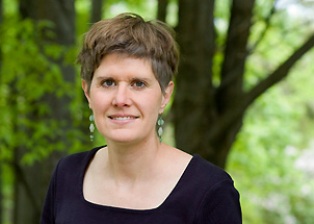 Sandra Steingraber
Born:
1959 in Tazewell County, Illinois,
Pen Name:
None
Connection to Illinois
: Sandra Steingraber was adopted as an infant. Steingraber grew up and spent most of her childhood in Tazewell County, Illinois
Biography
: Ecologist, author, and cancer survivor, Sandra Steingraber, Ph.D. is an internationally recognized authority on the environment links to cancer and human health. In her 20s, Steingraber developed bladder cancer. She was not alone; in several of her books, she describes an apparent cancer cluster in her hometown and within her family.After her cancer went into remission, Steingraber completed her undergraduate degree in biology from Illinois Wesleyan University.She worked for several years as a field researcher, eventually earning her doctorate in biology from the University of Michigan. Steingraber also holds a master's degree in English from Illinois State University. Steingraber was formerly on faculty at Cornell University, she is currently Distinguished Visiting Scholar at the Division of Interdisciplinary and International Studies at Ithaca College, located in Ithaca, New York.
---
Awards
:
Primary Literary Genre(s):
Non-Fiction; Other
Primary Audience(s):
Adult readers
Website:
http://steingraber.com/
Sandra Steingraber on WorldCat :
http://www.worldcat.org/search?q=sandra+steingraber
---
Selected Titles
<>.
ISBN: 9788958625025 OCLC: 975496083
Having faith :
ISBN: 0738204676 OCLC: 47961892 Perseus Pub., Cambridge, Mass. : ©2001. A respected biologist explores the intimate ecology of motherhood as she experiences her own pregnancy and childbirth interweaving new information on embryonic organs, the architecture of the human brain, the transformation of the mother's body, and environmental hazards that threaten infant development.
Having Faith :
ISBN: 9780738216621 OCLC: 804665048 A brilliant writer, first-time mother, and respected biologist, Sandra Steingraber tells the month-by-month story of her own pregnancy, weaving in the new knowledge of embryology, the intricate development of organs, the emerging architecture of the brain, and the transformation of the mother's body to nourish and protect the new life. At the same time, she shows all the hazards that we are now allowing to threaten each precious stage of development, including the breast-feeding relationship between mothers and their newborns. In the eyes of an ecologist, the mother's body is the first environment, the mediator between the toxins in our food, water, and air and her unborn child. Never before has the metamorphosis of a few cells into a baby seemed so astonishingly vivid, and never before has the threat of environmental pollution to conception, pregnancy, and even to the safety of breast milk been revealed with such clarity and urgency. In Having Faith, poetry and science combine in a passionate call to action--Provided by publisher.
Living downstream :
ISBN: 0375700994 OCLC: 39162273 In her early twenties, Sandra Steingraber was afflicted with cancer, a disease that has afflicted other members of her adoptive family. Writing from the twin perspectives of a survivor and a concerned scientist, she traces the high incidence of cancer and the terrifying concentrations of environmental toxins in her native rural Illinois. She goes on to show similar correlation in other communities, such as Boston and Long Island, and throughout the United States, where cancer rates have risen alarmingly since mid-century. At once a deeply moving personal document and a groundbreaking work of scientific detection, Living downstream will be a touchstone for generations, reminding us of the intimate connection between the health of our bodies and the integrity of our air, land, and water.
Post-diagnosis
ISBN: 1563410575 OCLC: 31865500 Firebrand Books, Ithaca, N.Y. : ©1995.
Raising Elijah :
ISBN: 0306820757 OCLC: 657595621 Da Capo Press, [Cambridge, MA] : 2011. Explores the social, political, and ecological forces behind key things and moments in every kid's childhood, arguing that parents should consider environmental issues an integral part of family life.