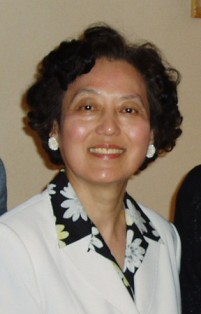 Ying-Ying Chang
Born:
1940
Pen Name:
None
Connection to Illinois
: Ying-Ying worked for 30 years at the University of Illinois-Urbana.
Biography
: Ying-Ying Chang has a Ph.D. from Harvard University in biochemistry and was a research associate in biochemistry at the University of Illinois in Urbana-Champaign with her husband, Shau-Jin, a physics professor. She lives in San Jose, California and is on the board of the Iris Chang Memorial fund,
---
Awards
:
-- Asian/Pacific American Librarians Association (APALA) Awards for Literature in Adult Non-Fiction category, ''The Woman Who Could Not Forget''
Primary Literary Genre(s):
Non-Fiction
Primary Audience(s):
Adult readers
Ying-Ying Chang on WorldCat :
http://www.worldcat.org/search?q=ying-ying++chang
---
Selected Titles
The woman who could not forget :
ISBN: 1605981729 OCLC: 668194709 Pegasus, New York : ©2011. "Iris Chang's best-selling book The Rape of Nanking forever changed the way we view the Second World War in Asia. It all began with a photo of a river choked with the bodies of hundreds of Chinese civilians that shook Iris to her core. Who were these people? Why had this happened and how could their story have been lost to history? She could not shake that image from her head. She could not forget what she had seen. A few short years later, Chang revealed this 'second Holocaust' to the world. But who was this woman that single-handedly swept away years of silence, secrecy and shame? Her mother, Ying-Ying, provides an enlightened and nuanced look at her daughter, from Iris' home-made childhood newspaper, to her early years as a journalist and later, as a promising young historian, her struggles with her son's autism and her tragic suicide"--Jacket.