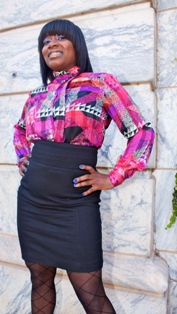 Erika R. McCall
Born:
1982 in Chicago, IL
Pen Name:
None
Connection to Illinois
: Erica was born in Chicago, IL but raised in DeKalb, IL. She graduated from Illinois State University with a bachelor's in Community Health Education and from Northern Illinois University with a Master's in Adult & Higher Education.
Biography
: Erika R. McCall is an Author, Educator and Motivational speaker who seeks to touch the lives of everyone she encounters. Her magnetic attraction for helping others succeed developed in to a career after she decided to bring to life the handwritten quotes scrawled in her journal. From these quotes, she created a compilation of inspirational mantras and stories of young successful African Americans. Born in Chicago but raised in DeKalb, IL a small town in the midst of cornrows where ethnic diversity is lean, Erika learned at a young age the obstacles she would face as an African American female. In spite of the trials and tribulations she faced, she was determined to be an example to the young, African Americans coming behind her. After graduating from college and landing her "dream job," she quickly discovered that her purpose was beyond climbing up the ranks at a regular 9-5. Erika stepped out on her Christian faith and walked away from a full-time, salaried position in order to pursue what she was passionate about. Her leap of faith allowed her to represent the true meaning of what it means to "Go for Yours" and gave her the opportunity to spread the message, "If you can believe it, you can achieve it, so why not Go for Yours." Erika is extremely passionate when it comes to mentoring young minorities and is determined to model her favorite Russell Simmons quote, "If you learn late, pass it on to others so they can learn early." She actively seeks involvement in her community and serves as a Community Representative for the Local School Council and is a member of Young and Powerful for Obama. Erika has Bachelor's Degree in Community Health Education from Illinois State University and a Master's Degree in Adult & Higher Education from Northern Illinois University. She is also a member of Delta Sigma Theta, Sorority Inc. She resides in Chicago, Illinois.
---
Awards
:
Primary Literary Genre(s):
Non-Fiction
Primary Audience(s):
Adult readers; Young adult readers
Email:
ermccall@gmail.com
Website:
http://www.goforyours.com
Erika R. McCall on WorldCat :
http://www.worldcat.org/search?q=erika+r.++mccall
---
Selected Titles
Go for yours :
ISBN: 1467043648 OCLC: 757827971 Authorhouse, [Place of publication not identified] : 2011.