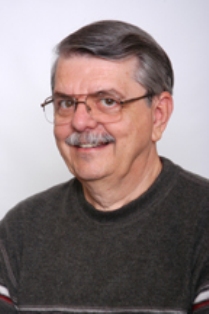 James David Webb
Born:
1941 in Decatur, Illinois
Pen Name:
J. D. Webb
Connection to Illinois
: Born and raised in Decatur, Illinois attended Millikin University and Yale University. Served in the Air Force in the Philippines and Viet Nam in the middle 1960s. Spent 25 years at A E Staley Mfg in Decatur and 11 years owning a shoe repair shop in Clinton, Illinois.
Biography
: Began full time as author in 2002 with now four books published. Have garnered several awards for writing and I own and moderate the Yahoo Publishing and Promoiting Group with almost 1000 international members.
---
Awards
:
-- Golden Wings Award, ''Shepherd's Pie''
-- EPPIE Finalist 2008, ''Moon Over Chicago''
Primary Literary Genre(s):
Fiction; Mystery
Primary Audience(s):
Adult readers
Email:
jdwebb99@yahoo.com
Website:
http://www.jdwebb.com
James David Webb on WorldCat :
http://www.worldcat.org/search?q=james+david+webb
---
Selected Titles
Her name is Mommy /
ISBN: 1597057908 OCLC: 222327710 Wings ePress, Richmond, KY : 2007. Chicago PI Mike Shepherd tries to rescue the kidnapped mother of a four-year-old he and his fiancée find abandoned in a shopping mall.
Shepherd's pie /
ISBN: 1597059366 OCLC: 173257199 Wings ePress, Richmond, KY : 2006. Escaped criminal and self-proclaimed survivalist Ferlin Husky Lewis vows to kill Chicago P.I. Mike Shepherd after Shepherd's failed attempt to bag Husky and the bounty offered for his return to police custody.
Smudge /
ISBN: 1603182101 OCLC: 772624779 L & L Dreamspell, Spring, Tex. : ©2010. "A smudge of blood involves a woman in the hunt for a mob killer, leading to a life threatening conclusion. All paralegal Trish Morgan wanted to do was grab a few bucks at her ATM one night, but she finds blood on the screen then hears a moan. Should she investigate or not? Fighting her apprehension, she ventures into the alley next to the bank and discovers a dying woman. While Trish frantically calls 911 for help, the injured woman slips a DVD into Trish's purse. Unknown to Trish the DVD is a video of a hit of a Chicago mobster, which identifies the hit man. The assassin stalks Trish, calling her at work and demanding that she return the disk. But the police are already involved. Trish is torn about what to do, and her best friend Heather, a wanna-be PI, tries to help. Each time Trish thinks a problem is resolved she realizes her troubles are far from over. Her marriage is falling apart and she decides to leave her abusive husband. But as she tries to begin a new life the police question her about her husband's business dealings. Unexpected ordeals and dangerous situations test her inner strength and wisdom"--Publisher.
The real vocal book.
ISBN: 0634060805 OCLC: 72550660 Hal Leonard Corporation, Milwaukee, WI : [2006?]