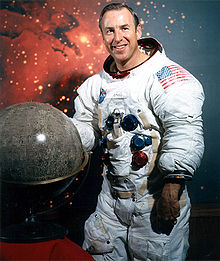 James Arthur Lovell
Born:
1928 in Cleveland, Ohio
Pen Name:
None
Connection to Illinois
: In 1999 he with his family opened up the restaurant Lovells of Lake Forest, where he currently resides.
Biography
: is a former NASA astronaut and a retired Captain in the United States Navy, most famous as the commander of the Apollo 13 mission, which suffered a critical failure en route to the Moon but was brought back safely to Earth by the efforts of the crew and mission control. Lovell was also the command module pilot of Apollo 8, the first Apollo mission to enter lunar orbit. Lovell is a recipient of the Congressional Space Medal of Honor and the Presidential Medal of Freedom. He is one of only 24 people to have flown to the Moon, the first of only three people to fly to the Moon twice, and the only one to have flown there twice without making a landing. Lovell was also the first person to fly in space four times.In 2006, the Adler Planetarium in Chicago opened its 'Shoot for the Moon' exhibit based on the life of Jim Lovell, along with the Gemini and Apollo programs; the exhibit features his Gemini 12 spacecraft and an extensive collection of his personal space artifacts. Many of his mementos and spacesuit elements have long been displayed at Chicago's Museum of Science and Industry, along with his Apollo 8 command module.James Lovell was inducted into the U.S. Astronaut Hall of Fame on March 19, 1993.
---
Awards
:
Primary Literary Genre(s):
Non-Fiction; Other
Primary Audience(s):
Adult readers
James Arthur Lovell on WorldCat :
http://www.worldcat.org/search?q=james+arthur+lovell
---
Selected Titles
Apollo 13 /
ISBN: 0618619585 OCLC: 43118301 Houghton Mifflin, Boston : ©2000. Recounts how after only fifty hours into its flight to the moon, the Apollo 13 space ship was rocked by an explosion, and tells how the ship was brought under control, and the crew safely returned to earth.