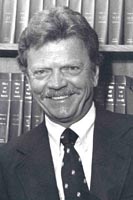 Louis Catron
Born:
1932 in Springfield, Illinois
Pen Name:
None
Connection to Illinois
: Louis Catron was born in Springfield, Ill. , and was educated at Millikin University and Southern Illinois University.
Biography
: During the Korean War, he served in the Navy. Prior to teaching, he held a variety of jobs. He enjoyed success as an actor, but felt he belonged in teaching theater.He joined William &?Mary in 1966. In 1988 the Virginia Council of Higher Education awarded him the Outstanding Faculty Award, an annual honor given 12 professors. In 1972 and 1975 he was named an "Outstanding Educator of America."A number of Prof. Catron's students excelled as actors, directors, screenplay writers and authors. Perhaps best known are actress Glenn Close and novelist-screenwriter Karen Hall of "MASH" and "Hill Street Blues."
---
Awards
:
Primary Literary Genre(s):
Fiction; Non-Fiction; Other
Primary Audience(s):
Adult readers
Louis Catron on WorldCat :
http://www.worldcat.org/search?q=louis+catron
---
Selected Titles
Elements of playwriting
ISBN: 1478635975 OCLC: 1028996300
Playwriting :
ISBN: 0881335649 OCLC: 24393957 Waveland Press, Prospect Heights, Ill. : 1990.
The director's vision :
ISBN: 1577666763 OCLC: 526083905 Waveland Press, Long Grove, Ill. : 2010.
The director's vision :
ISBN: 1478611251 OCLC: 907884361
The elements of playwriting /
ISBN: 157766227X OCLC: 50141030 Waveland Press, Prospect Heights, Ill. : 2002, ©1993.
The power of one :
ISBN: 1577666208 OCLC: 286473080
Where have all the lightning bugs gone? :
ISBN: 0573625832 OCLC: 2521963 S. French, New York : ©1971.