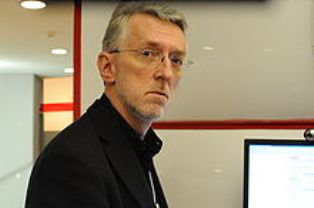 Jeff Jarvis
Born:
1954
Pen Name:
None
Connection to Illinois
: Jarvis attended the Medill School of Journalism in Evanston and worked for the Chicago Tribune.
Biography
: Jeff Jarvis is a journalist. Previously he was a television critic for TV Guide and People magazine, creator of Entertainment Weekly, Sunday editor and associate publisher of the New York Daily News, and a columnist on the San Francisco Examiner.His career began in 1974 when he was an undergraduate at the Medill School of Journalism at Northwestern University and was hired by the Chicago Tribune. Jarvis first began his career in journalism writing for the Addison Herald-Register, a weekly newspaper, in 1972.Jeff is the proprietor of one of the Web's most popular and respected blogs about the internet and media, Buzzmachine.com. He also writes the new media column for the Guardian in London. He was named one of 100 worldwide media leaders by the World Economic Forum at Davos in 2007 and 2008, and he was the creator and founding editor of Entertainment Weekly. He is on the faculty of the City University of New York Graduate School of Journalism in New York City.Along with the books listed below, Jarvis also wrote ''Gutenberg the Geek'' - a Kindle single in 2011.
---
Awards
:
Primary Literary Genre(s):
Non-Fiction; Other
Primary Audience(s):
Adult readers
Email:
jeff@buzzmachine.com
Website:
http://buzzmachine.com
Jeff Jarvis on WorldCat :
http://www.worldcat.org/search?q=jeff+jarvis
---
Selected Titles
Public parts :
ISBN: 9781451636376 OCLC: 712117088 Simon & Schuster, New York, NY : 2011. Argues that the growth of social networking and increased openness online is beneficial in the digital age and can lead to increased collaboration and changes in the way people organize, govern, teach, and learn.
What would Google do?
ISBN: 9780061893933 OCLC: 905853221
What would Google do? /
ISBN: 0061709719 OCLC: 232977677 Collins Business, New York, NY : ©2009. A manual for survival and success that asks the most important question today's leaders, in any industry, can ask themselves: What would Google do? To demonstrate how to emulate Google, Jarvis lays out his laws of what he calls "the new Google century," including such insights as: Think distributed; Become a platform; Join the post-scarcity, open-source, gift economy; The middleman has died; Your worst customers are your best friends and your best customers are your partners; Do what you do best and link to the rest; Get out of the way; Make mistakes well; and more. He applies these principles not just to emerging technologies and the Internet, but to other industries--telecommunications, airlines, television, government, healthcare, education, journalism, and, yes, book publishing--showing ultimately what the world would look like if Google ran it. The result will change the way readers ask questions and solve problems.--From publisher description.