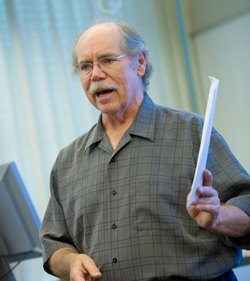 David Kindred
Born:
April 12, 1941 in Atlanta, Illinois
Pen Name:
None
Connection to Illinois
: Kindred is from Atlanta, Illinois. His first job was at the Lincoln Evening Courier in Lincoln. He attended Illinois Wesleyan University in Bloomington.
Biography
: Dave Kindred a long-time sports columnist and author, is a member of the National Sportscasters and Sportswriters Hall of Fame. He is a recipient of the Red Smith Award for lifetime achievement in sports journalism. He has been a sports columnist for The Washington Post, Atlanta Journal-Constitution, Louisville Courier-Journal, Sporting News and The National Sports Daily. Kindred attended Atlanta High School where he played on their basketball team, leading them to the 1959 regional championship. He continued his aspirations to become a sportswriter although he was discouraged by his English teacher who said, 'Maybe one day you can grow up and be a foreign correspondent.' After graduating, Kindred attended Illinois Wesleyan University on a journalism scholarship and competed on their Division III baseball team. While in school and for two years after, he worked full-time on the sports section of the The Pantagraph. He found his time at the paper challenging for he was in charge of covering all basketball games across the city and keeping track of scores.
---
Awards
:
Primary Literary Genre(s):
Non-Fiction
Primary Audience(s):
Adult readers
Twitter:
https://twitter.com/DaveKindred
Website:
https://www.penguinrandomhouse.com/authors/77871/dave-kindred/
Wikipedia:
https://en.wikipedia.org/wiki/Dave_Kindred
---
Selected Titles
Glove stories :
ISBN: 0892046856 OCLC: 49599435 Sporting News, a division of Vulcan Sports Media, St. Louis, MO : ©2002.
Heroes, fools & other dreamers :
ISBN: 0929264029 OCLC: 19031711 Longstreet Press, Atlanta, Ga. : ©1988.
Leave Out the Tragic Parts: A Grandfather's Search for a Boy Lost to Addiction
ISBN: B089SNNQ13 OCLC:
Morning Miracle: Inside the Washington Post A Great Newspaper Fights for Its Life
ISBN: B0036S4EV4 OCLC:
Sound and fury :
ISBN: 0743262115 OCLC: 70122109 Free Press, New York : ©2006. Describes Muhammad Ali's relationship with Howard Cosell, the sports journalist, which, despite differences in racial, educational, and religious backgrounds, became a mutually respectful friendship.
The Colorado Silver Bullets :
ISBN: 1563521997 OCLC: 32514709 Longstreet Press, Atlanta, Ga. : ©1995.