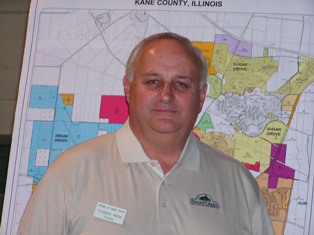 Thomas F Renk
Born:
1949 in Milwaukee, Wisconsin
Pen Name:
None
Connection to Illinois
: Tom lives in Sugar Grove, Illinois.
Biography
: Tom Renk has been active in local government for the past twenty-five years as an elected official in two states. With an education in political science and economics, he has long been a student of government and democracy. An avid reader, he is still old school and pours through a number of newspapers and magazines each day. In his career work managing trade and professional associations, he has travelled the world developing diverse memberships, building strategic relationships and visiting far away exotic places. An avid reader of the adventure and thriller genre, he came up with a timely story line concerning the aftermath of 9-11 that everyone he talked with encouraged him to write. It is a story about a small group of angry citizens taking on the terrorist network that their own US government can't seem to locate. Journey for Revenge is the result. He has also written a non-fiction book entitled "Getting Elected – Winning Local Elections." It is a self-help how-to book meant to help first time candidates navigate the uncharted waters of running for office. It helps guide readers through the decision making process to run, the nomination paper filing requirements, the campaign committee set-up, the fund raising issues and reporting responsibilities, campaign marketing, presenting yourself to the public and getting out the vote. Everyone who has read the book has won their election.
---
Awards
:
Primary Literary Genre(s):
Non-Fiction
Primary Audience(s):
Adult readers
Email:
tom@associationenterprise.org
Website:
http://www.journeyforrevenge.com
Thomas F Renk on WorldCat :
http://www.worldcat.org/search?q=thomas+f+renk
---
Selected Titles
Getting elected :
ISBN: 9780595396672 OCLC: 77079846 iUniverse, Inc., New York : c 2006. Getting Elected will show you how to win a local election. A political campaign is complex and difficult to navigate if you don't know what you are doing. This book is based on 25 years of local campaign experience and will show you how to win in your first election.
Journey for Revenge /
ISBN: 145675503X OCLC: 738361088 Author House, Bloomington, IN : 2011.