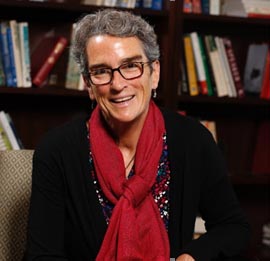 Ann Durkin Keating
Born:
1957 Evanston, Illinois
Pen Name:
None
Connection to Illinois
: Keating was born in Evanston. She earned a bachelor of arts degree from the University of Illinois, and master of arts and doctorate degrees from the University of Chicago. Currently, she is a professor at North Central College in Naperville.
Biography
: Ann Durkin Keating holds the C. Frederick Toenniges Professorship at North Central College in Naperville, Illinois. She is a history professor and chair of the History Department. She has taught at the college since 1991 and helped establish the college's Chicago Team, which takes students from all majors into the city to learn about its past and present and to pursue internships there. She spearheaded publication of the book, ''Encyclopedia of Chicago'', and appears regularly as a public speaker and is often quoted as an expert source about Chicago-area history.
---
Awards
:
Primary Literary Genre(s):
History; Non-Fiction
Primary Audience(s):
Adult readers
:
---
Selected Titles
Building Chicago :
ISBN: 0252070550 OCLC: 48092298 University of Illinois Press, Urbana : 2002.
Chicago neighborhoods and suburbs :
ISBN: 0226428834 OCLC: 225876105 "'Which neighborhood?' It's one of the first questions you're asked when you move to Chicago. And the answer you give -- be it Bucktown, Bronzeville, or Bridgeport -- can give your inquisitor a good idea of who you are, especially in a metropolis with so many different neighborhoods and suburbs to choose from. Many of us know little of the neighborhoods beyond those where we work, play, and live. This is particularly true in Chicagoland, a region that spans over 4,400 square miles and is home to more than 9.5 million residents. Now, historian Ann Durkin Keating's compact guide, drawn largely from the bestselling Encyclopedia of Chicago, brings the history of Chicago neighborhoods to life."--Back cover.
Chicagoland :
ISBN: 0226428796 OCLC: 57577320 University of Chicago Press, Chicago : 2005. Offers the collective history of 230 neighborhoods and communities which formed the bustling network of greater Chicagoland--many connected to the city by the railroad. Profiles the people who built these neighborhoods, and the structures they left behind that still stand today.
Invisible networks :
ISBN: 0894648713 OCLC: 29594480 Krieger Pub. Co., Malabar, Fla. : 1994.
Rising up from Indian country :
ISBN: 0226428966 OCLC: 778314763 In August 1812, under threat from the Potawatomi, Captain Nathan Heald began the evacuation of ninety-four people from the isolated outpost of Fort Dearborn to Fort Wayne, hundreds of miles away. The group included several dozen soldiers, as well as nine women and eighteen children. After traveling only a mile and a half, they were attacked by five hundred Potawatomi warriors. In under an hour, fifty-two members of Heald's party were killed, and the rest were taken prisoner; the Potawatomi then burned Fort Dearborn before returning to their villages. These events are now seen as a foundational moment in Chicago's storied past. With Rising up from Indian Country, noted historian Ann Durkin Keating richly recounts the Battle of Fort Dearborn while situating it within the context of several wider histories that span the nearly four decades between the 1795 Treaty of Greenville, in which Native Americans gave up a square mile at the mouth of the Chicago River, and the 1833 Treaty of Chicago, in which the American government and the Potawatomi exchanged five million acres of land west of the Mississippi River for a tract of the same size in northeast Illinois and southeast Wisconsin.
The world of Juliette Kinzie :
ISBN: 022666452X OCLC: 1089920471 "When Juliette Kinzie first visited Chicago in 1831, it was anything but a city. An outpost in the shadow of Fort Dearborn, it had no streets, no sidewalks, no schools, no river-spanning bridges. And with two hundred disconnected residents, it lacked any sense of community. In the decades that followed, not only did Juliette witness the city's transition from Indian country to industrial center, but she was instrumental in its development. Juliette is one of Chicago's forgotten founders. Early Chicago is often presented as "a man's city," but women like Juliette worked to create an urban and urbane world, often within their own parlors. With The World of Juliette Kinzie, we finally get to experience the rise of Chicago from the view of one of its most important founding mothers. Ann Durkin Keating, one of the foremost experts on nineteenth-century Chicago, offers a moving portrait of a trailblazing and complicated woman. Keating takes us to the corner of Cass and Michigan (now Wabash and Hubbard), Juliette's home base. Through Juliette's eyes, our understanding of early Chicago expands from a city of boosters and speculators to include the world that women created in and between households. We see the development of Chicago society, first inspired by cities in the East and later coming into its own midwestern ways. We also see the city become a community, as it developed its intertwined religious, social, educational, and cultural institutions. Keating draws on a wealth of sources, including hundreds of Juliette's personal letters, allowing Juliette to tell much of her story in her own words. Juliette's death in 1870, just a year before the infamous fire, seemed almost prescient. She left her beloved Chicago right before the physical city as she knew it vanished in flames. But now her history lives on. The World of Juliette Kinzie offers a new perspective on Chicago's past and is a fitting tribute to one of the first women historians in the United States."--