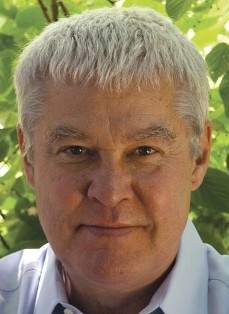 Laurence Gonzales
Born:
1947 in St. Louis, Missouri
Pen Name:
None
Connection to Illinois
: Laurence Gonzales is a native of Evanston, Illinois. He has lived in Cook County since 1963.
Biography
: Laurence Gonzales was born in St. Louis, Missouri, and grew up in Houston and San Antonio, Texas. He is the author of numerous books, including the bestseller Deep Survival: Who Lives, Who Dies, and Why (W.W. Norton). Surviving Survival: The Art and Science of Resilience is the sequel to Deep Survival and is his most recent book. Gonzales has won two National Magazine Awards and the Distinguished Service Award from the Society of Professional Journalists. He has appeared as a speaker before groups ranging from the Santa Fe Institute to Legg Mason Capital Management, the Lawrence Livermore National Laboratory, and the Sloan School of Management at the Massachusetts Institute of Technology. His most recent novel is Lucy.
---
Awards
:
-- The Sigma Delta Chi Distinguished Service Award from the Society of Professional Journalists for investigative reporting on the Watergate scandal
-- The Carl Sandburg Award for ''The Still Point''
-- Chicago Book of the Year for ''One Zero Charlie''
-- Named
Primary Literary Genre(s):
Fiction; Non-Fiction
Primary Audience(s):
Adult readers
Email:
deepsurvival@comcast.net
Laurence Gonzales on WorldCat :
http://www.worldcat.org/search?q=laurence+gonzales
---
Selected Titles
Artificial horizon :
ISBN: 0933532520 OCLC: 13005386 BkMk Press-University of Missouri-Kansas City, Kansas City : ©1986.
Deep survival :
ISBN: 0393326152 OCLC: 57175040 W.W. Norton & Co., New York : 2004. [This book] combines hard science and storytelling to illuminate the mysteries of survival, whether in the wilderness or in meeting any of life's great challenges. [It] describe[s] the art and science of survival, will change the way you see your world.-Back cover.
Deep survival :
ISBN: 9781433268434 OCLC: 277277551 Playaway Digital Audio : [Solon, Ohio] : [released 2008], ©2008. After her plane crashes, a seventeen-year-old girl spends eleven days walking through the Peruvian jungle. Against all odds, with no food, shelter, or equipment, she gets out. A better-equipped group of adult survivors of the same crash sits down and dies. What makes the difference? Examining such stories of miraculous endurance and tragic death - how people get into trouble and how they get out again (or not) - Deep Survival takes us from the tops of snowy mountains and the depths of oceans to the workings of the brain that control our behavior.
El vago /
ISBN: 0689113307 OCLC: 9111762 A novel of love and war, the story of a man who rode with Zapata and Pancho Villa in the epic struggles of the Mexican Revolution.
Everyday survival :
ISBN: 0393058387 OCLC: 227016234 W.W. Norton & Co., New York : ©2008. Discusses how modern society makes people lazy and susceptible to threats if their curiosity, awareness, and attention are put aside in favor of a mental script that does not process natural laws and the physical requirements of a situation when survival is at stake.
Everyday survival :
ISBN: 9780792759089 OCLC: 318104184 BBC Audiobooks America, [North Kingstown, R.I.] : 2009. Draws on cutting-edge science to offer additional insight into the ways human minds and bodies work, discussing how to apply lessons in evolutionary history to overcome everyday behavioral hazards.
Jambeaux
ISBN: 0806512008 OCLC: 25244875 Carol Pub. Group, New York : 1990.
Jambeaux /
ISBN: 0151460388 OCLC: 5219849 Harcourt Brace Jovanovich, New York : ©1979.
Lucy :
ISBN: 0307272605 OCLC: 457148095 Alfred A Knopf, New York : 2010. Jenny Lowe, a primatologist studying chimpanzees, is running for her life with the child of a murdered fellow scientist after a civil war explodes. Jenny grabbing the notebooks of the primatologist who's been killed. She brings the girl to Chicago to await the discovery of her relatives. The girl is fifteen and lovely, her name is Lucy. Realizing that the child has no living relatives, Jenny begins to care for her as her own. When she reads the notebooks written by Lucy's father, she discovers that the adorable, lovely, magical Lucy is the result of an experiment. She is part human, part ape, a hybrid human being.
Lucy :
ISBN: 9780307473905 OCLC: 676726723 Vintage Books, New York : 2011, ©2010. The result of experimental breeding between a human and ape, fourteen-year-old Lucy is rescued from the Congo jungle where she has lived exclusively among apes and experiences stunning revelations about herself when she is relocated to a Chicago suburb.
One Zero Charlie :
ISBN: 141657641X OCLC: 946535743 Simon & Schuster Audio, New York : 2015. Galt Airport in northern Illinois is known to the people who fly out of it as "One-Zero-Charlie" (for its FAA designation as Airport 10C). This evocative excursion into a little-known part of the heart of America takes us to a place where a love of flying draws people together, and a fascination with its sheer exhilaration keeps them that way.
Surviving survival :
ISBN: 0393083187 OCLC: 783160247 W.W. Norton, New York : ©2012. Drawing on cases across a range of life-threatening experiences, Laurence Gonzales makes a compelling argument about fear, courage and the adaptability of the human spirit.
Surviving survival :
ISBN: 9780393346633 OCLC: 858005560 Highlights the survivors of various traumas and describes their lives both before and after and offers a detailed discussion of the fear, courage, and flexibility of the spirit that drives people onward after a life-threatening experience.
The hero's apprentice :
ISBN: 1557283605 OCLC: 30739513 University of Arkansas Press, Fayetteville : 1994.
The last deal /
ISBN: 0689111991 OCLC: 7597653 Atheneum, New York : 1981.
The still point
ISBN: 1557280800 OCLC: 19128680 University of Arkansas Press, Fayetteville : 1989.