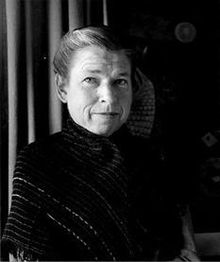 Josephine Miles
Born:
1911 in Chicago, Illinois
Died:
1985
Pen Name:
None
Connection to Illinois
: Josephine Miles was born in Chicago.
Biography
: Although born in Chicago, Josephine Milesmoved around a lot with her family, eventually relocating to Southern California. Due to a disabling arthritis, she was educated at home by tutors, but was able to graduate from Los Angeles High School in a class which included the composer John Cage.Miles attended the University of California, Los Angeles, where she earned a bachelorís degree in English literature before moving to the University of California, Berkeley to pursue her doctorate. She remained in Berkeley for the rest of her life, receiving many highly-coveted fellowships and awards until her death in May 1985. She was the first woman to receive tenure in the English Department at Berkeley and, at the time of her death, held the position of University Professor, one of the rarest and most prestigious honors in academic life.
---
Awards
:
Website:
http://www.poets.org/poet.php/prmPID/682
Josephine Miles on WorldCat :
http://www.worldcat.org/search?q=josephine++miles
---
Selected Titles
Collected poems, 1930-83
ISBN: 0252067673 OCLC: 42000291 University of Illinois Press, Urbana, Ill. : 1998, ©1983.
Collected poems, 1930-83 /
ISBN: 0252010175 OCLC: 8627580 University of Illinois Press, Urbana : ©1983.
Coming to terms :
ISBN: 0252007670 OCLC: 5239435 University of Illinois Press, Urbana : ©1979.
Poems of the American West
ISBN: 0375414592 OCLC: 50616683 Alfred A. Knopf, New York : 2002. A diverse collection of poetry celebrates the American West in an anthology that includes folk songs, Native American poems, country-western lyrics, and poems by American and foreign authors on the Old West.
Ralph Waldo Emerson - American Writers 41 :
ISBN: 1299919979 OCLC: 859390681 Univ Of Minnesota Press, 1964.
Ralph Waldo Emerson.
ISBN: 0816603332 OCLC: 191952606 University of Minnesota Press, Minneapolis : 1964. Annotation.
To all appearances;
ISBN: 0252004396 OCLC: 914934 University of Illinois Press Urbana, [1974]