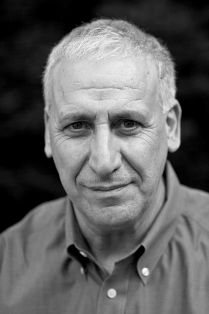 Edward Hirsch
Born:
January 20, 1950 in Chicago, Illinois
Pen Name:
None
Connection to Illinois
: Hirsch was born in Chicago.
Biography
: Edward Hirsch received the National Book Critics award, Prix de Rome. In 2008, he was elected a Chancellor of the Academy of American Poets. He taught for six years in the English Department at Wayne State University and seventeen years in the Creative Writing Program at the University of Houston. He is now president of the John Simon Guggenheim Memorial Foundation and lives in Brooklyn, New York.
---
Awards
:
Pablo Neruda Presidential Medal of Honor, Embassy of Chile, Office of the Ambassador, 2004;
"""The Sleepwalkers"""
-- Delmore Schwartz Memorial Award, New York University
-- Lavan Younger Poets Award, Academy of American Poets
"""Wild Gratitude"""
-- National Book Critics Award
"""Strangers by the Night"""
-- Starred Review, Booklist
-- Starred Review, Publishers Weekly
"""Gabriel: A Poem"""
-- Longlisted, National Book Award, 2014
"""A Poet's Glossary"""
-- Starred Review, Booklist
Primary Literary Genre(s):
Fiction; Poetry
Primary Audience(s):
Adult readers
Website:
https://www.edwardhirsch.com/
Website:
https://www.poetryfoundation.org/poets/edward-hirsch
Website:
https://poets.org/poet/edward-hirsch
Wikipedia:
https://en.wikipedia.org/wiki/Edward_Hirsch
---
Selected Titles
100 poems to break your heart /
ISBN: 0544931882 OCLC: 1159043021 "100 of the most moving and inspiring poems of the last 200 years from around the world, a collection that will comfort and enthrall anyone trapped by grief or loneliness, selected by the award-winning, best-selling, and beloved author of How to Read a Poem"--
A poet's glossary /
ISBN: 0151011958 OCLC: 318415613 A joyful, elegant glossary of poetic terms spanning centuries and continents, from the famed poet and author of the best-selling How to Read a Poem (and Fall in Love with Poetry).
Earthly measures :
ISBN: 0679765662 OCLC: 28376862 Alfred Knopf : New York : 1994. Edward Hirsch's strong, arresting poems have been praised from the start of his career. Of his second book, Wild Gratitude, Robert Penn Warren said, "I am convinced that the best poems here are unsurpassed in our time." This, his fourth collection, contains his finest work. From gritty, apocalyptic views of the urban Midwest to brilliantly empathetic portrayals of Simone Weil and Hugo von Hofmannsthal, the range of poems is at once wide and subtle. "In the Midwest."
For the sleepwalkers :
ISBN: 0887482511 OCLC: 39087635 Carnegie Mellon University Press, Pittsburgh : 1998.
Gabriel :
ISBN: 038535357X OCLC: 867283774 A poignant volume of works inspired by the author's son's tragic early death reflects on the young man's boisterous youth, his rebellious early adulthood, and the author's experiences of grief.
How to read a poem :
ISBN: 0151004196 OCLC: 40347405 This volume presents an exploration of poetry and feeling, introducing poems selected by the author as emblematic because they suggest something crucial about the nature of poetry itself, and offering his insights on how the poems should be read. In this guide, the author reaches out to all those who may be disaffected by the mere mention of poetry and instructs the reader to focus on a personal, emotional response.
Lay back the darkness :
ISBN: 0375415211 OCLC: 52166179 Knopf : New York : 2003. "Edward Hirsch's sixth collection is a descent into the darkness of middle age, narrated with exacting tenderness. He explores the boundaries of human fallibility both in candid personal poems ... and in his passionate encounters with classic poetic texts."--Dustjacket.
On love :
ISBN: 0375702601 OCLC: 44113308 A.A. Knopf, New York : 2000.
Poet's choice /
ISBN: 015101356X OCLC: 61684155 Harcourt, Orlando, Fla. : ©2006. A collection of revised and expanded writings culled from the author's popular Washington Post Book World "Poet's Choice" column demonstrates how poetry responds to world challenges and introduces the work of more than 130 writers.
Responsive reading
ISBN: 0472096923 OCLC: 40901182 University of Michigan Press, Ann Arbor : ©1999.
Special orders :
ISBN: 0307266818 OCLC: 166358515 "In 'Special Orders', the renowned poet Edward Hirsch brings us a new series of tightly crafted poems, work that demonstrates a thrilling expansion of his tone and subject matter. It is with a mixture of grief and joy that Hirsch examines what he calls 'the minor triumphs, the major failures' of his life so far, in lines that reveal a startling frankness in the man composing them, a fearlessness in confronting his own internal divisions: 'I lived between my heart and my head, / like a married couple who can't get along, ' he writes in 'Self-portrait.' These poems constitute a profound, sometimes painful self-examination, by the end of which the poet marvels at the sense of expectancy and transformation he feels. His fifteen-year-old son walking on Broadway is a fledgling about to sail out over the treetops; he has a new love, passionately described in 'I Wish I Could Paint You'; he is ready to live, he tells us, 'solitary, bittersweet, and utterly free.'"--Jacket.
Stranger by night :
ISBN: 0525657789 OCLC: 1101574711 "In his 70th birthday year, the award-winning poet looks back on what was and accepts what is, in a beautiful sequence about what sustains him. Beginning with "My Friends Don't Get Buried," the lament of a delinquent mourner as his friends have begun to die, and ending with the plaintive note to self "don't write elegies/anymore," Hirsch takes us backward through the decades in these memory poems of startling immediacy. He recalls the black dress a lover wore when he couldn't yet know the tragedy of her burning spirit; the radiance of an autumn day in Detroit when his students smoked outside, passionately discussing Shelley; the day he got off late from a railyard shift and missed an anti-war demonstration. There are direct and indirect elegies to lost contemporaries like Mark Strand, William Meredith, and, most especially, his longtime compatriot Philip Levine, whom he honors in several poems about daily work in the late midcentury Midwest. As the poet ages and begins to lose his peripheral vision, the world is "stranger by night," but these elegant, heart-stirring poems shed light on a lifetime that inevitably contains both sorrow and its opposite"--
The demon and the angel :
ISBN: 0151005389 OCLC: 49280027 In an exploration of the sources and mysteries of artistic creativity, the author examines the concept of "duende," the power of creativity that results in a work of art, as he looks at how different artists respond to the creative impulse.
The essential poet's glossary /
ISBN: 0544931238 OCLC: 953710120 "A Poet's Glossary was an extraordinary achievement, a definitive source for poets and poetry lovers alike. Now, The Essential Poet's Glossary gleans the fundamentals from that extraordinary volume. Edward Hirsch's sparkling new work compiles poetic terms spanning centuries and continents, including forms, devices, movements, aesthetics, rhetorical terms, and folklore. Knowing how a poem works is crucial to unlocking its meaning--entries will deepen readers' relationships with their favorite poems and open greater levels of understanding in each new poem they encounter. Shot through with the enthusiasm, authority, and sheer delight that made A Poet's Glossary and How to Read a Poem so beloved, this essential edition is the book that all readers, writers, teachers, and students of poetry will return to again and again."--Page 4 of cover.
The living fire :
ISBN: 037541522X OCLC: 401715639 Alfred A. Knopf, New York : 2010. A volume of more than one hundred definitive and original pieces by the National Book Critics Circle Award-winning writer includes poems that critically assess his own works and explore such topics as insomnia, culture and the arts.
The night parade /
ISBN: 0679722998 OCLC: 18907304
To a nightingale :
ISBN: 9780807615874 OCLC: 87743615 George Braziller Publishers : New York : ©2007.
Wild gratitude /
ISBN: 0375710124 OCLC: 12262695