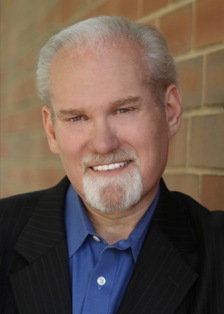 Jerry Bruce Jenkins
Born:
1949 in Kalamazoo, Michigan
Pen Name:
None
Connection to Illinois
: Jerry Jenkins attended colleges in Chicago Illinois. He worked at WMBI-FM Radio in Chicago from 1967-1968. He then worked for the Des Plaines Publishing company in Des Plaines, Illinois. He lived in Zion, Illinois.
Biography
: Jenkins is a novelist and biographer. He is the former vice president for publishing and now chairman of the board of trustees for the Moody Bible Institute of Chicago.He is best known as co-author of the ''Left Behind'' series of books with Tim LaHaye. Jenkins has written over 180 books, including romance novels, mysteries, and children's adventures, as well as non-fiction. His works usually feature evangelical Christians as protagonists.Sixteen of his books have reached the New York Times bestseller list. His writings have appeared in many periodicals, including ''Reader's Digest'', ''Parade'', and ''Guideposts''. His children and young adult book series include both mystery and sports-themed books. From 1996 to 2004, Jenkins was writer of the sports-oriented comic strip ''Gil Thorp''. He has written 'as-told-to' biographies of Hank Aaron, Brett Butler, Bill Gaither, Orel Hershiser, Luis Palau, Walter Payton, Nolan Ryan, Sammy Tippit, George Sweeting, and others. Over a period of 13 months, he assisted Dr. Billy Graham with his 1997 autobiography, ''Just As I Am''.
---
Awards
:
Primary Literary Genre(s):
Fiction; Inspirational
Primary Audience(s):
Adult readers; Young adult readers
Email:
webmaster@jerryjenkins.com
Website:
http://www.jerryjenkins.com
Jerry Bruce Jenkins on WorldCat :
http://www.worldcat.org/search?q=jerry+bruce+jenkins
---
Selected Titles
Déchiré :
ISBN: 9782847001761 OCLC: 762778612 Éd. Vida, Nîmes : DL 2011
Riven :
ISBN: 141430904X OCLC: 213310556 Tyndale House, Carol Stream, Ill. : 2008. Brady Wayne Darby and Thomas Carey could hardly have been more disparate individuals. Yet when Darby, a no-account loser raised in a dingy suburban trailer park, encounters Carey, a weary man of God, an entire state--indeed, a nation--is affected.
Seclusion Point /
ISBN: 1595544011 OCLC: 166387488 Thomas Nelson, Tenn. : 2008. After leaving the relative safety and friendship he found in Demon's Bluff, Patch ends up in Boxcar Flats, Kansas, where he is immediately at odds with the community church leaders and is placed under house arrest for asking questions they don't think he should ask.
The author's blood /
ISBN: 1414301596 OCLC: 166873380 Tyndale House Publishers, Carol Stream, Ill. : ©2008. Owen Reeder, the Wormling, faces a final battle with the Dragon, strengthened by his reading of The Book of the King and the knowledge that his friends and his very weakness can see him through his greatest challenge.
The minions of time /
ISBN: 1414301588 OCLC: 166255017 Tyndale House, Carol Stream, Ill. : ©2008. Having discovered that he is the King's Son, Owen contemplates his future with trepidation as he must fulfill his destiny to lead the battle with the Dragon, unite the worlds of the Highlands and the Lowlands, and marry a princess.